Back in January I talked about the progress that I was making in redecorating my office. My side of the road chairs had received slipcovers and a repurposed luggage rack and tray made for a grand side table.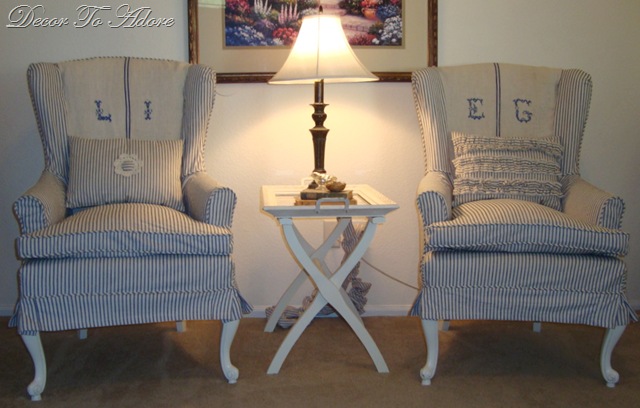 I had a few things left to finish. The first being that my office assistant likes to stay close to me. However, due to dachshund back issues, he needed a wee bit of help climbing onto "his" chair.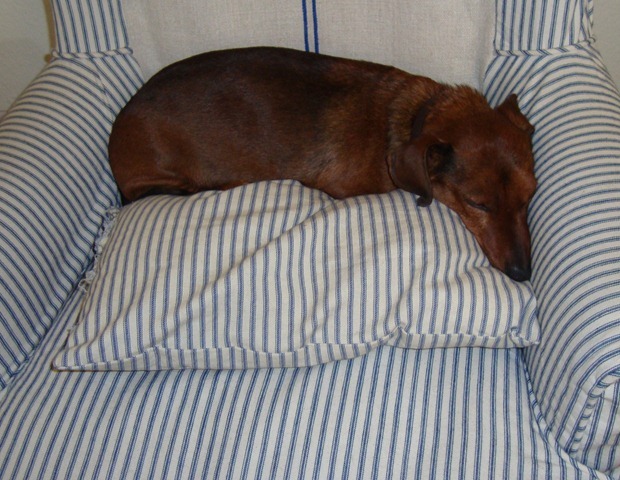 I had this small ottoman that once belonged to my great grandmother. This was the "before" photo. (You can also see what the chairs once looked like.)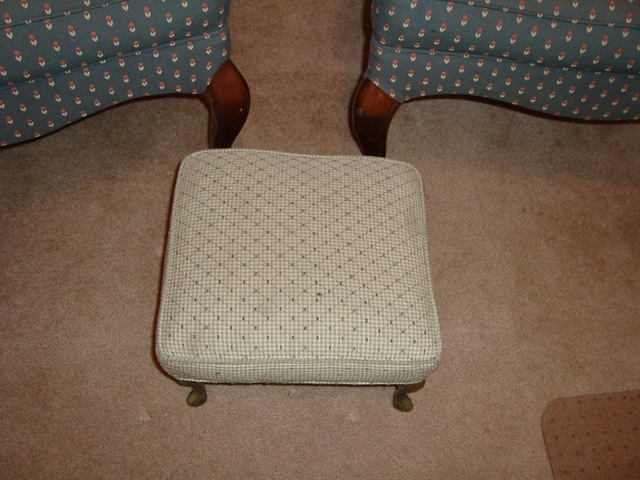 Once again, thank goodness for slipcovers! Now he can climb up in style. The ticking cloth was sewn inside out for a bit of contrast against the chairs.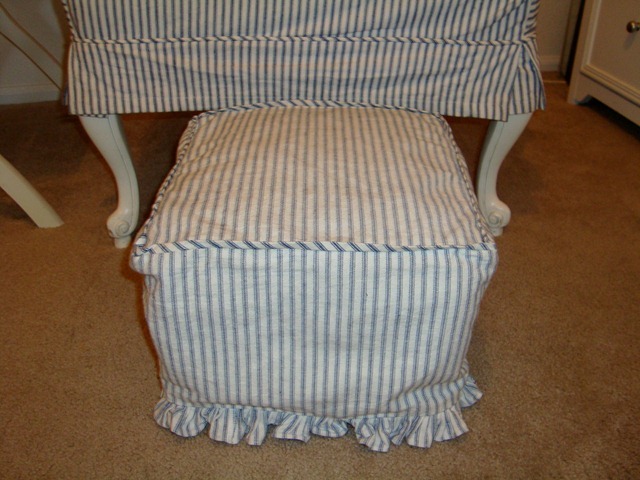 Another issue I was struggling with was how to dress the one window in the room. It was an awkward size and on an angle. If that wasn't enough of a challenge, it also sat between two heavy pieces of furniture ~ my desk and a large bookshelf.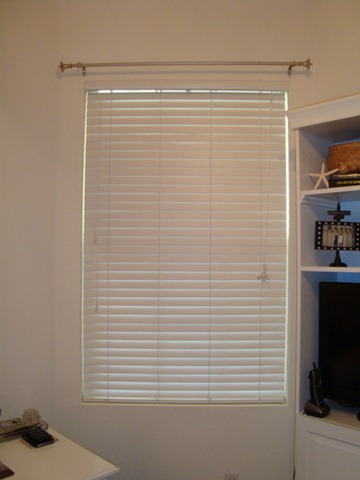 I had tried white linen panels from Pottery Barn, but they were too visually heavy for the space. Next, came a valance, then a cornice. Both seemed to cut the window off at the wrong height. Roman shade~nope, that didn't work either.  Over the weekend I began sorting through my collection of vintage and antique linen in preparation for this Friday's auction on Décor To Adore. I came across a piece I just loved ~ an Edwardian cotton lawn tablecloth. I held it up to the window to once again admire the design. Wait! Rewind! I held it up to the window…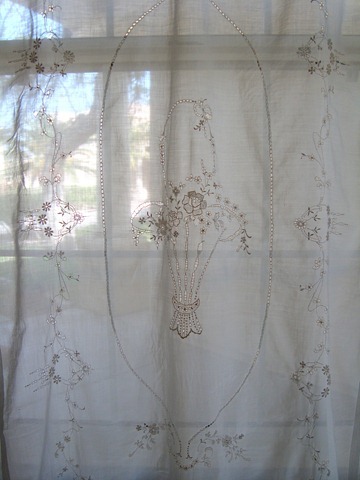 The design really was so pretty and perfect for spring.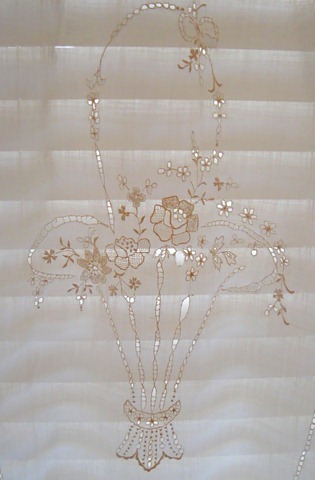 The fabric was so sheer that it didn't block any of my precious sunshine. When pulled to the side, the pretty scalloped edge became a focal point.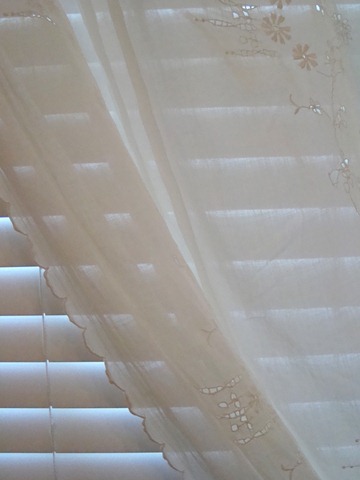 So I rummaged though my vintage and antique laces and found the perfect tieback.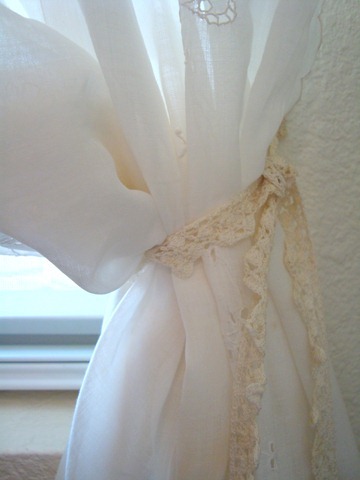 The "before" once more.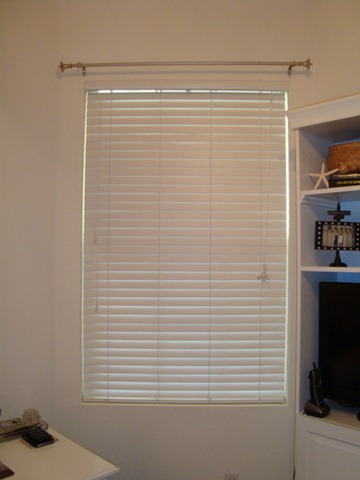 Putting the "ah" in after.
Lastly, I decided to keep the white linen chair as my office chair and the old bankers chair will be going on Craigslist. There was an issue of one Sweet Boy occasionally sitting down to the computer in unclean jeans  and the office assistant  begging on a daily basis to get a closer look at the computer monitor via my lap.
"Look at me! I am so cute! Don't you just want to pick me up?"
"Oh I am so sorry my paws are dirty, but pleeeaaasssse pick me up!"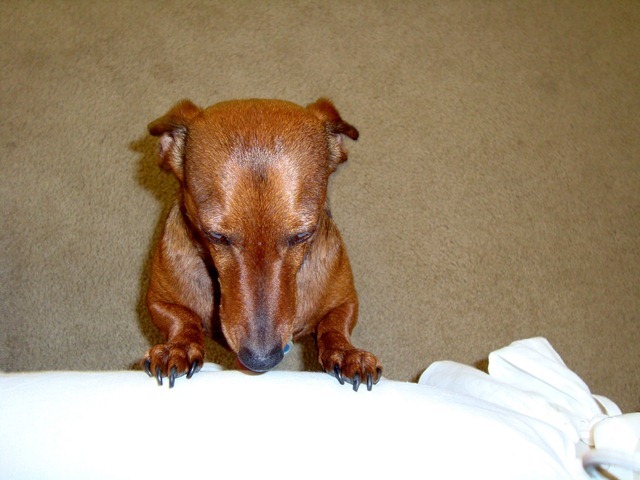 So enter in the shabby linen ruffled chair seat cover I purchased from French Garden House. When my boys get the slipcover dirty I just pop it in the wash thus keeping my upholstered white linen chair clean.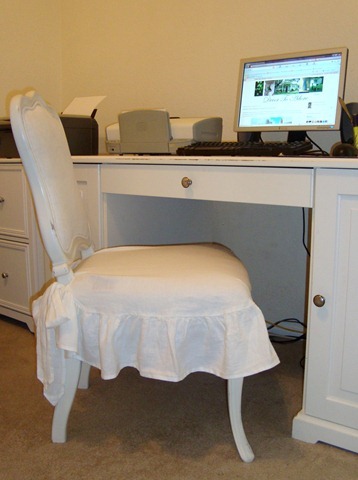 Now I am off to continue photographing and uploading all the yummy vintage and antique fabrics and linens in preparation for Friday's auction.
What's on your Monday "to do" list?
Laura