Welcome to the fourth installment of Royal Wedding Wednesdays. Thank you so much for your input last week. I am happy to report that there will be upcoming posts such as
Always a Bridesmaid~ The Royal attendants.
What's in a Name~ Titles and ranks.
Say Yes to the Dress~ Does this need an explanation?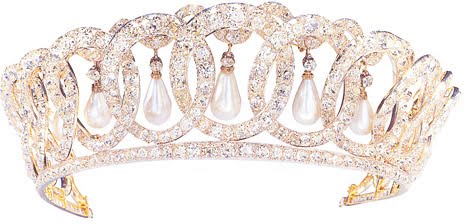 The Grand Duchess Vladimir Tiara
So let's begin. Tiara's are commonly associated with three things~ Queens, brides and pageant winners. The earliest tiara's were found in the Greek/Roman world. Goldsmiths created crowns to top the heads of statues of Gods and priests. The Greeks also awarded crowns (made of various metal or laurel leaves) to their early Olympic champions.  In Egyptian culture the crown symbolized respect and were placed on the heads of royal and noble mummies. Tiara's and crowns really came into vogue during the Tudor reign and Bourbon monarchs began creating elaborate tiaras in the French court. However it is today's British monarchy, and other noble brides, who have worn the most beautiful tiaras. Most were created in the 19th and 20th centuries.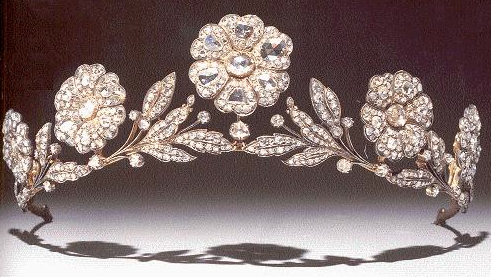 The Strathmore Rose Tiara
I find it quite interesting that one of Britain's most beloved queens, Victoria, wore a simple wreath of orange blossoms upon her head when she married her beloved Prince Albert.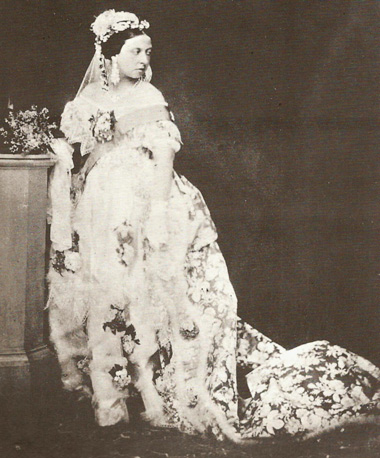 Here is a 1847 painting by Franz Xaver Winterhalter of Queen Victoria in her wedding clothes. It shows her wearing a wreath of orange blossoms, the diamond and sapphire brooch given to her by Albert on their wedding day, and the collar of the Order of the Garter.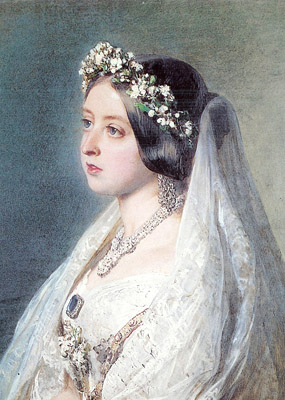 Let me quickly interject that if you have not seen "The Young Victoria" with Emily Blunt, please do so soon as it is a feast for the eyes and balm for the Royal loving soul.
When King Edward VII, Queen Victoria's eldest son, wed the lovely Alexandra of Denmark no information was given on the Princess's wedding apparel. Be assured however, there are other numerous images of Queen Alexandra wearing several crowns and tiara's.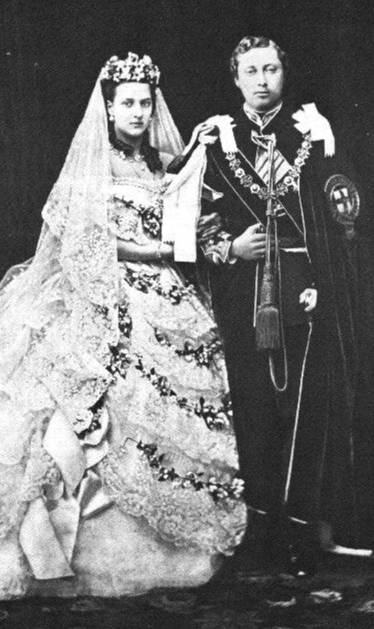 The one time Princess May of Teck, a German Princess, was presented a wedding gift by Lady Eve Greville's committee which raised funds  from "the girls of Great Britain and Ireland" for the tiara celebrating her 1893 wedding. She of course would later become Queen Mary when Prince George (son of King Edward VII) became King George V. 
The diamond tiara was purchased from Garrard jewelers. It has been described as having a diamond festoon-and-scroll design surmounted by nine large oriental pearls on diamond spikes and set on a bandeau base of alternate round and lozenge collets between two plain bands of diamonds. Queen Mary gave the tiara to Queen Elizabeth on the occasion of her wedding to Prince Philip.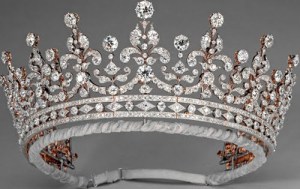 Next, we have the beautiful Lady Elizabeth Bowes-Lyon. I am sure that when she wed the Albert, Duke of York, second son of King George V she never dreamed that she would someday be Queen consort to her husband, King George VI. Her lovely lace headpiece is truly exquisite.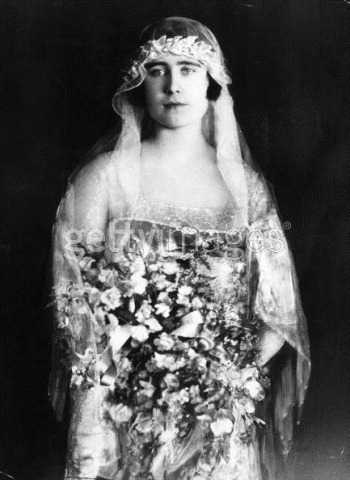 Lady Elizabeth Bowes-Lyon became Queen Consort largely due to a twice divorced American woman, Wallis Simpson. In one of the most scandalous unions of all time, King Edward VIII (King George VI's older brother) abdicated the throne so that he could marry her. After his abdication and their subsequent marriage six months later they became the Duke and Duchess of Windsor. The Duchess wore a simple "Wallis blue" silk dress and a hat enhanced with pink and blue feathers by French milliner Caroline Reboux on her wedding day.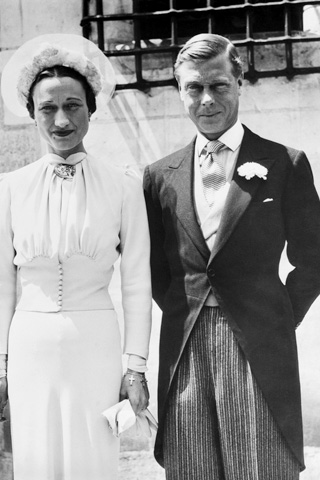 When H.M. Queen Elizabeth, then Princess Elizabeth, married Prince Philip she wore the Fringe Tiara. It was created in 1919 using diamonds that had been part of a tiara/necklace given by Queen Victoria to Queen Mary on the occasion of her marriage in 1893. Queen Mary gave it to the Queen Mother when she ascended the throne in 1937.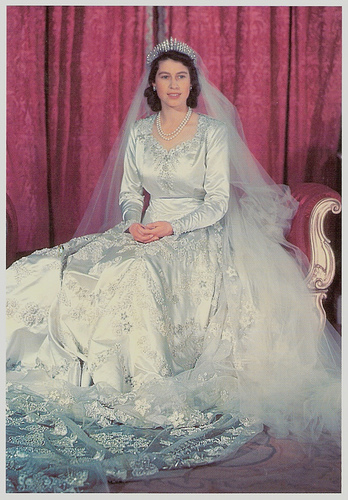 There are reports that on the day of Princess Elizabeth's wedding the tiara snapped in half. Given that the royal jeweler was standing by it was quickly repaired in time for the royal bride to walk down the aisle.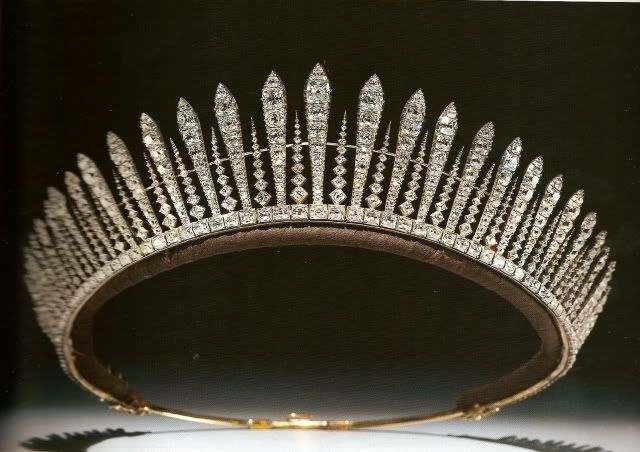 The Fringe Tiara was also worn by the Queen's daughter, Princess Anne, when she married Capt. Mark Phillips in 1973.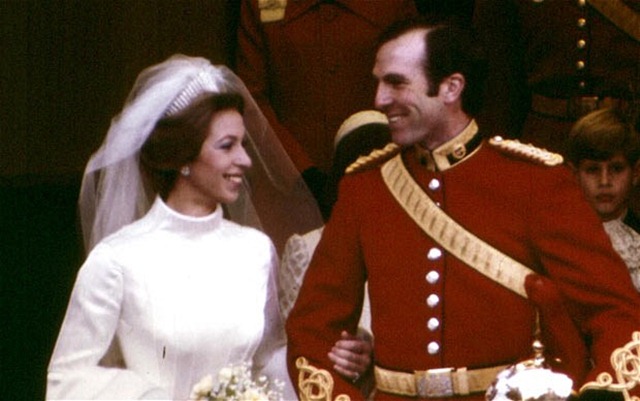 When the Princess Royal's son, Peter Phillips, married Autumn Kelley in 2008 the bride wore a tiara loaned to her by her mother in law, Princess Anne.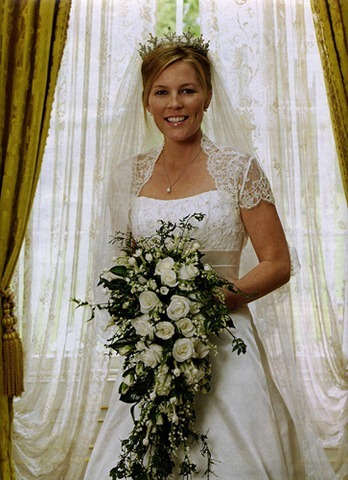 Queen Elizabeth's younger sister, Princess Margaret, wore a tiara (originally created by Garrads jewelers in 1870 for Lady Poltimore) for her wedding to Anthony Armstrong~ Jones, Lord Snowdon.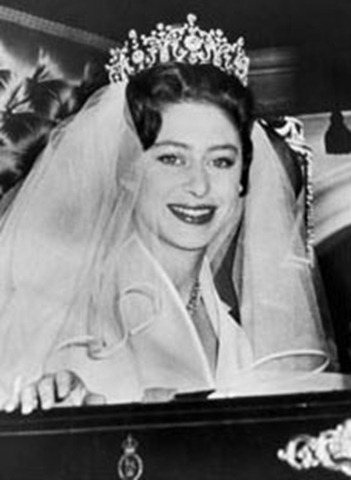 The children of the late Princess, Viscount Linley and Lady Sarah Chatto, sold the tiara at a Christie's auction in 2006.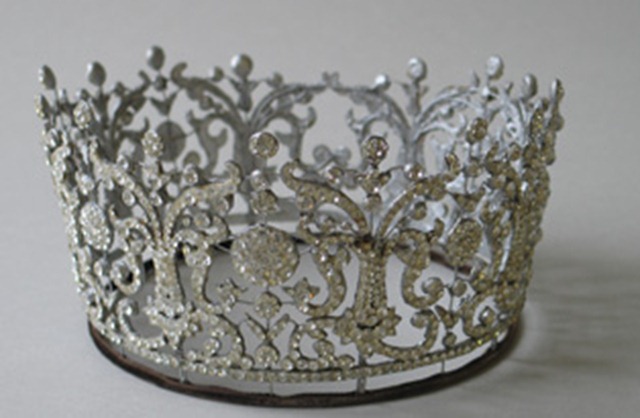 When Princess Margaret's son, Viscount David Linley married Serena Stanhope in 1993 she wore the Papyrus Tiara.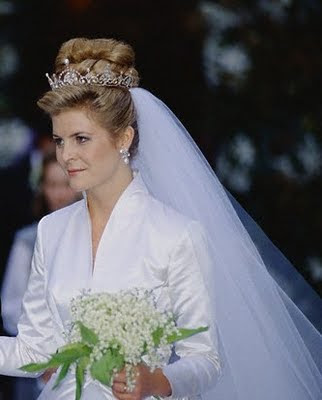 The Papyrus tiara was originally worn by the dearly beloved Queen Mum.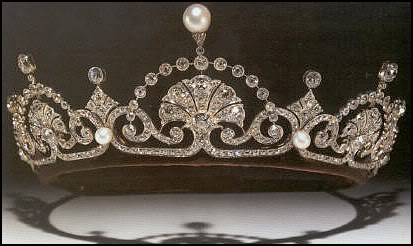 Princess Margaret's daughter, Lady Sarah Armstrong Jones, who was Lady Diana Spencer's eldest bridesmaid, wore a tiara for her 1994 wedding that can be broken into brooches and was a wedding gift to Princess Margaret from her groom to be, Lord Snowdon, in 1960. It is unknown if the tiara was given to Sarah after Princess Margaret's 2002 death.
One of the sweetest twists on tiaras was that of the Duchess of York's tiara. She entered Westminster Abbey as a commoner wearing a wreath of flowers upon her head in 1986 and exited the church as a Princess wearing a tiara.
The tiara was created specifically for Sarah, to be worn on her wedding day, by Garrad's jewelers.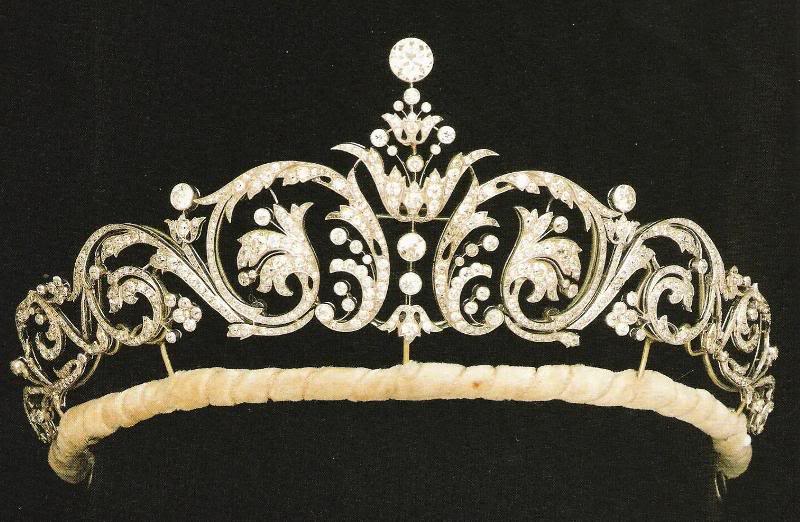 On her wedding day to Queen Elizabeth's youngest son, Prince Edward, Sophie Rhys~ Jones wore a tiara from the Queen's private collection. The tiara consisting of three open-work scroll motifs, designed and remodeled by the Crown Jeweler, David Thomas, at Asprey and Garrard. If only all brides could have a "something borrowed" such as this.  As a side note, her Prince designed the pearl wedding jewelry.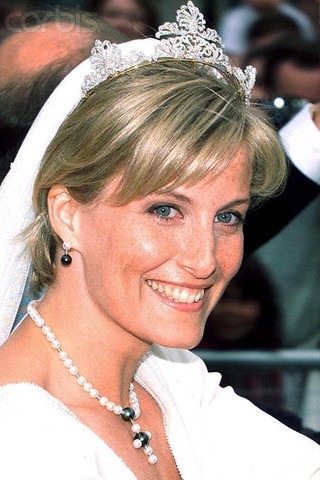 I have of course saved the best for last. That of the Spencer Family Tiara worn by Lady Diana Spencer on her wedding day to Prince Charles in 1981.
The Spencer family tiara is a delicate tiara featuring diamonds mounted in gold. The tiara is made of several separate jeweled pieces including a tiara owned by Frances, Viscountess Montagu and left to Lady Sarah Spencer in 1875. The tiara is thought to have been made in 1767, but the style suggests the 1830s. The central element was a wedding gift from Lady Sarah Spencer to Cynthia, Viscountess Althorp (Diana's grandmother) in 1919. In the 20th century, it was remounted and four other elements were made to match it.
With all this talk of tiaras one does think about what the lovely Catherine will wear upon her head when she marries her Prince. Having been to the Tower of London I have seen what I am sure is only a small portion of the Queen's vast collection of head ware. But I do wonder if we might perhaps see a certain gem worn quite often by Princess Diana, the Cambridge Lover's Knot.
The tiara was originally commissioned in 1914 by Queen Mary who wished to recreate the lover's knot tiara that belonged to her grandmother, Princess Augusta of Hesse. In the original tiara each knot was surmounted by an oval pearl to mirror each drop below.
<a href="http://decortoadore.net/wp-content/uploads/2011/01/34h9ojd.jpg" name="
View Raw Image">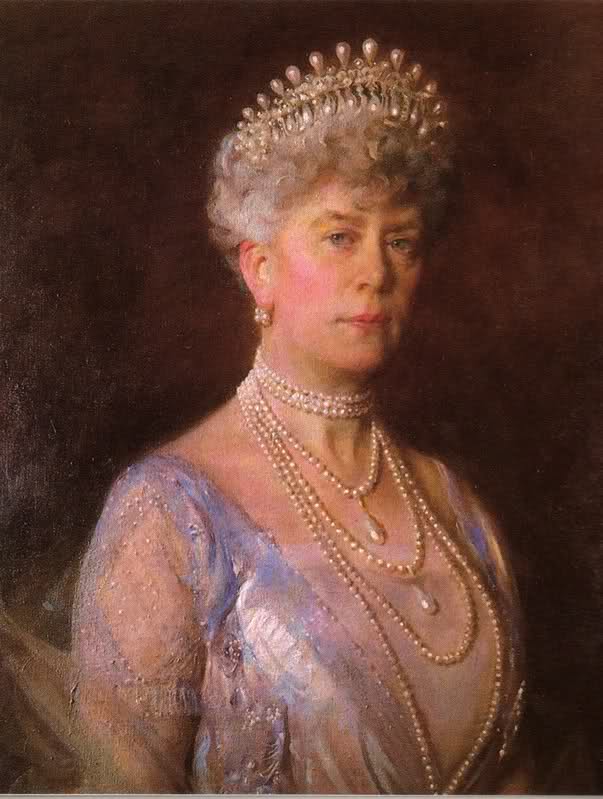 In 1935 the tiara was simplified to its present form. Queen Mary passed down the tiara to her granddaughter Queen Elizabeth, who in turn presented it to Diana upon the occasion of her marriage to Prince Charles. It is unknown whether the tiara was returned to the Queen when Charles and Diana divorced or if it was passed to William and Harry upon Diana's death. Will this be THE tiara we will see on the lovely Catherine's head when she marries her prince?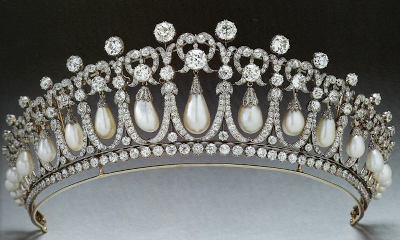 Alas time will tell. Which tiara gets your vote?
Mark your engagement journals! On Saturday, March 26th, 2010 I will be organizing a Blogger's Tea to celebrate the Royal Nuptials. It will be held at the English Rose Tea Room in Carefree, Arizona. The owner, Joanne Gemmill, is authentically English.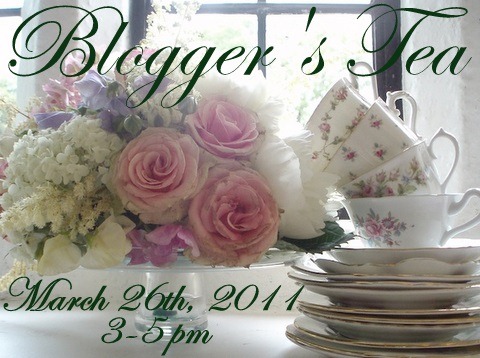 To add a bit of fun there will be ~
A hat contest (Think English feathers, flowers and frippery)
Always a bridesmaid dress contest (And you thought you'd never wear it again!)
A white wedding elephant swap (Bring an item of décor that is nice, but perhaps had humble beginnings in a thrift store or is just something you have grown weary of. Wrap it as if it is the most lovely of wedding gifts.)
For those of you who live beyond and across the pond you will NOT be left out. We will have two online contests to be held via linky parties:
High Tea Tablescapes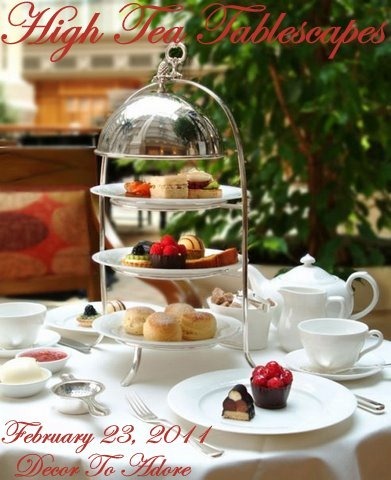 Royal Wedding Wear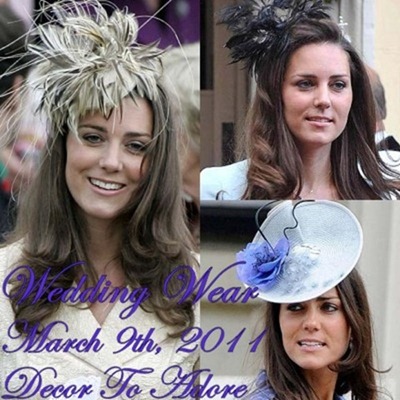 Start planning your creations as the prizes will include English china, chocolate, shortbread, and tea among other lovely prizes. There will be categories such as "Fit For A Queen" and  "Best British Baubles"  awarded by an esteemed panel of judges to be announced in the future.
UPDATE: The tea is for anyone and everyone. You may spread the word by grabbing the button and link back to my blog in case there are further questions.
Differences between headpieces in broad terms:
A tiara is a jeweled head ornament which has an open back.  Although the Papal tiara worn by the Pope is more of crown so it does get a bit confusing.                                                                                           
A diadem is a circlet. Diadem is a German word that also on occasions is used to describe a tiara.  The diadem has resonance of sovereignty.
A coronet is a heraldic device denoting Nobility.
A crown is a symbol of a Monarch or Sovereign Prince and generally encloses the head. Christian crowns generally have arches surmounted by a cross which is a form of religious symbolism. Royal crowns have arches dipped at the center and Imperial crowns do not.
Laura