Welcome to the second installment of the Royal Wedding Wednesday (R.W.W) mini series. Can I first say that I was absolutely as excited as a two year old with an unattended cookie jar to learn that so many of you are just as enthusiastic as I am? Yet another reason I adore blogging~ finding other kindred spirits who also believe in fairy tales.
You may have heard that Catherine is breaking with centuries of tradition and will be arriving in a car versus a horse drawn carriage. My first thought was "Why Kate?" My second thought was:
After a moment I realized that there were two key words~ "Kate" and "Arrive". There is a good chance that it will only be Catherine arriving by car. Other members of the royal wedding party may arrive to the church by carriage, and make no mistake, the bride and groom will be leaving the church in a carriage. William is rather used to it.
So why a car?  A few thoughts (massive speculation) that are circulating:
It is safer.
She's already been waiting 8 years and a car is quicker.
Prince William and Kate would like their marriage to not be compared to that of his mum and dad.
I imagine that William is already providing a glimpse of how things will be done when he is king. He plans to modernize the royal family and do away with stodgy traditions. England, like the United States, is in the midst of a financial depression. Rather than flaunt excess wealth, this decision is in keeping with his promise to make this "The People's Wedding".  After all, the U.K. is footing the wedding bill in much the same manner that the U.S. funds any presidential inaugural festivities. Kate herself is one smart cookie. She selected past season, off the rack, clothing already hanging in her closet for her engagement photos. I  imagine she has considered that it is fitting she arrives, as a commoner, to her wedding by car. But let's face it, it won't be just be any car. In the royal garage are:
Several Jaguars
The Queen's Golden Jubilee 2002 Bentley.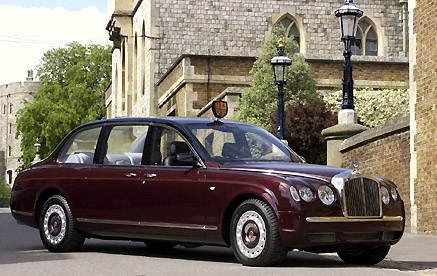 A few Rolls Royce's, including the Phantom IV.
I imagine it will be this last car that Catherine will arrive in. It has been used for similar occasions such as when Sophie Rhys~Jones married Prince Edward in 1999.
Cars can be quite lovely and elegant. Princess Grace not only arrived to her wedding in a car, but also left the church in a Rolls Royce. Her wedding to Prince Rainier of Monaco was also one to remember. 
Carriages and coaches are very expensive to maintain. (A coach is generally closed and the team of horses are controlled by a coachmen and the back of the coach is attended to by footmen. A carriage is open and generally has but one driver.)  Besides the restoration work that many of the antique carriages require, the Queen's horses, Windsor Greys, are quite costly to keep.
Still it would be lovely to see H.M. (Her Majesty) Queen Elizabeth arriving in one of her favorite carriages or coaches.
When entertaining heads of state and for the opening of Parliament, the Queen often selects the Australian State Coach. It was presented by the Australian people on the occasion of the Australian bicentennial in 1988. It was built by W. J.  Frecklinton, who also built the Queen's Britannia coach. The coach is quite modern in that it features heating, electric windows, and hydraulic stabilizers. 
A newer, similar coach is the Britannia coach. The black and gold, jewel encrusted coach was a gift from Jim Frecklinton (who built the Australian State Coach) and the Australian people, to the Queen on the occasion of her 80th birthday. The door handles feature 130 sapphires and 24 diamonds. It is also a traveling time capsule of sorts as it contains material from Britain's historic buildings, ships and other artifacts that were incorporated into its construction.
I myself would like to see the Queen arrive in the Gold State Coach. It was built in 1762 by the London workshop of Samuel Butler for the coronation of George IV. The coach has been used in the coronation ceremony of every subsequent British monarch, some jubilee's and a few royal weddings. 
There are three cherubs on the roof (which represent England, Ireland and Scotland) and  four tritons (Greek God) at each corner to represent Britain's imperial power.
The panels and doors of the coach features artwork painted by Giovanni Cipriani.
But given that the gilded coach weighs four tons, is hard to maneuver, its advanced age and of course Prince William's desire to downplay the Royal excess I imagine the coach will remain at the Royal Mews (Buckingham Palace's stables).  Her Majesty, the Queen, will probably select a subdued, open carriage such as the Ascot Landau Carriage.
No matter how ill fated the marriage of his parents was, I imagine that William might select the same carriage his parents rode in 30 years ago, as the perfect vehicle in which to ride off with his new bride and the hope that they will live, "Happily Ever After".
The only coach or carriage I will probably ever enjoy is the HappyLand Royal Wedding Set. It is completely adorable, costs £15, and is of course, sold out.
How about you~coach, carriage or car?
Laura