Welcome to the third installment of the Royal Wedding Wednesdays mini series.
Shortly after H.R.H. Prince William announced his engagement to the lovely Catherine Middleton rumors swirled as to where the traditional Anglican ceremony would take place. A general rule of the church is that couples may marry in a church where the bride or grooms parents or grandparents were married. Many wondered if Prince William and Kate would select St. Paul's cathedral where of course his parents were spectacularly married in 1981.
The couple ended up selecting The Collegiate Church of St Peter at Westminster, which is commonly referred to as Westminster Abbey.
Westminster Abbey has been a standing tradition as the selected venue for 38 coronations of English and British monarchs. The first coronation to be held in the Abbey was of William the Conqueror in 1066. This lovely painting of Westminster was done by Giovanni Antonio Canale, known as Canaletto, a proficient Italian painter, during the Rococo era.
Queen Elizabeth's coronation at Westminster Abbey took place  on June 2, 1953.
On June 2, 2012 Her Majesty will celebrate her Diamond Jubilee.
The Abbey was founded in the 5th century. Its location was selected based on a late tradition that a fisherman called Aldrich saw a vision of Saint Peter near the site. In 1540 the Abbey was granted cathedral status until 1550 by Henry VIII thus ensuring it would be spared from destruction or dissolution. It is possible that the expression "robbing Peter to pay Paul" may have arisen during this period when money meant for the Abbey, which is dedicated to Saint Peter, was diverted to the treasury of St. Paul's Cathedral.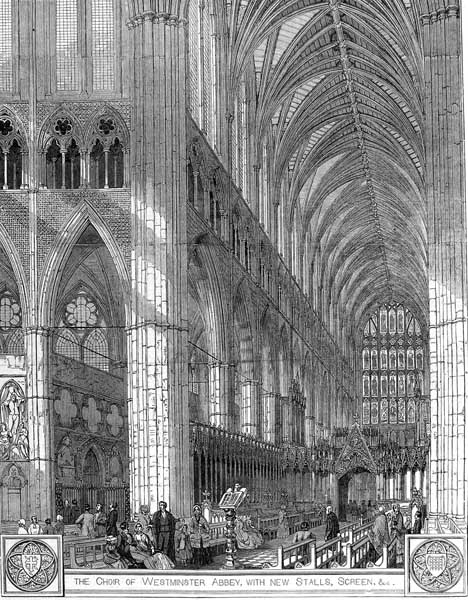 A portion of the abbey was built between  1245 ~ 1517 in the Anglo~ French Gothic Style.  For a time the church was restored to the Benedictines under Mary I of England, who was a Roman Catholic. In 1571 Elizabeth I re~established Westminster Abbey as a "Royal Peculiar", meaning that the church was directly responsible to the Monarch, rather than to a diocesan bishop.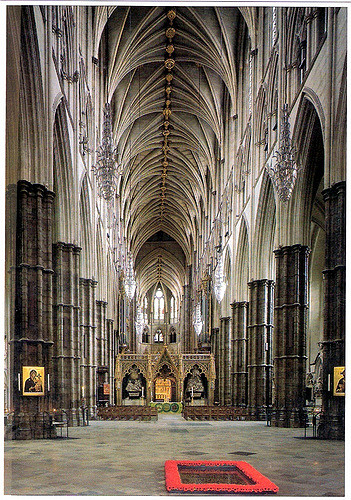 The church has also been the final resting place for many of Britain's Royals for over 500 years. This is the tomb of Elizabeth I.
There are also celebrated statesmen, scientists, writers and composers buried here such as George Handel, Charles Darwin, Sir Isaac Newton, Charles Dickens, and Robert Browning. A few, such as Churchill and Shakespeare, have a memorial in the Abbey, even though they are buried elsewhere.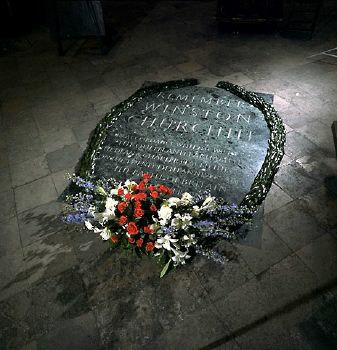 Having had the pleasure of visiting Westminster Abbey I could go on and on about the glorious architecture, stained glass windows and beautiful carvings. Alas, most of you are here visiting in anticipation of details for the wedding. I do believe in giving the reader what they want, so will move on with just one last visual image that makes me sigh. That of the Virgin with Christ child~ an truly exquisite carving to view in person.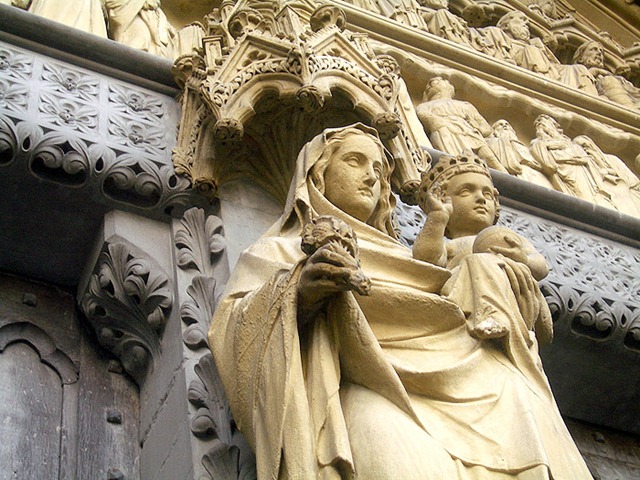 Over the years the church has been the venue selected for many Royal Weddings. The first occurred on November 11, 1100 between King Henry I and Matilda of Scotland. The last was held on the occasion of Prince Andrew's marriage to Sarah Ferguson in 1986.  Her Majesty, Queen Elizabeth, selected Westminster when she married Prince Philip in 1947. (I adore her wee page boys, Prince William of Gloucester and Prince Michael of Kent in their tartan kilts.)
Catherine will enter the Abbey through the Great West Door.
A close up of the Great West Door features ten 20th Century Christian martyrs including, left to right,  St Maximilian Kolbe, Manche Masemola, Janani Luwum, Grand Duchess St Elizabeth of Russia, Dr. Martin Luther King, Jr,  Óscar Romero, Dietrich Bonhoeffer, Esther John, Lucian Tapiedi, and Wang Zhiming.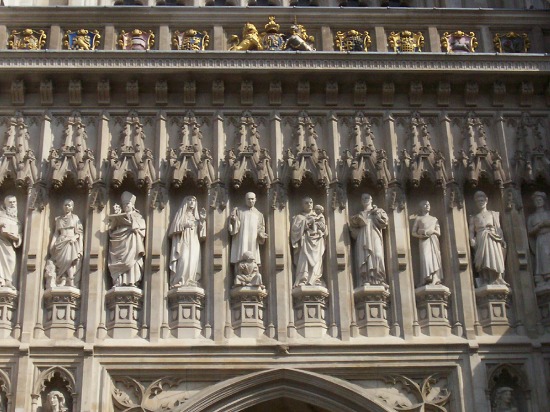 Catherine will then pass by the grave of the unknown warrior. It has been a tradition that all Royal brides leave their bouquets on the grave at the wedding days end. Here is an image of Queen Elizabeth, then Princess Elizabeth, and Prince Philip on their wedding day, passing by the grave.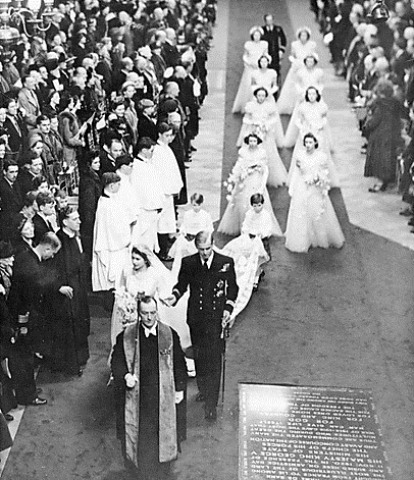 From there Catherine will continue on, passing by over 2000 guests who will be seated in chairs facing inward so that they may view her walking by. It is a rather long walk to be sure.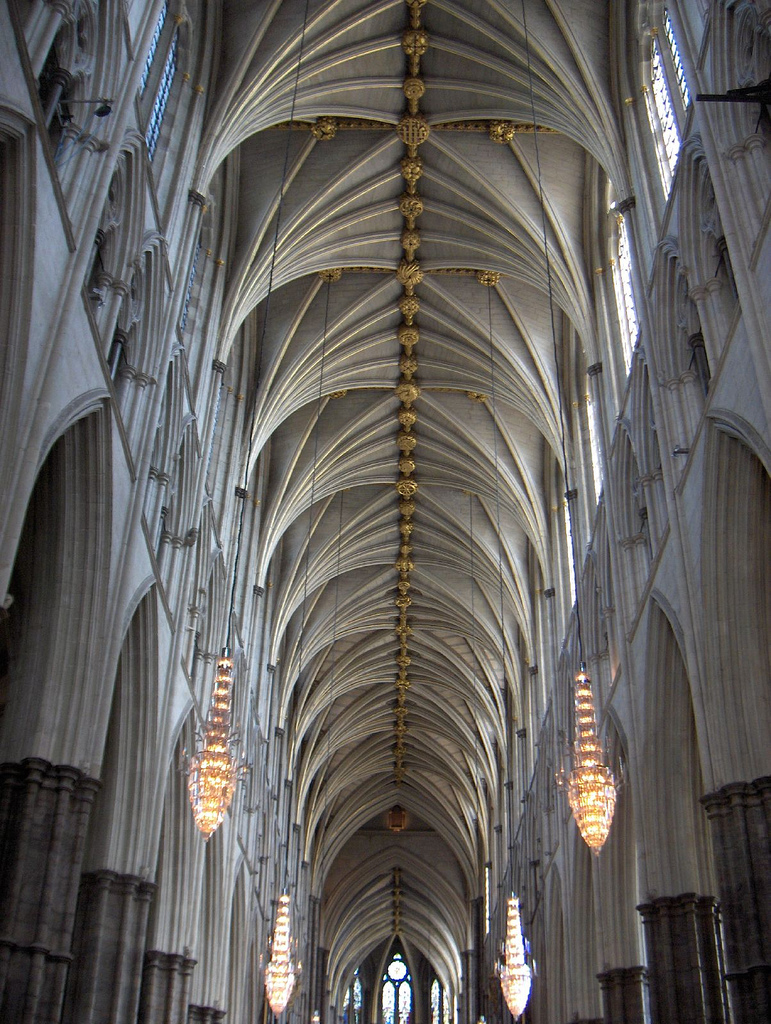 After she passes by, the guests will then have to view the ceremony on screens as they are separated from the High Altar. However, the Royal Family, will be seated within to view the service.
Here is a closer look of the high altar where the Royal family will be seated and Prince William and Catherine will exchange their vows. In many ways it makes the ceremony a bit more intimate for the bride and groom.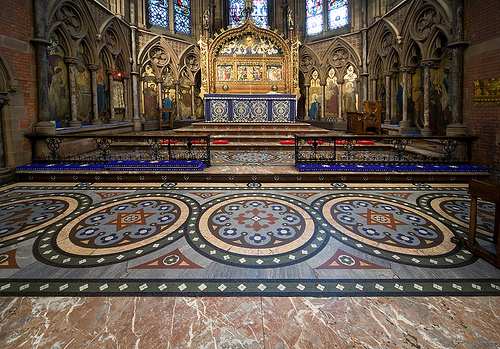 This may be why Prince William and Catherine selected Westminster Abbey, rather than St. Paul's, for their marriage ceremony. It should also be mentioned that the Abbey was also where Diana's memorial service was held.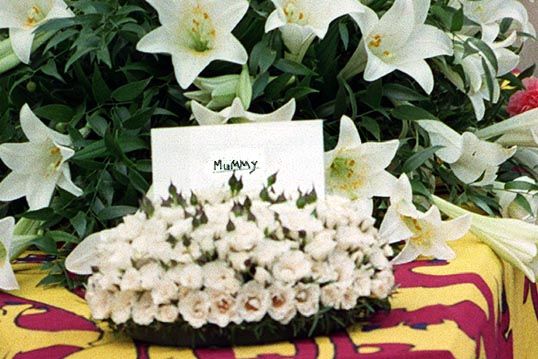 Prince William and Catherine will be married by the Archbishop of Canterbury, Dr. Rowan Williams. The Archbishop is the spiritual head of the Anglican Church and is quite close to Prince Charles.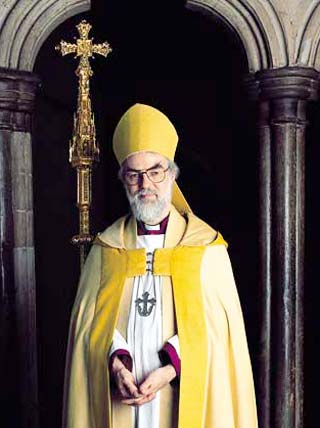 Of course one traditional element will not occur during the Anglican church service~ that of a kiss shared between the bride and groom. It is just not done in the church and one can only hope that Prince William and Catherine will follow suit when making their appearance on the balcony of Buckingham Palace and give in to the crowds shouts of "Kiss! Kiss!" much as his parents did.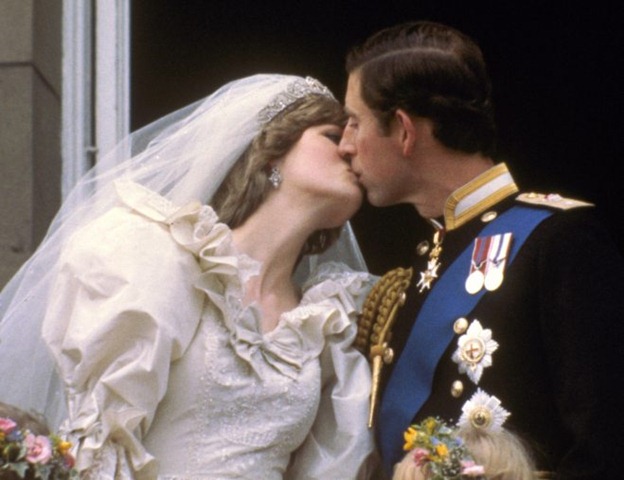 I have heard your pleas for posts on such topics as "The Dress" "the cake" and "the flowers". All will be forthcoming, I promise. I would love to hear what else you would like to see on future Wedding Wednesday posts. 
May you have a happily ever after day,
Laura