I have a confession. I was eager to leave Paris. Even with all of its glamour and excitement I was longing for the quiet beauty of France. Perhaps I have just reached a "certain age". But can you blame me when you see an image like this:
Andrea and I left Paris early in the morning and stopped in Chartres along the way to
visit the cathedral
. Soon after we were driving along the Brittany coast admiring quaint villages and cottages that somehow all feature a perfect shade of Brittany blue.
It is fairly evident that many of the villages have been around for quite awhile. Charming half timbered houses are a regular site to see.
I also adored the signs placed outside of businesses. This one represented a floral shop.
The local boulangerie or bakery.
One thing is certain, the Bretons seem to possess magical green thumbs.
I loved the view of the public gardens in Vannes that you could look down on while strolling the 13th century ramparts (surrounding embankment of a fort).
In my best Wicked Witch of the West voice I couldn't help but utter "Poppies! Poppies!"
Just gorgeous! Thank you dear friends, Guy and Jacqueline, for a wonderful tour!
Our dear friend Guy also drove us to see the dolmens (portal tomb), tumulus (mound of earth and stones raised over a grave) and the standing stones (menhirs) of Carnac. Did you know that there were standing stones in France? Well I didn't. They were absolutely amazing. I love a good mystère.
The Carnac stones are actually the largest collection of stones (over 300o in all) in the world. Here are our delightful hosts, Guy and Jacqueline, standing in front of some of the smaller stones.
They took us around town to visit quaint antique shops and darling places to dine.
We strolled through the local market to select wonderfully fresh ingredients for lunch and dinner.
Vivante means "living". Sure enough these langoustine (also known as the Norway lobster and the Dublin prawn) were still alive. Later on, when Jacqueline began preparing them for dinner, one gave her a good pinch. Ouch!
She deserved a huge bouquet of fragrant peonies for her superb (and sometimes dangerous) culinary efforts.
Most of you are aware that those who live in Paris are known as Parisians. But those who reside in and around the Brittany coast are Bretons. Here a gentleman in a covered market wears a traditional Breton hat.
Traditional dress in now mainly worn only on special holidays and occasions.
Often in fantastical color combinations.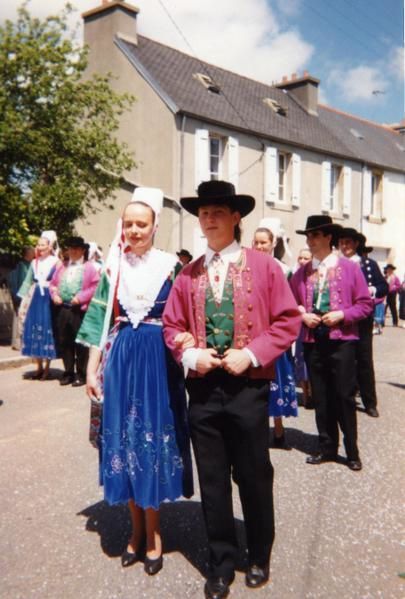 There are of course variations in the form of traditional Breton clothing.
The lace headdress worn by women is called a coiffe.
Taller coiffes are often held securely in place by a crown.
Some of the older generation still cling to the traditional ways.
Oh I just want to hug this darling Grandmere!
Another darling Grandmere is mon chère Jacqueline. We were getting ready to enjoy a delicious meal of Dover sole. I could have eaten that entire plate myself. Jacqueline is a superb chef!
Our wonderful hosts also made sure that we saw several of the lovely bays of Brittany.
The Brittany beaches are just beautiful The sand is so white and fine. Jacqueline and I couldn't resist putting our feet upon it.
Yes, a small piece of my heart now belongs in Brittany. I cannot wait to show you the Breton copper treasures I selected on Friday.
Laura