On Wednesday evening you can find me here:
Moonlight & Mistletoe
A night of holiday celebration, dancing, and entertainment at a place that perfectly captures an era of true glamor and romance!
The event will be held inside the Ghost Lounge at The historic Hotel San Carlos!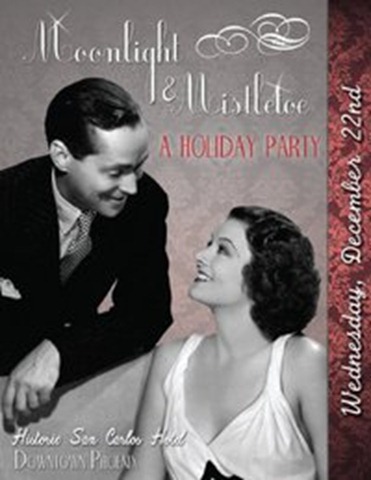 Your entertainment for the evening features One Kitty Gone! Guaranteed to make you move with their 7 piece swingin' band featuring male and female vocalists, original songs as well as holiday classics, show tunes, and more!
They offer a free swing dance lesson for those arriving early from 7-8pm.
Also featuring a retro boutique area with authentic vintage clothing, novelties etc. from the 40's & 50's…
Featuring:
Redhead Sadie and Décor To Adore
Krabbie Gurl Clothing & Accessories
Ava Garters, Inc.
Photo booth area, drink and food specials, and more surprises throughout the night!
We encourage guests to dress in old Hollywood style or their snazzy holiday attire!
The Ghost Lounge is located in the heart of downtown Phoenix, offers $5 valet parking, and is just a few short steps from the light rail, and free parking is available in the garage at the corner of 1st Ave & Van Buren (above Sonoma Restaurant) if you stay past 10pm!
202 North Central Avenue
Phoenix, AZ, 85004
(602) 253-4121
7pm- 2am 21+ Only
$10 Admission
I will be channeling Rita Hayworth and selling my vintage corsages, so "swing" on by.
Laura