At the very southern tip of New Jersey lies the lovely community of Cape May.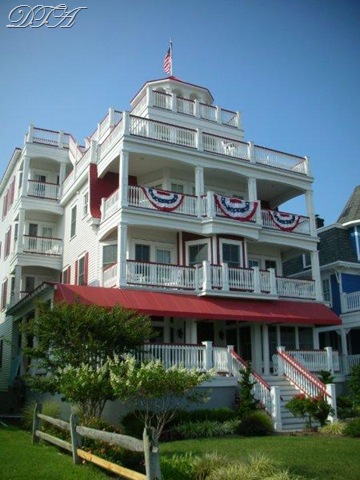 Cape May has been recognized as America's oldest seaside resort. It has been hosting vacationers since the mid 1700's. Charm abounds in every little nook, cranny and fence post.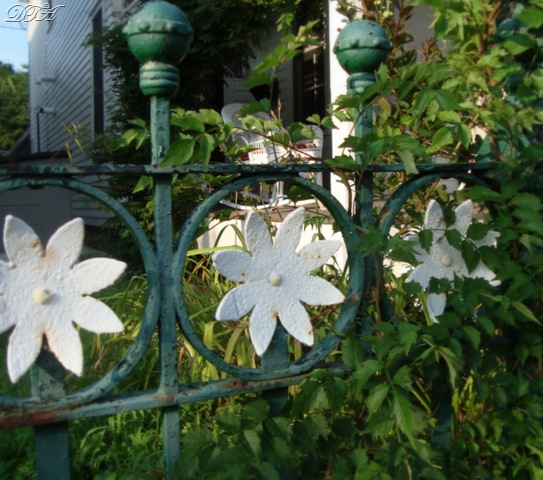 Cape May is world famous for its beaches and is second only to San Francisco for its fabulous collection of Victorian homes.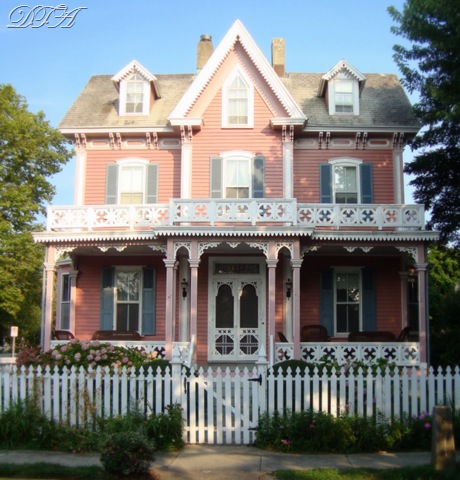 After a five day fire in 1876 destroyed 30 acres of the town center most of the homes were rebuilt in various forms of Victorian splendor.
The entire city was designated as a National Historic Landmark in 1976. It is the only city in the nation that possesses this designation. Even the new building that occurs has old time appeal.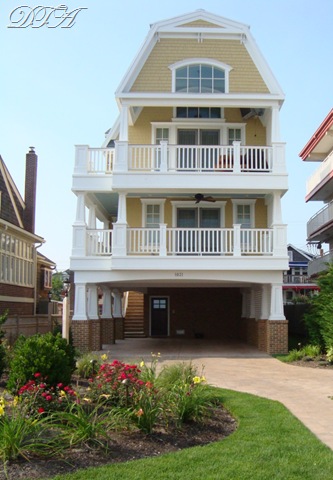 Many of the homes are now beautiful bed and breakfast inns such as the Queen Victoria.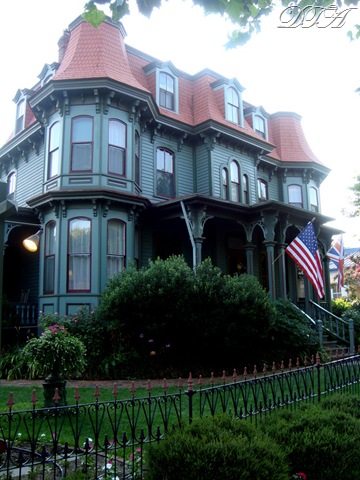 Another charmer is the Angel of the Sea. It has won numerous awards all of which I am sure are well deserved.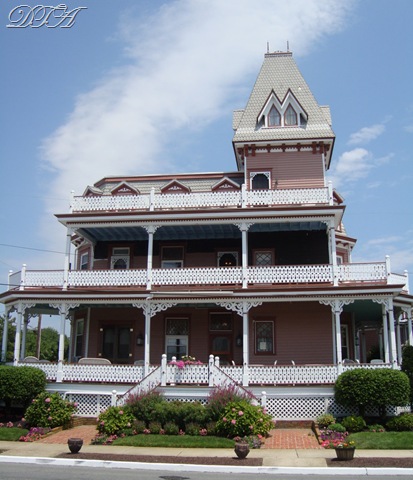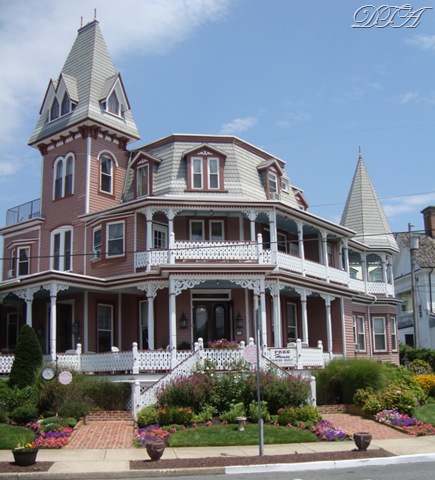 In Cape May large welcoming porches provide a glimpse of a poetic past that sadly much of America is now missing.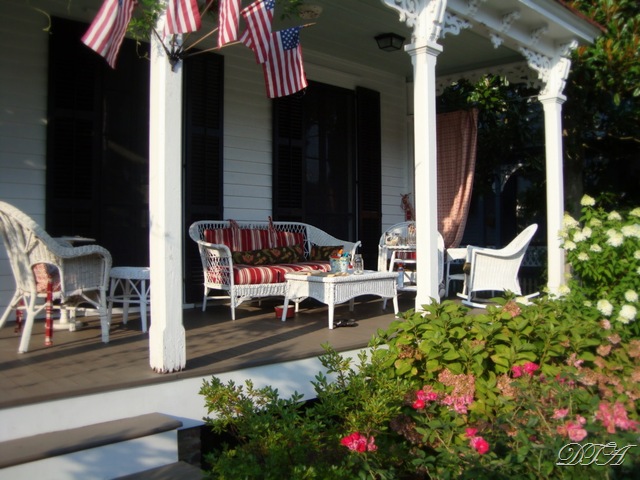 A few of the older colonial homes also remain.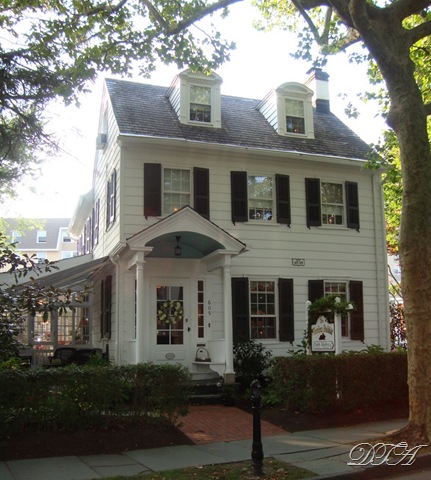 I just adore the pale French blue shutters on this gem.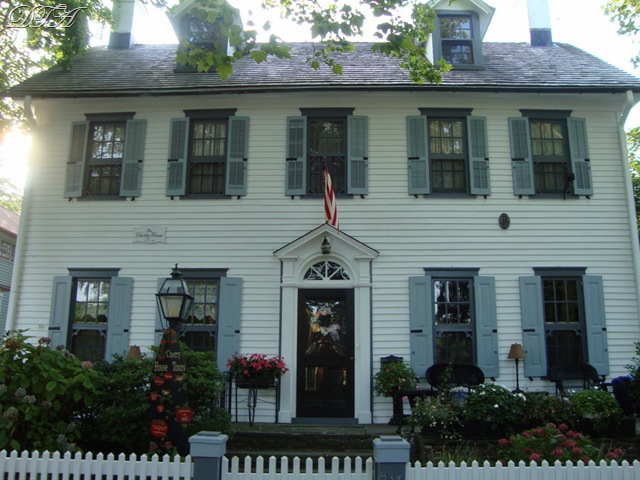 While many of you may be thinking "What a tiny garage!" this charmer is actually a former carriage house.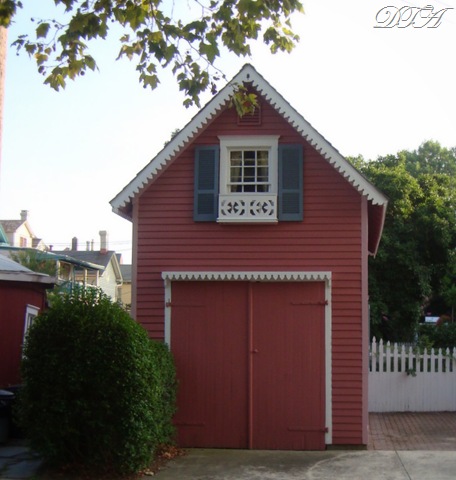 The gingerbread accents are no less than spectacular.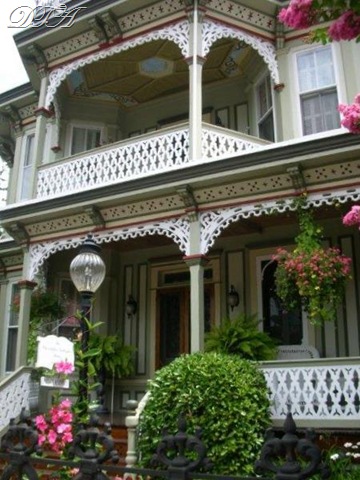 Here is a stunning close up. Look at the trompe l'oeil ceiling!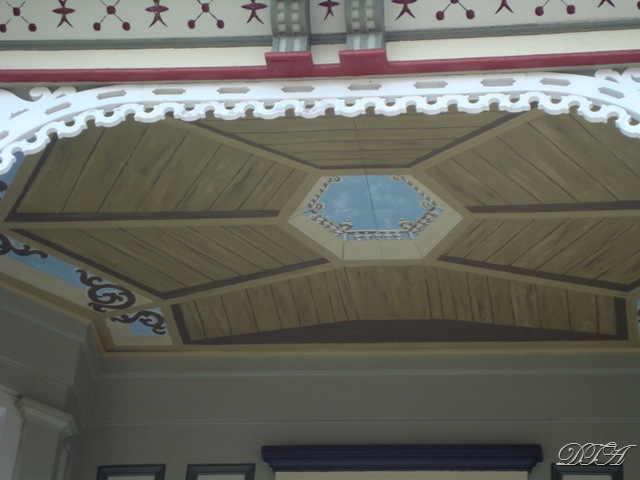 The are vast grounds surrounding many of the homes.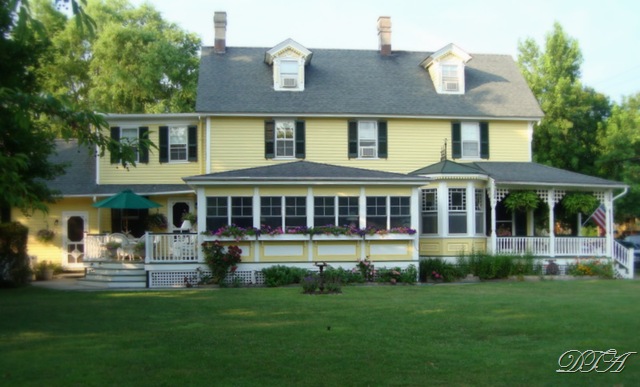 We found the locals to be very friendly and welcoming.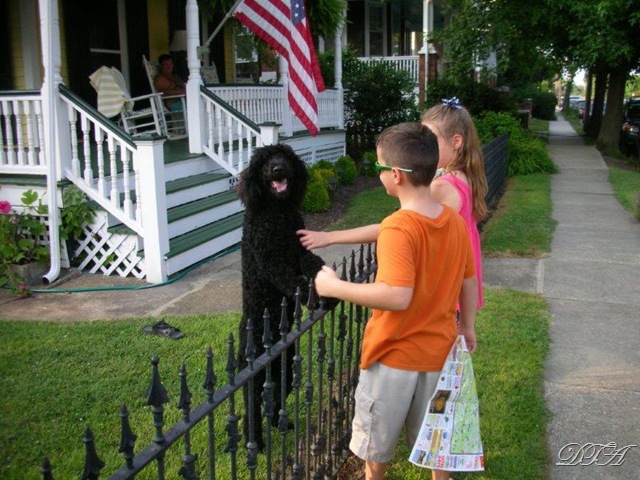 My heart swelled with pride at the patriotism displayed within this wonderful community.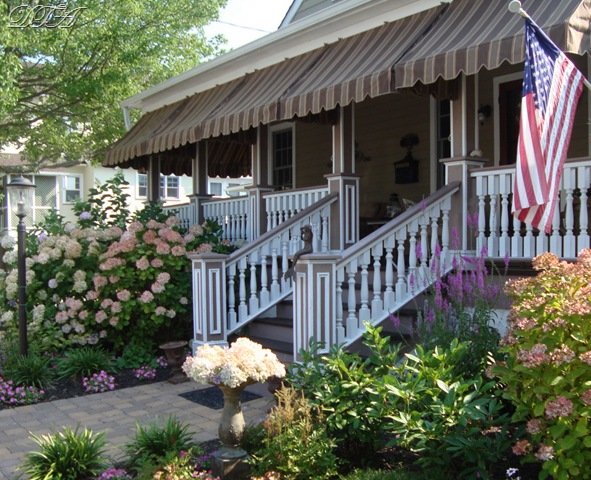 Beautiful, secret gardens appeared to grow lushly in many of the homes.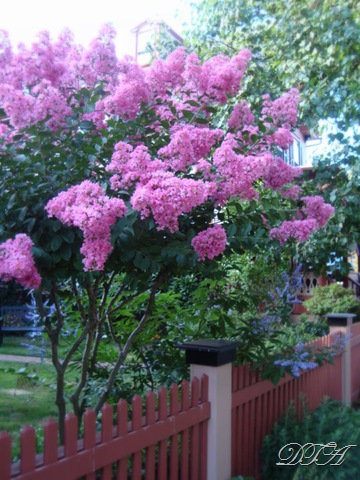 What do I love more~ the wrought iron fencing, the hanging baskets or the gingerbread trim? I can't choose as it is all equally magnificent.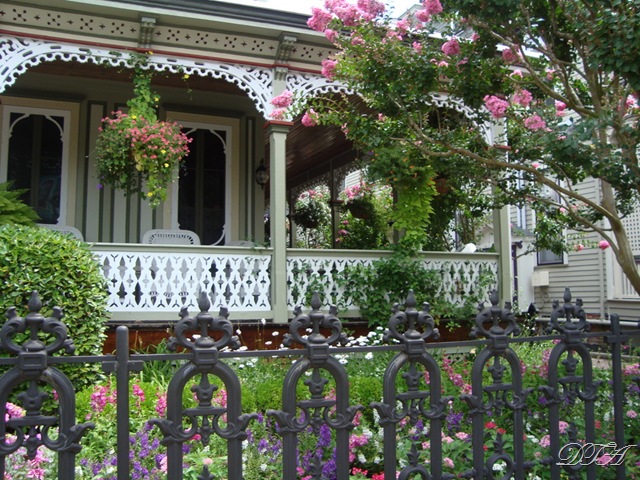 Who knew a pink and purple home could be SO pretty?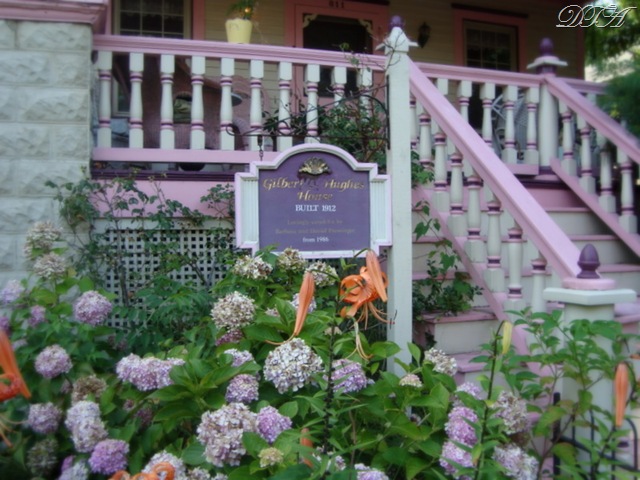 Even the streetlights were decked out in summertime splendor.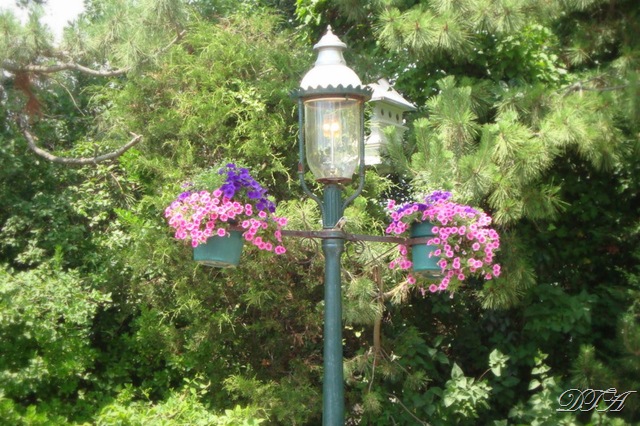 The downtown shopping area is the perfect slice of Americana.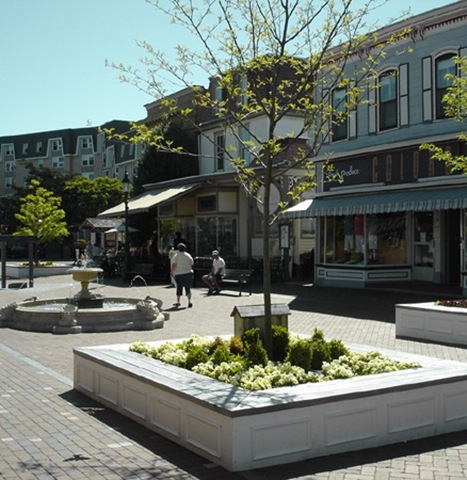 Quaint independent shops featured fun store displays.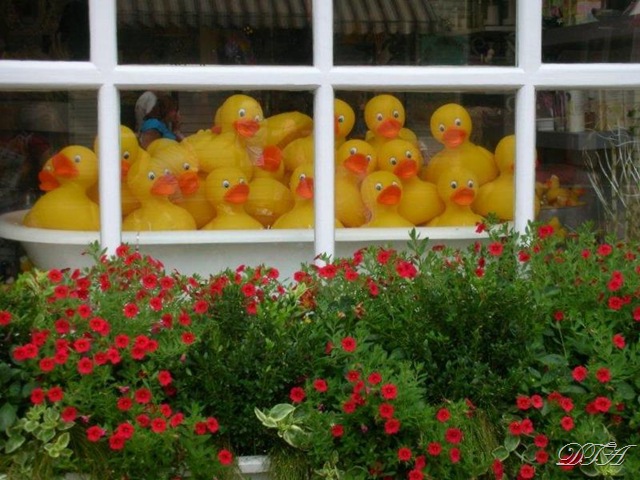 When I saw a church called "Lady Star of the Sea" I had to stop in.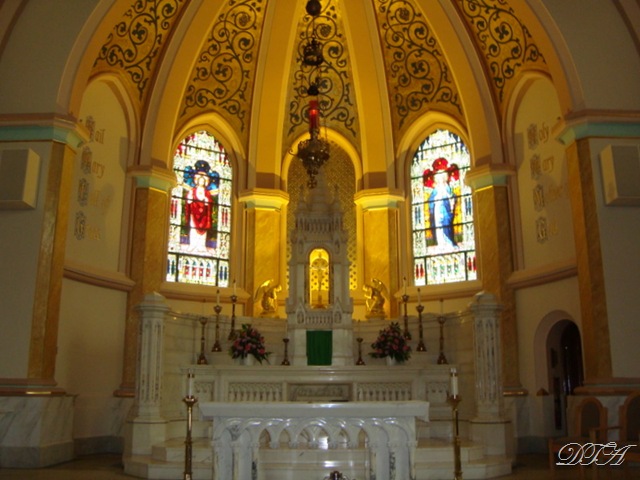 There were two niches on either side of the main altar. The cross barrel vaulted ceilings were painted an ethereal blue.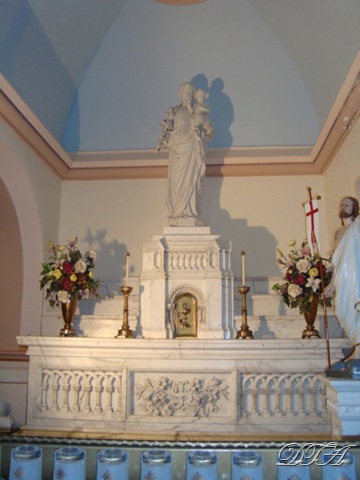 I had never seen votives quite like this. They were LED "candles" you turned on. It was a beautiful effect and a smart choice that avoids the risk of fire.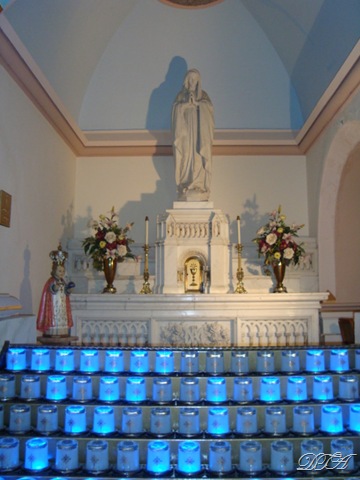 Perfectly peaceful.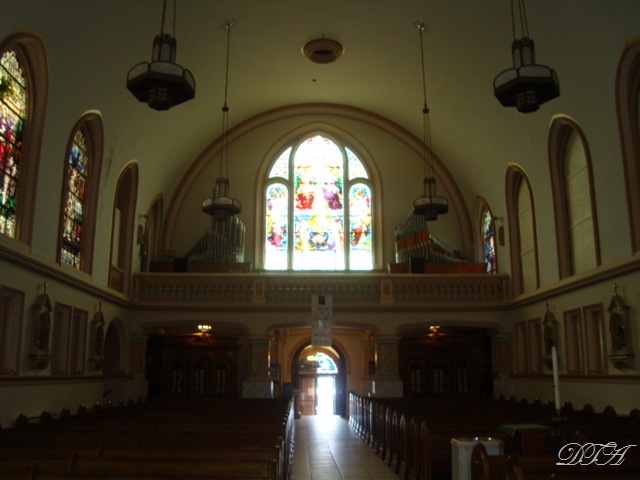 Lovely stained glass.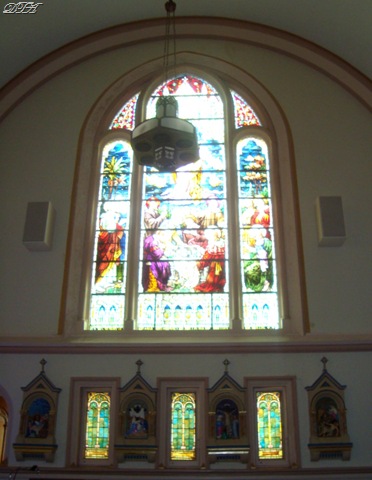 We ended our tour of downtown at Dellas 5 and 10 old time soda fountain.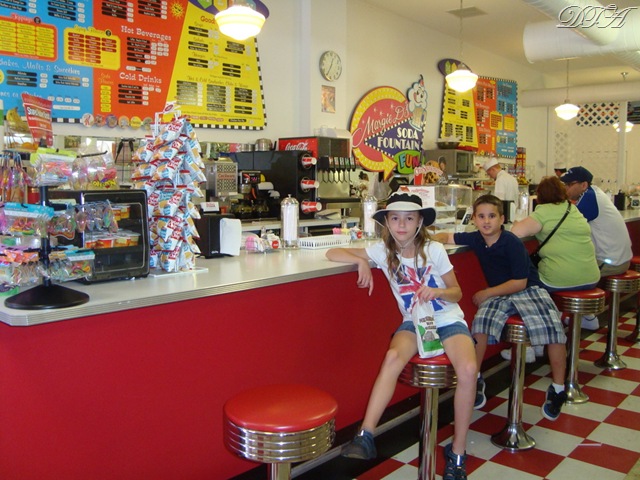 Come back on Wednesday for some beach photos that include hunky lifeguards, gratuitous swimsuit shots, sand castles and creatures, as well as the revelation of the origin of my newfound nickname: "Hotpockets".
Laura