Most of my memories of New Orleans are wrapped around the thoughts of food. Many would agree that this is a fitting testament to the culinary genius that exists within the state of Louisiana. At B & C Seafood, right off of the wonderful River Road, our lovely Cajun hostess provided me with instructions on how to eat a crawfish.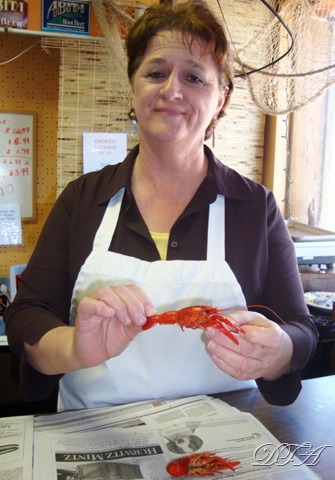 When in Rome…I didn't love it, but it wasn't horrible either.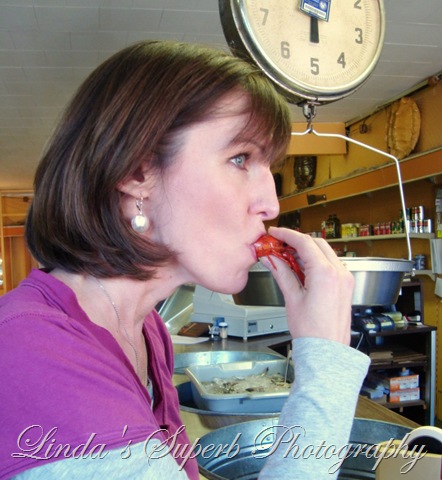 Friday found us in New Orleans. We checked into the Hotel Provincial located in the French Quarter. The oldest part of the hotel was built in the 1700's. It at one time belonged to the Ursuline  nuns and served as a military hospital for both American and British soldiers during the Battle for New Orleans. It is supposedly haunted, but the two nights that my cousin and I spent there were quiet.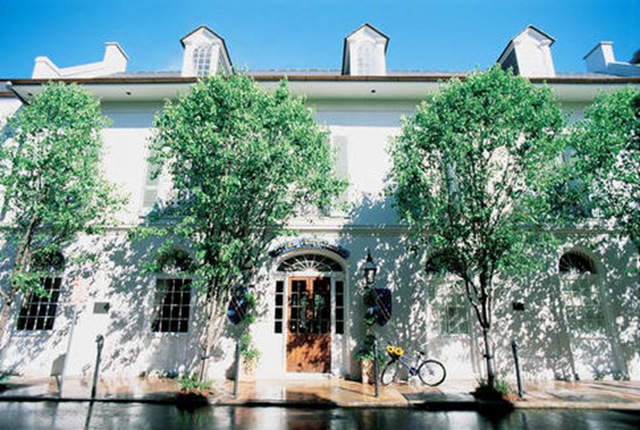 I loved this framed French banner in the lobby.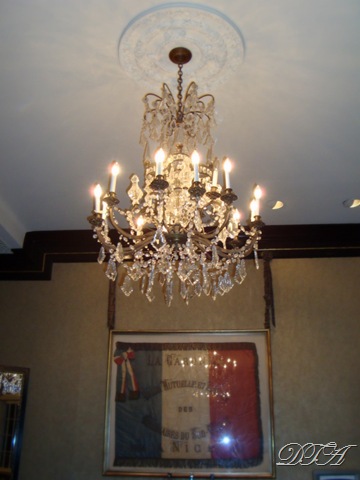 Our room was right smack dab in between two courtyards on the second floor. We had a view of the pool….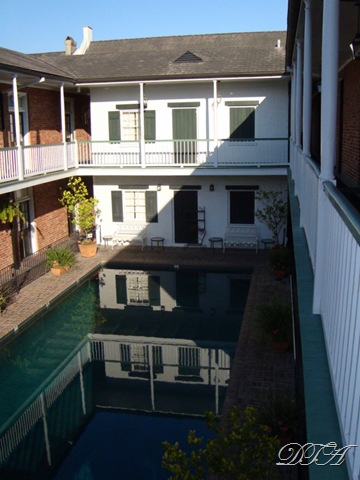 …and a view of a lovely courtyard with a fountain.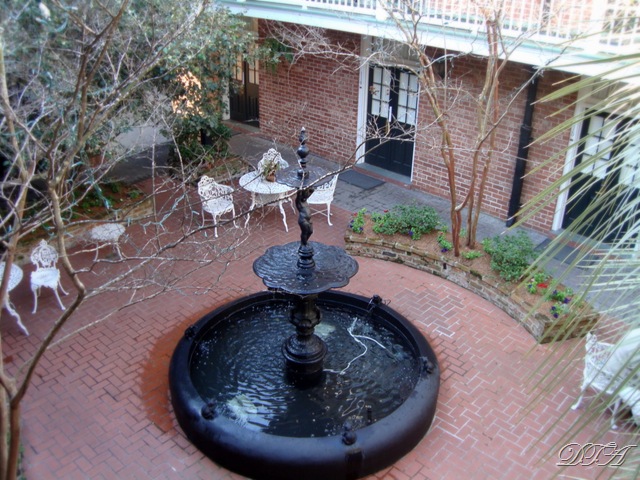 Linda suggested that we take a tour of restaurants. I excitedly agreed. We began our tour at Muriel's. I decided to forego a cocktail and announced "I don't need a good time to drink." versus the more oft quoted "I don't need to drink to have a good time." It became the phrase of the evening and we hooted with laughter every time it was repeated.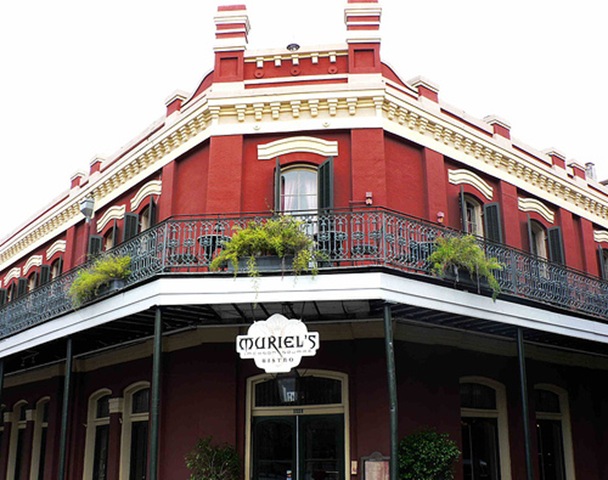 We opted to have an appetizer at Muriel's which was built as a private home sometime between 1743 and 1762. We sat in the courtyard area and marveled at the brickwork and amazing trailing plants.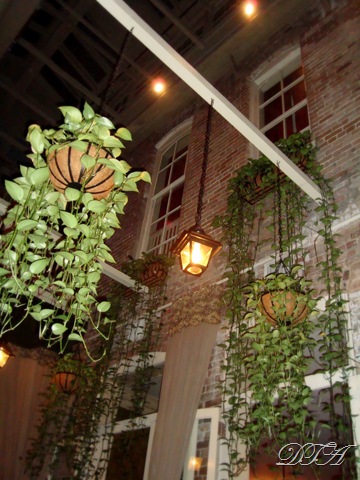 I ordered the Turtle Soup au Sherry having never before tried it. The waiter assured me that it was made from viciously mean snapping turtles. Delicious.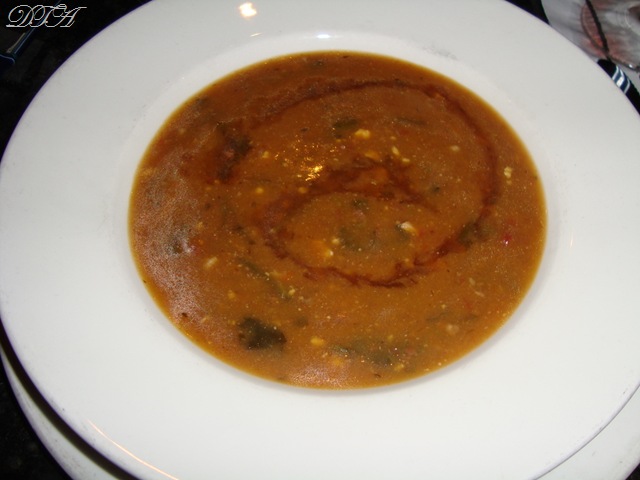 We then made a quick pass through the Court of the Two Sisters. The restaurant received its name from two Creole sisters, Emma and Bertha Camors, b 1858 and 1860. They operated a ladies shop on the site selling gowns, lace and perfumes from Paris. Becoming wives, losing fortunes and eventually widowhood never separated the sisters who died within two months of one another in 1944.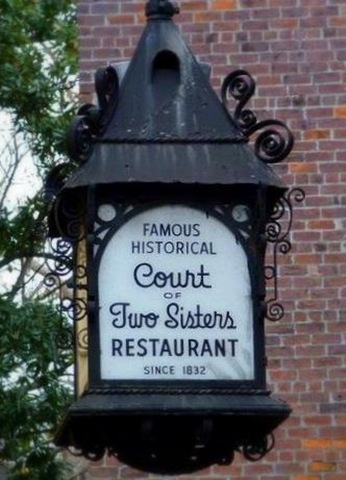 The court was a magical fairyland.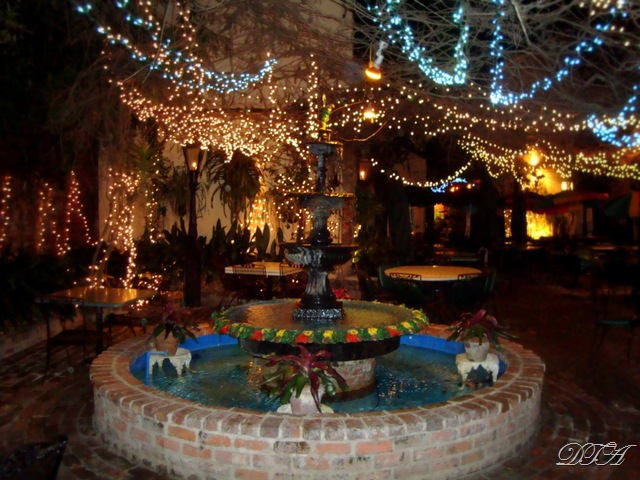 Next up was a one hour wait to get a seat at the bar in the Acme Oyster House. It was worth the wait.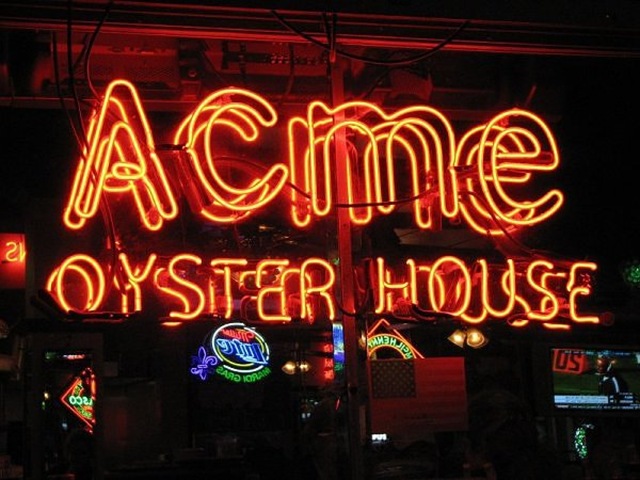 We placed an order for chargrilled oysters, gumbo and red beans and rice. Our waiter hand shucked several trays of oysters right in front of us while we experienced culinary ecstasy.  (Please note that my oyster adventures took place in March. Due to the horrible BP disaster it has affected the economy of seafood in the region. Please pray for a swift and complete recovery.)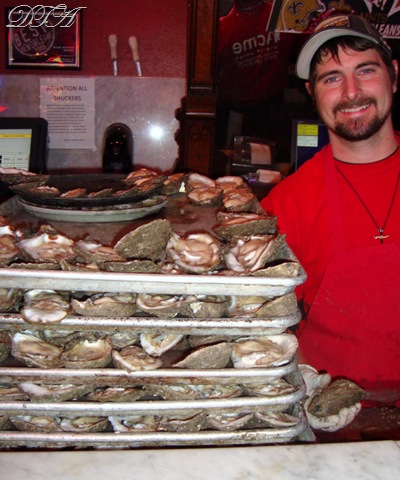 In between all of the eating we walked the French quarter and viewed its magnificence by moonlight. I quite fancied the exterior of the Hotel Monteleone. It has been in the Monteleone family since 1886.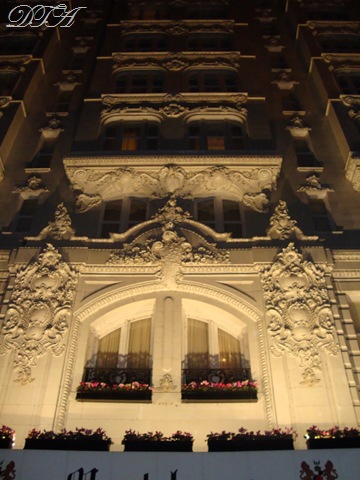 I was overwhelmed by the beauty of the lobby which was featured in several films including "Double Jeopardy".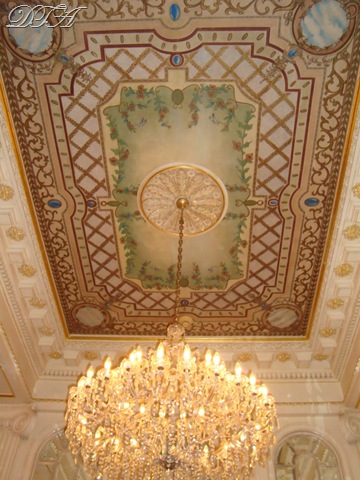 We eventually retired our bellies with thoughts on what the morning would bring. Really, is there anywhere but Cafe Du Monde?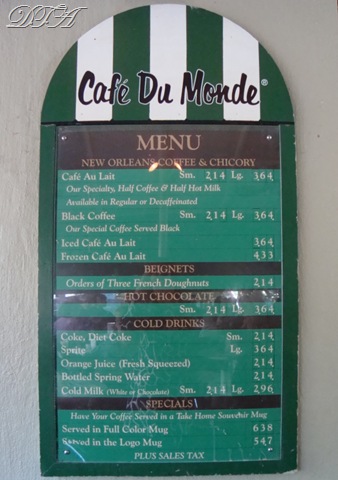 Although I don't normally drink coffee, on this occasion a Cafe Au Lait was called for. And yes, I ate the entire plate of beignets all by myself.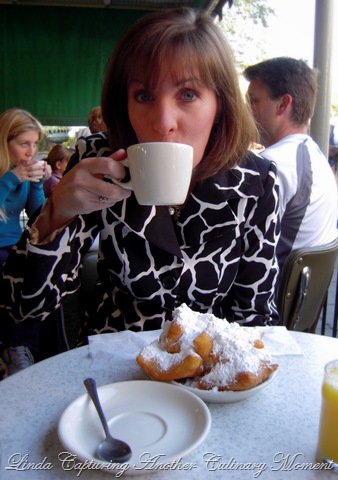 We did however take a nice, long stroll beside the Mississippi River afterwards.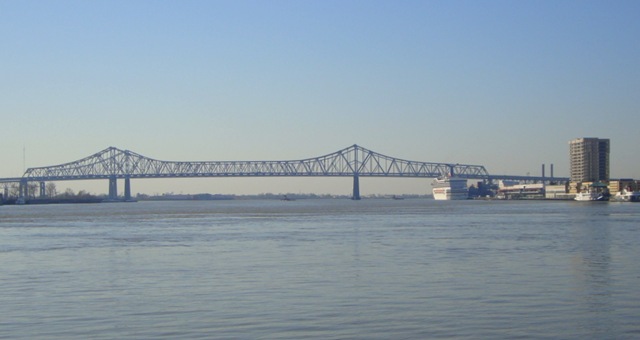 New Orleans is by all accounts a late riser. So we went to the only other place that was open, the countries oldest, continuously running, Catholic cathedral, The Basilica~Cathedral of St. Louis King of France.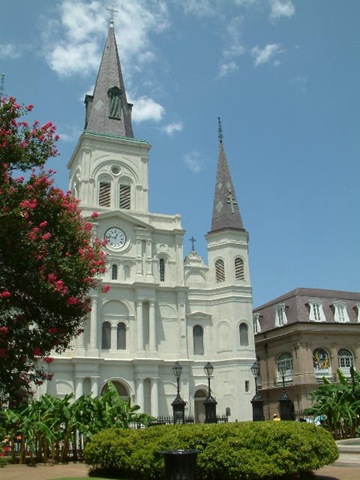 I always love to visit at least one church while vacationing. It is a chance to have a quiet moment, pause, reflect and be thankful.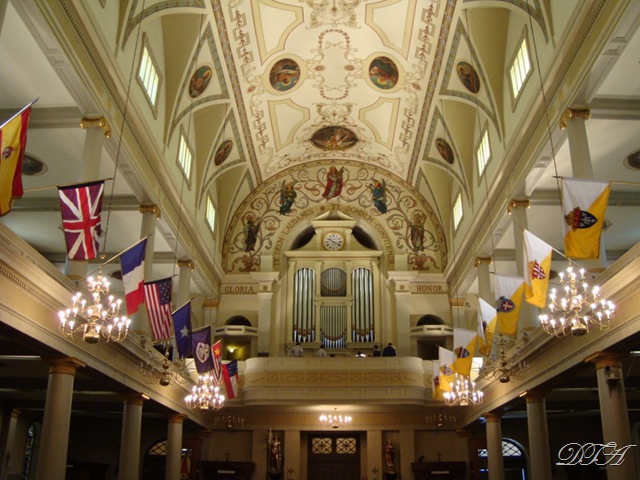 The current cathedral was completed in 1793, although it was established as a parish in 1720.


My pictures do not do this peaceful place justice.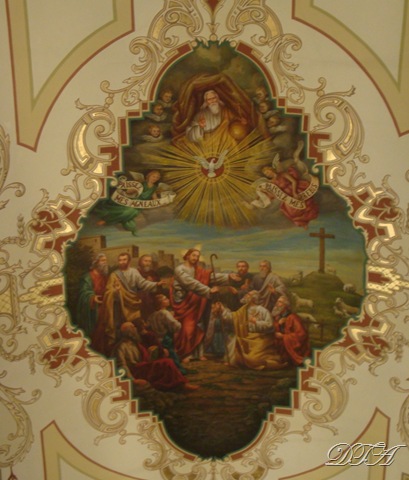 This photo of the altar has not been enhanced. The stained glass windows are that blue.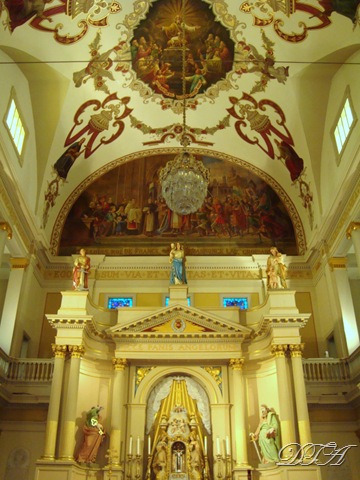 A side window featuring magnificent stained glass panels.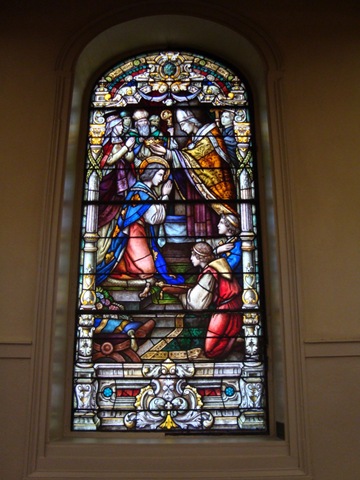 Saturday evening had my family and I once again dining at a fabulous restaurant, Sal and Judy's.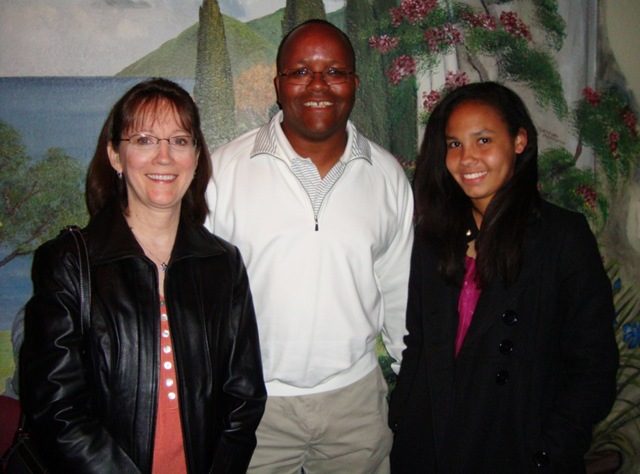 We still weren't done. Sunday morning had us at Commanders Palace, located in the Garden District, for brunch.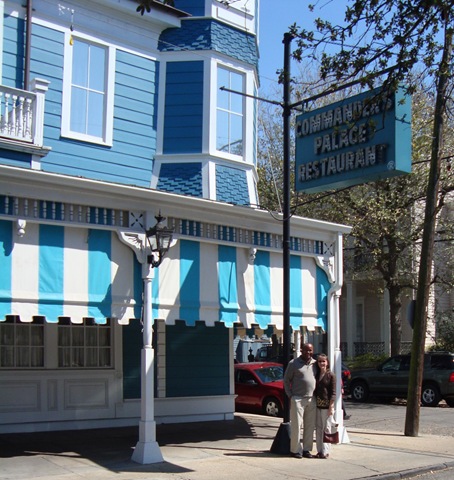 It is well known for it's gastronomic goodness and has given rise to such chefs as Paul Prudhomme and Emeril Lagasse. But as a designer I couldn't help but be entranced at the entrance. The walls were wrapped in fabric that featured a toile print with a twist~ many of the figures were embroidered.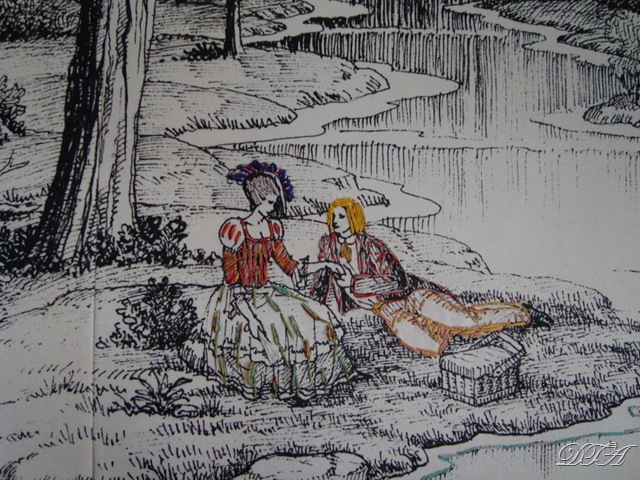 In the Garden Room sweet tweets sat perched over the patrons. (Please forgive my photography skills or lack thereof.)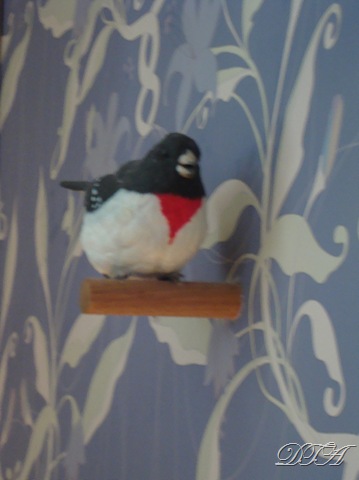 Although I don't regularly capture bathroom images, the silver leafed walls were a spectacular site to see.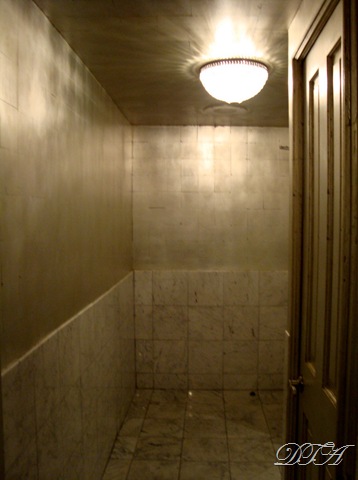 A toast to a truly magical meal.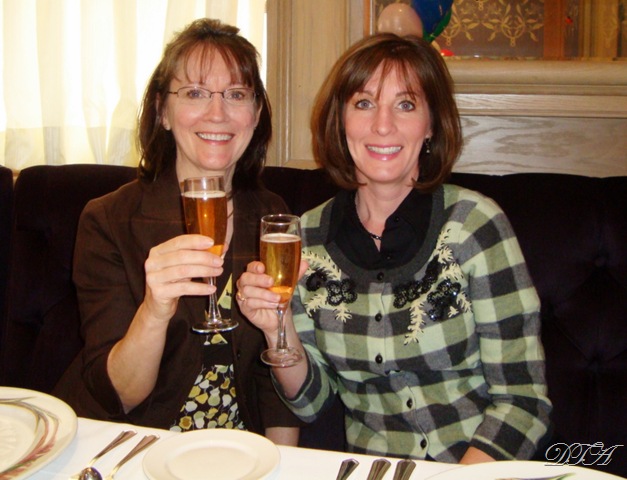 The first course was a fresh fruit parfait in a crisp pecan tuile. I was too ashamed to photograph an "after" shot in which my plate was practically wiped clean.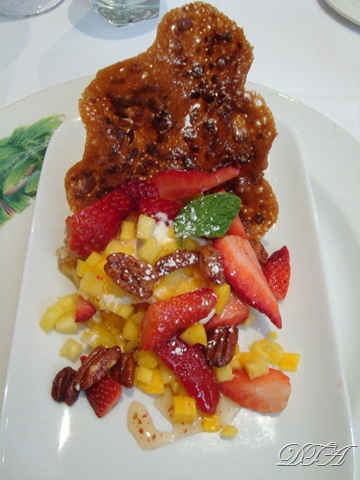 The entree I selected was Eggs Couchon De Lait~  braised pork over pepper and rosemary biscuits with poached eggs, mushrooms and topped with hollandaise sauce. Sigh, I sometimes dream about this delicious dish.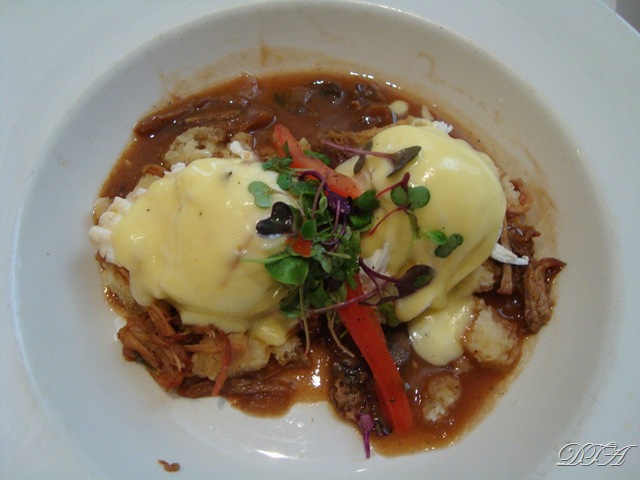 For dessert my cousin in love selected the world's loveliest ice cream cone.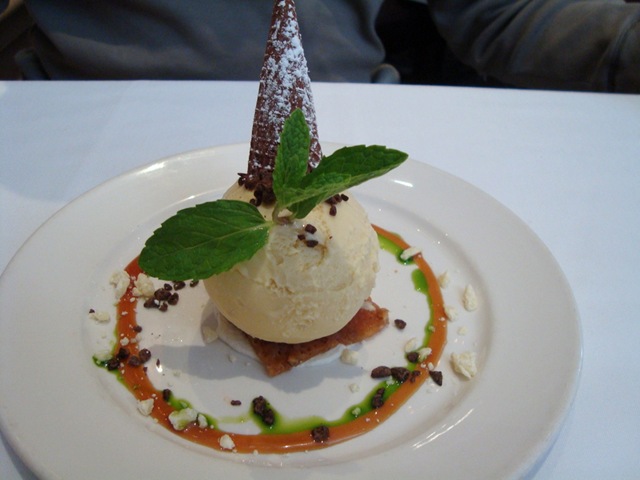 Proof that we are indeed related, my cousin selected the chocolate cake.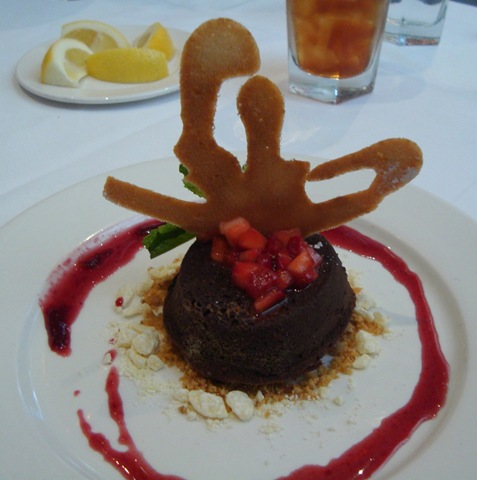 Never before have I enjoyed so many delicious, decadent meals. I imagine it may perhaps be the culinary tour of my lifetime. But truly my favorite memory is of my cousin participating in the Second Line Dance twirling her handkerchief.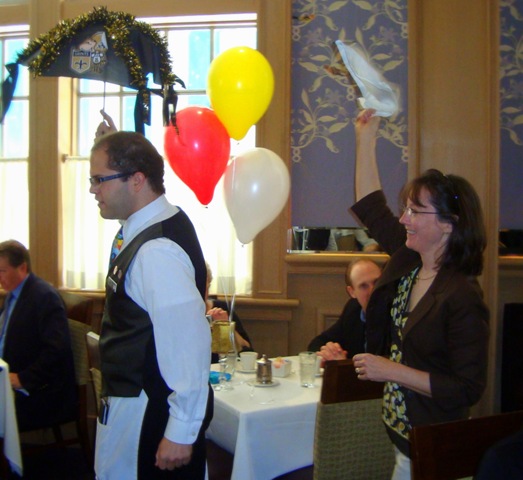 I am blessed. Thank you my family.
Laura