I am not typically a decorator for Independence day but I recently made an Anthropologie inspired tablecloth that fit the bill nicely.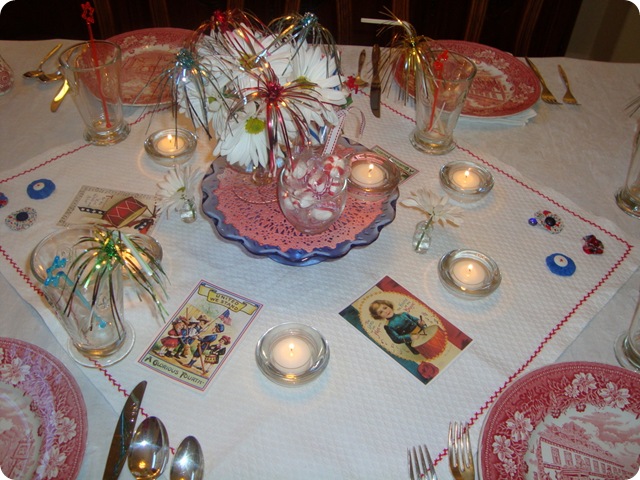 It consisted of an old tablecloth I already had and a bag of fabric scraps.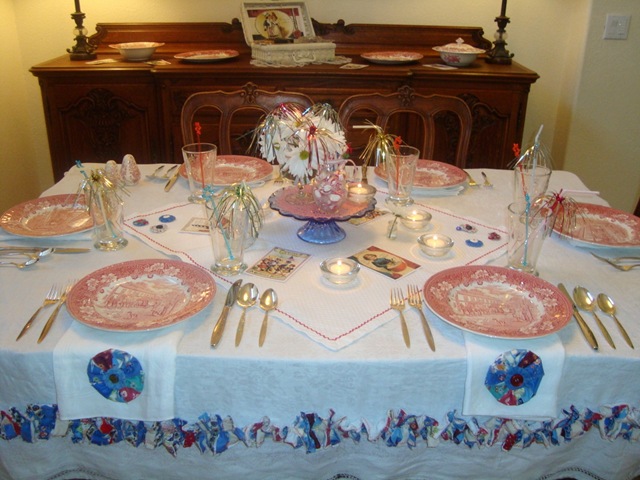 The fabric scraps were leftover bits of bliss from the 1940's and 50's that I had received from my grandmother and couldn't bear to throw away.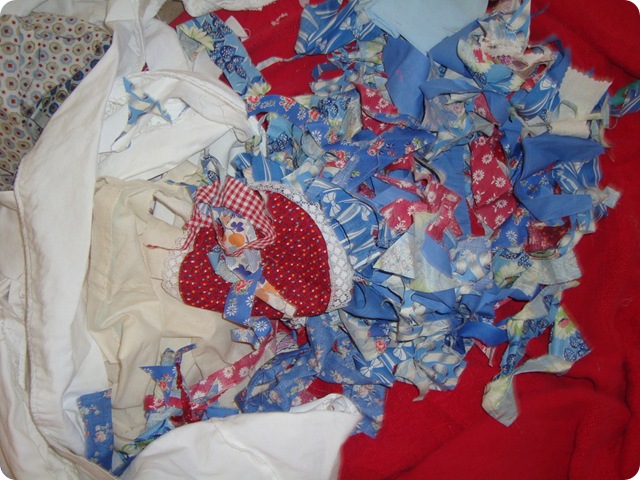 The tablecloth was a pretty cotton damask that had been purchased years ago at a flea market. As a favorite it had been used over and over and was really ready for the scrap bag or in desperate need of a makeover.


I took an old queen sized cotton top sheet and tore strips that were 3 1/2" wide. The length was way to long as you can clearly see.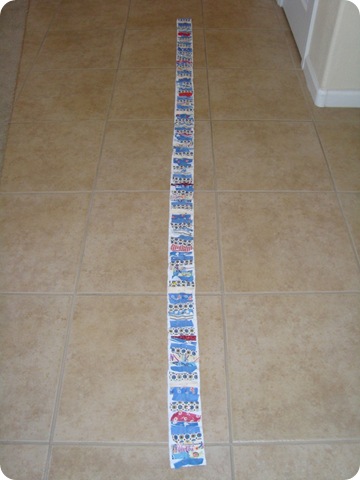 Strips of colored fabric approximately 3" in length were cut. The widths varied between 1" and 1 1/2". The fabric was then pinned onto the white cotton strip. Now I know you are all are thinking, "THIS WOMAN IS INSANE." Yes, I am. But I am also a mom whose son has a 45 minute swim practice everyday. His weekly swim meets average about 3 hours. That's a lot of time to be sitting around thinking about the mother of the year award I will be receiving for supporting him while it's 115 degrees in Phoenix. I had to humble myself somehow. 🙂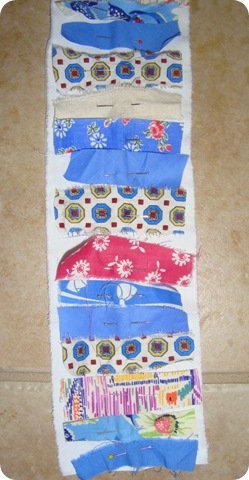 Onto the sewing machine. I first sewed the colored strips onto the white strip with a wide zig zag stitch. I then sewed a long basting stitch down the center of the fabric. I used red thread for contrast. My machine does not have an automatic ruffler so it was then time to pull and gather, pull and gather until I wanted to throw the whole mess into the waste basket.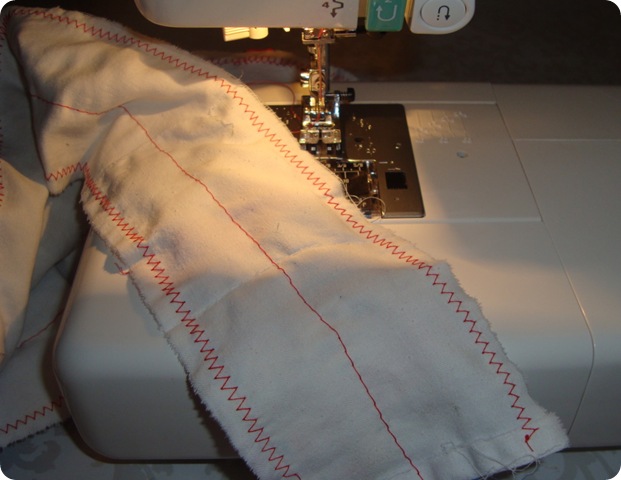 I pinned the ruffled strips onto the tablecloth. I found that it was actually easier to do this with the tablecloth on the table. I just kept switching seats as I pinned. I then sewed a basic stitch attaching the ruffled strip onto the tablecloth.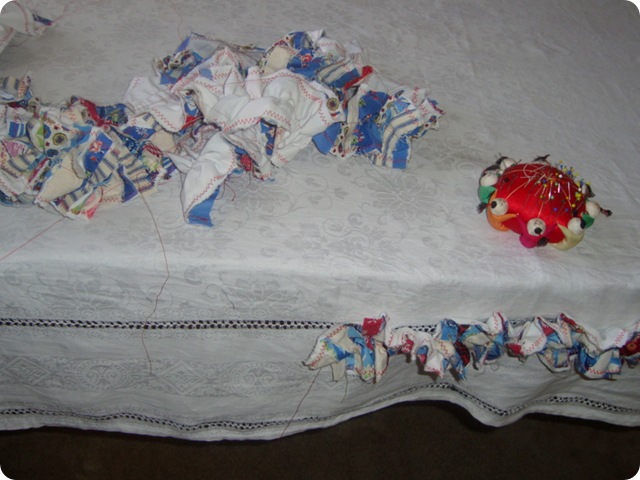 After the sewn cloth was placed on the table I covered the worn center with a smaller fabric topper that had had a few stains on it. The stains were covered up by hand sewing on a few coordinating fabric yo~yo's.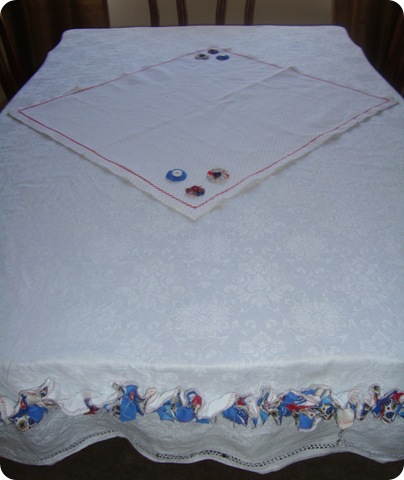 As I finished this tablecloth yesterday I began to think about to the upcoming 4th of July holiday. I recalled that there were a few leftover embellished straws from the 70's Soiree. With a quick clip they were transformed to  look a bit like sparklers and into the floral arrangement they went.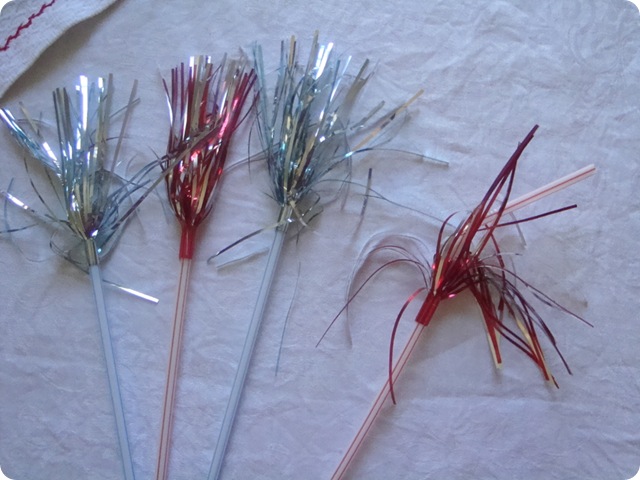 Some red, white and bluetiful candy make for festive centerpiece.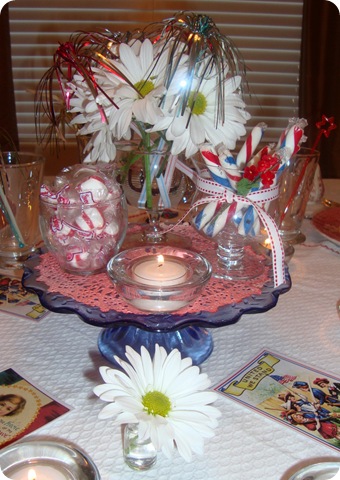 Since we are celebrating our independence from England, I thought it was appropriate to break out the English red transferware. Each napkin was embellished with a few of the fabric broaches I made back in February.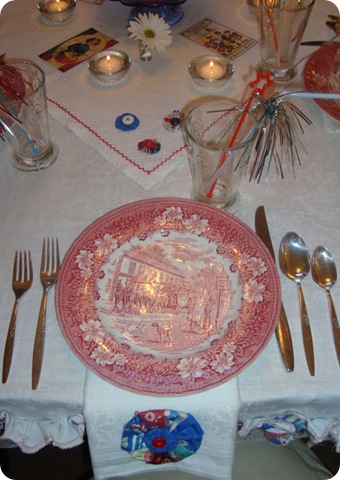 This Sunday we'll be having bbq'd chicken, macaroni salad, baked beans and corn on the cob. Who's bringing the blueberry pie?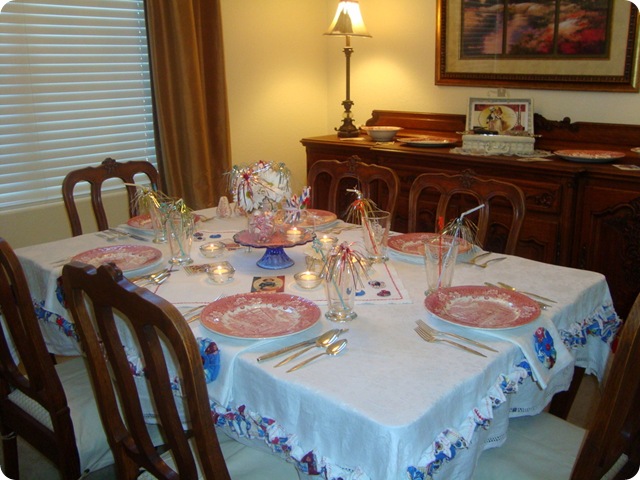 Be blessed,
Laura