Sometimes a girl just doesn't know what to title her post.
I recently finished two small pillows made from antique ticking.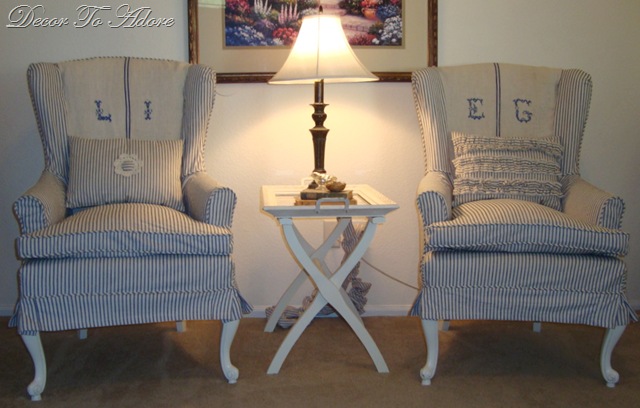 Ticking seems to be cropping up everywhere.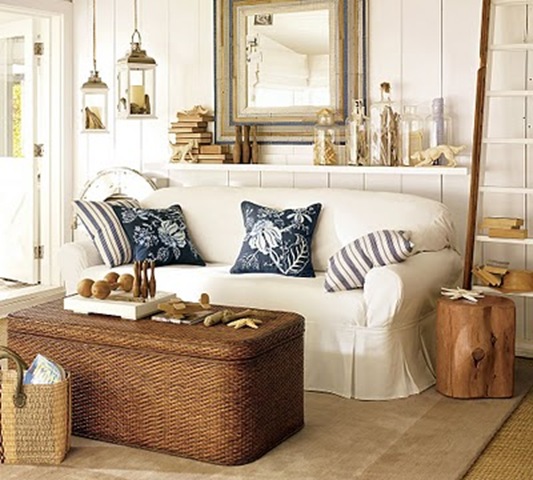 So what is it that has us all twitterpated for ticking? This fabric originated as a covering for feather mattresses and pillows. But it has seemingly become the look du jour.
Perhaps it brings back precious memories of a simpler time when we were snuggled within the midst of Grandmere's feather bed.  
It's classic crispness has a simple yet lovely look and it's durability makes it a perfect selection for use as an upholstery fabric.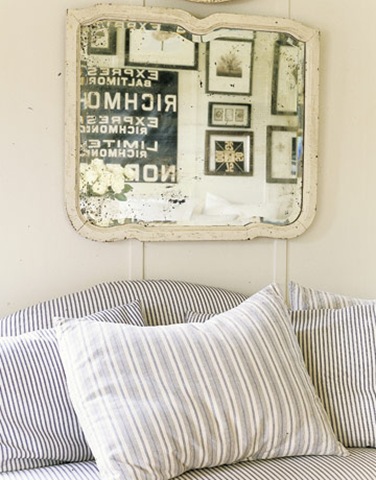 Ticking is available in a variety of colors. I adore the soft pinks and green found in vintage ticking. They are rare and therefore a bit more costly than their common counterparts of red, black and navy.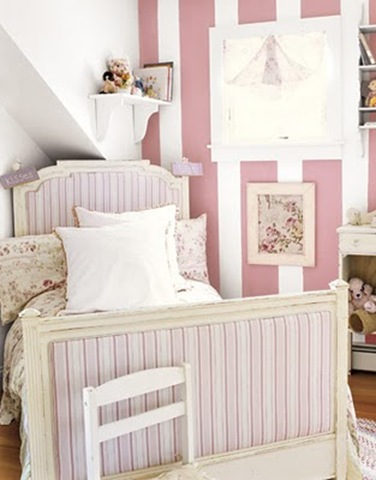 In my ongoing office makeover I am currently recovering two wing chairs and felt they needed a small kidney pillow to finish them off. The forms I found at the decorating stores were toooo fluffy. At IKEA I found the ANJA pillow. While others might say this 12" x 18" pillow is a bit wimpy, it made for a terrific insert and was perfectly priced at around $2.00.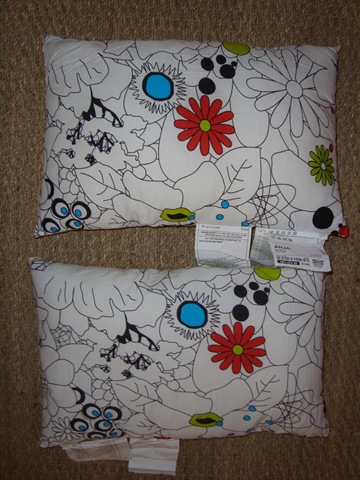 I tore a long strip of ticking measuring 14" x 20" which provided me with a 1" seam allowance. I also dug through my bag of scraps and came up with some random sizes of ticking and cream colored canvas.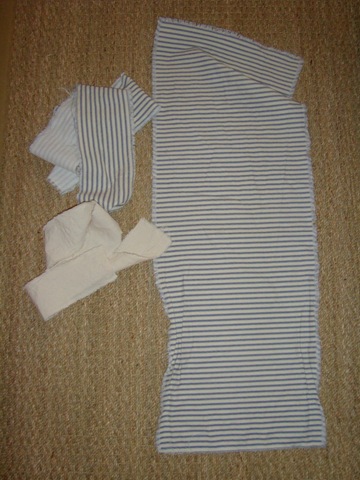 You did read the above section correctly in that I tore, rather than cut, my fabric out. I actually do this quite often. It's quicker and assures that you have a straight section of fabric and results in a fringed edge.
[youtube https://www.youtube.com/watch?v=s8bYcWYiRl0&hl=en]
For easy ruffles I tore strips that measured 3" x 50" and set my machine for a wide basting stitch that can be hand gathered quite easily.
[youtube https://www.youtube.com/watch?v=DkBBN10cz8c&hl=en]
Not knowing exactly the look I wanted, I made a few fabric covered buttons to play around with. They are very easy to do.
[youtube https://www.youtube.com/watch?v=7N93EtMd-I8&hl=en]
The finished button and a wee glimpse of a wearable tutorial that I am working on for next week.
[youtube https://www.youtube.com/watch?v=g7VBiEg_x1I&hl=en]
Here is one pillow with four different decorative layouts. Which one should I choose?
[youtube https://www.youtube.com/watch?v=b_rTfr1phC4&hl=en]
You can find a fantastic tutorial for the fabric flower broach at Wisecraft. As for my remaining fabric scraps they shall be sewn into lovely lavender sachets.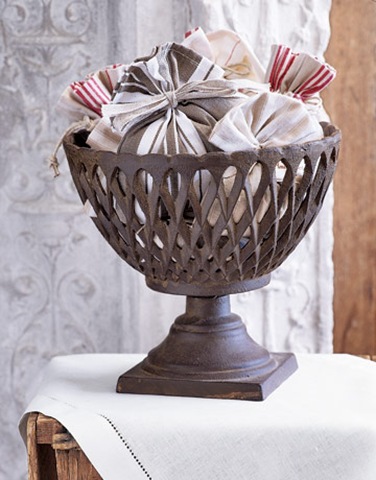 In the end I opted for a covered button resting on a small doily to create a flower of sorts and a simple ruffled design.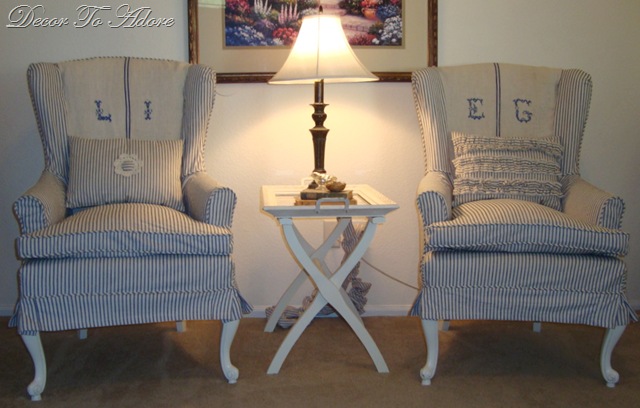 Go make a blessed mess!
Laura