Welcome to a week long series of summer decorating. Everyday this week I will be featuring decor and bits of bliss that celebrate summer.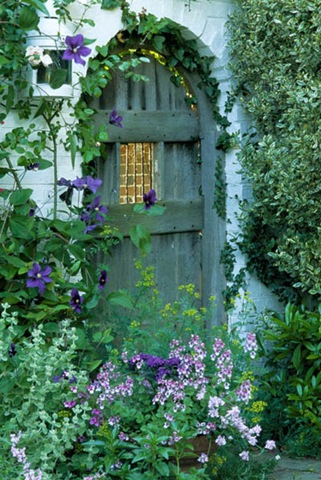 First though I have to talk about the previous post. As I finished writing that post my finger actually hesitated as it hovered over the "publish" button. I imagine that anyone who places their heart open for viewing has had this fear. But given that the title was "Opening the Door to Possible Fear and Failure" I let my spirit lead me.
All that I can say is "Wow! You guys have richly blessed me with your friendship, love and support.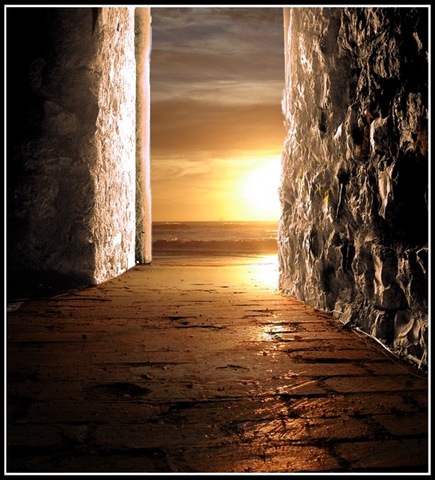 So, onto summer. Let's begin with a dose of laughter and reality. Can you spot the fabric purchased at the Rose Bowl which will soon recover the dining chairs?
How about a mile long fabric garland to be sewn into something fabulous for an upcoming 4th of July post?
Please note how the furniture is stripped of it's winter slipcovers to be washed. (Yes, I realize that they should have been changed out AGES ago.)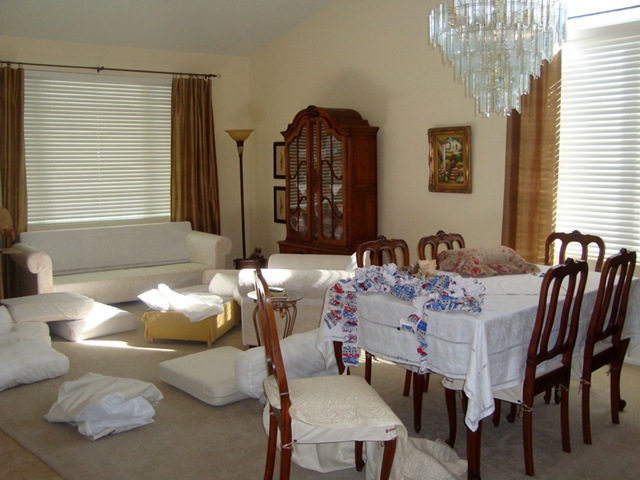 Yes, that's right. School is out and it is 115 degrees here in Phoenix. This means my kids (and often their friends)are inside for most of the day. So projects tend to pile up.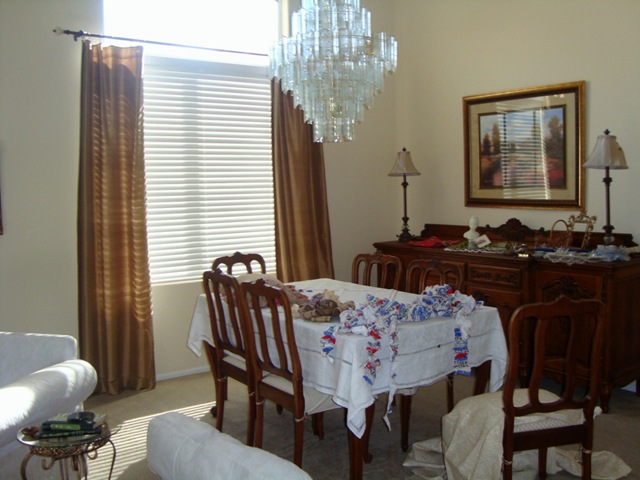 Can you imagine if a local newspaper called and wanted to do a feature the next day? Yeah, um remember the reality part? That actually happened. A decorators worst nightmare. There was no time to plan for the ultimate in "Easy Summer Decorating Tips".
So, here's what I did instead:
1. All of the rugs were rolled up and put away leaving the tile floors cool and bare.
2. White slipcovers were put on the heavy furniture pieces.
3. A few seaside touches were added. There's nothing cooler in the desert.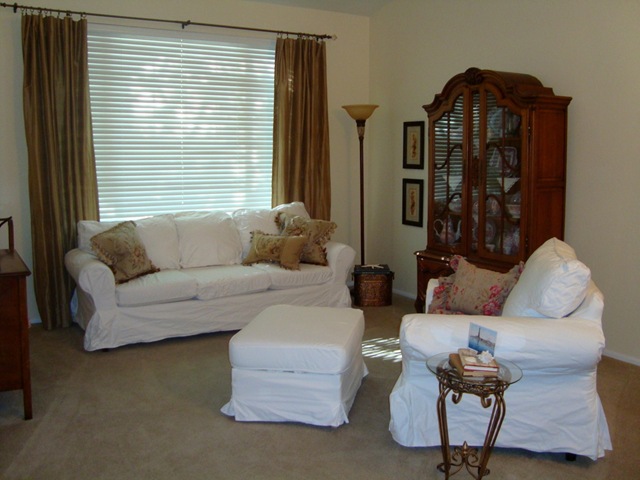 Here's a close up of a small vignette. I think it softly whispers summer.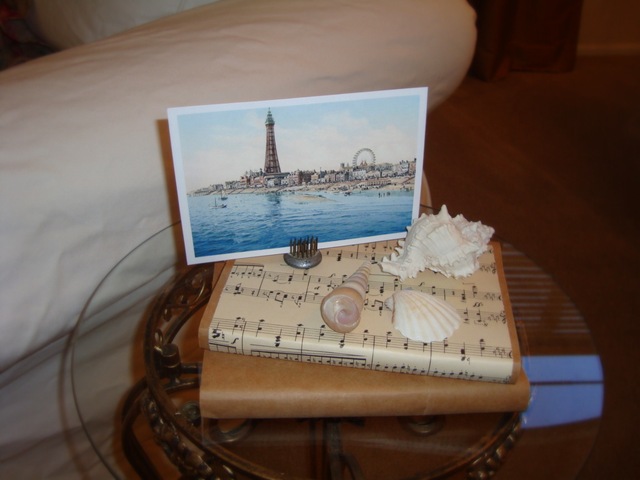 The table was dressed in cool whites and creams.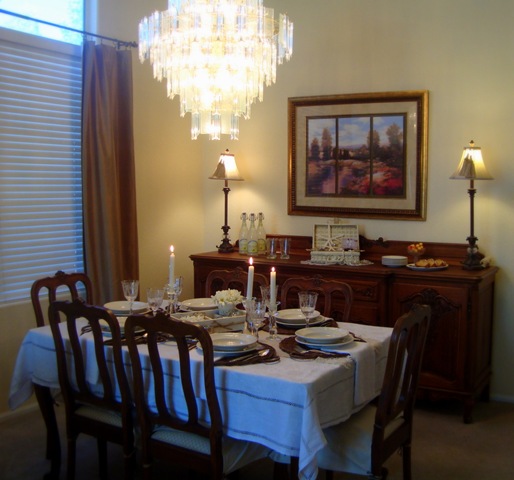 The wicker chargers give the table a feeling of an indoor picnic.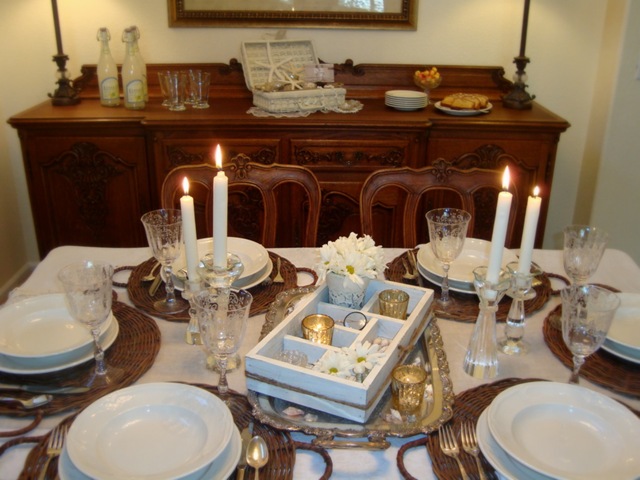 Do you remember when I told you that the shelf was going to get repurposed yet another way? As a centerpiece it does double duty as a summer filled conversation piece.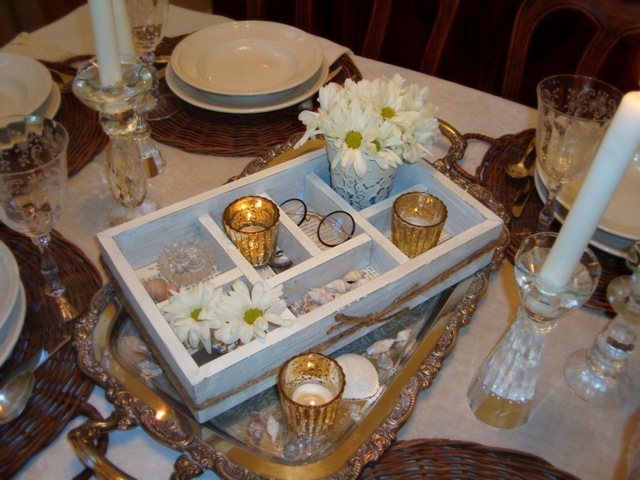 Summertime to me means lemonade and Rainier cherries. Yum!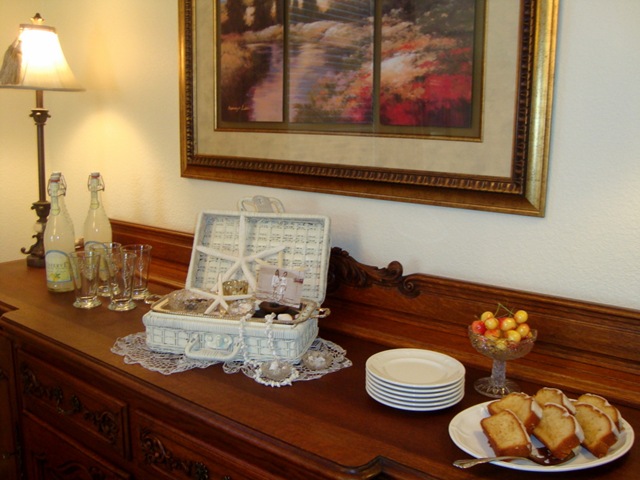 Summertime also means travel. Who hasn't brought home a few shells in their suitcase?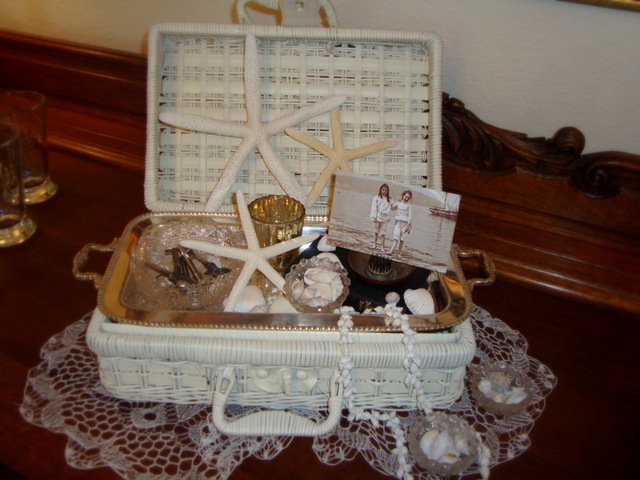 In other areas of the house I kept the surfaces free of extra fabric.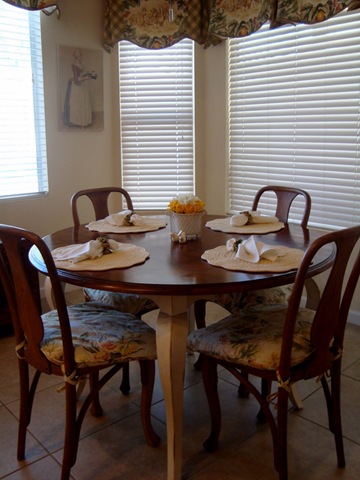 On a side note I am thinking about painting the antique bentwood cafe chairs this summer. Bright yellow? Glorious green? Yes, no, maybe so?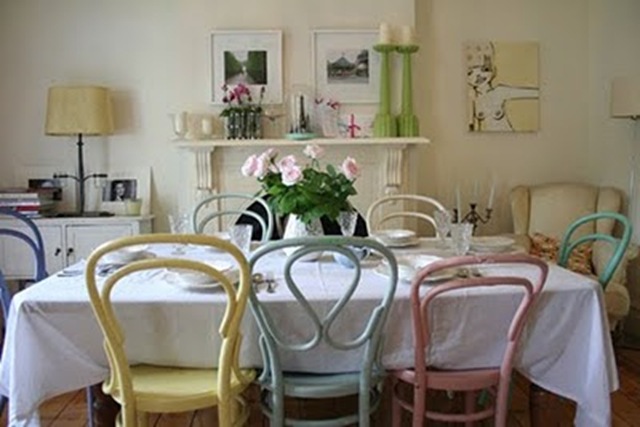 A simple floral arrangement consists of a circle of roses filled in with happy daisies.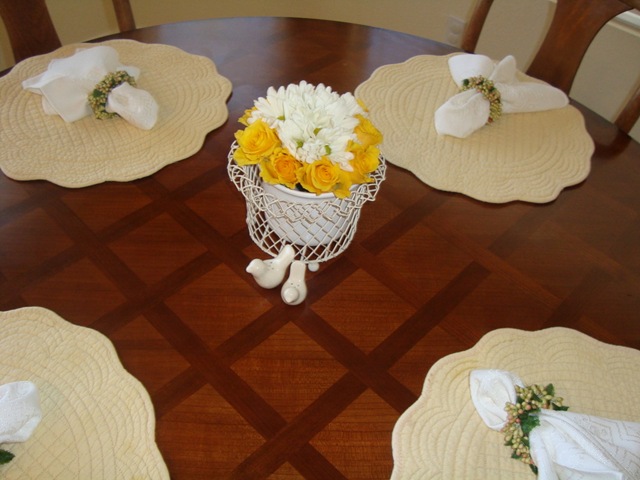 Summertime at our house means lots of games. You never know when you'll need extra dice, chips or vintage bingo cards.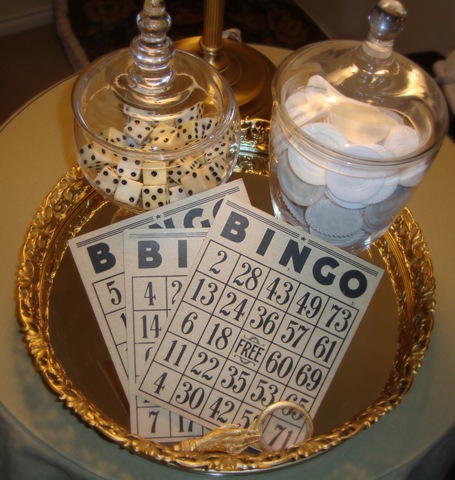 Tomorrow's post will show an easy seaside shelf made from old wood fencing that Mr. Decor was replacing.
Laura