Last August the Fashionista moved into her first apartment. She took most of my home office furniture with her. My office sat empty, save for a desk, for a long time. In early December Santa gave me a whopping $100 for new furnishings.  I scanned my style file for inspiration and decided I wanted a little something like this: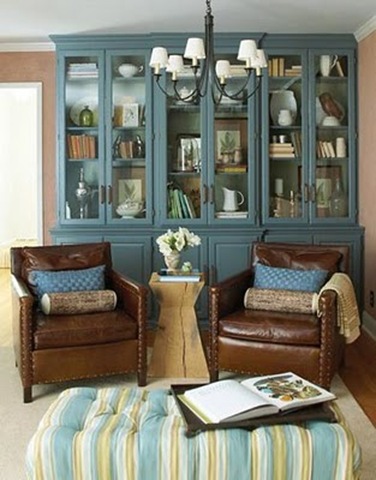 I became a Craigslist stalker. I know many of you often wonder "How do these people find such great deals on Craiglist?" The answer is: "Patience grasshopper". As I was on holiday break from school and no design jobs were on my schedule, I would log in three times a day and scour the merchandise listed under the headings "Bookcase" "China Cabinet" and "Hutch". I did this for 5 weeks. Yes, you read that right ~ 5 weeks. Given my strict budget, I only wanted to spend $25.00. My patience was rewarded.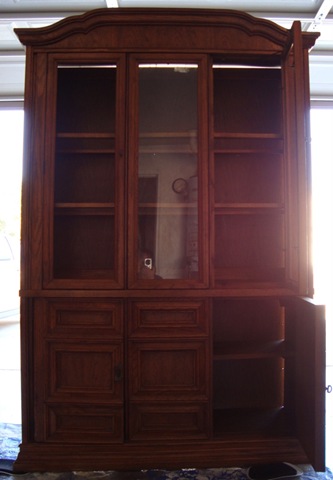 That's right. $25.00 for this beat up beauty who was missing her shelves and two of her glass door fronts.
But she was heavy and made from solid oak. Groovy detailing man!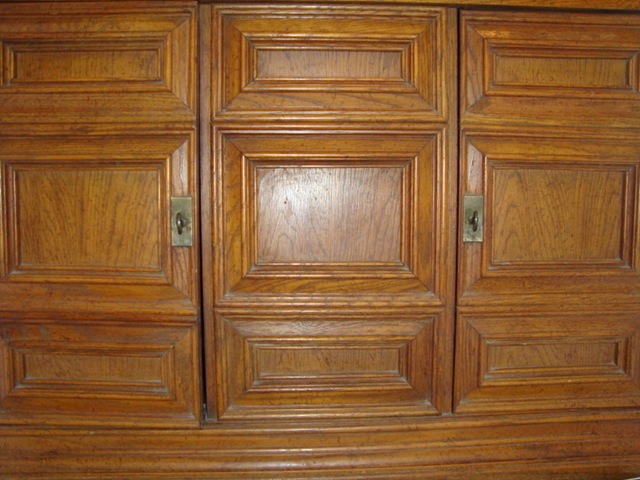 I had to give her a gentle bath with Murphy's oil soap because she was gross and grimy. Next, all of her hardware and hinges were taken apart and saved. Then every inch of her was primed with water based KILZ. In hindsight I now wish I had used an oil based primer.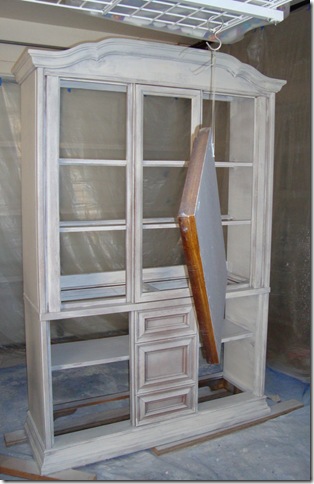 Next, she was painted Sherwin Williams Blue Mist. It is a perfect shade of light gray~blue, often found on French and Swedish antiques. The original back panel on the hutch was warped due to water damage. I decided to replace it with bead board paneling. The paneling was not sold in a size wide enough to cover the entire back so two pieces were joined by a thin strip of molding to cover the seam.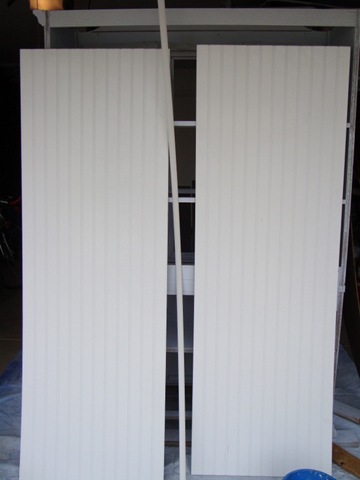 I also decided to replace the glassless shelves with beadboard to give the bookcase an update.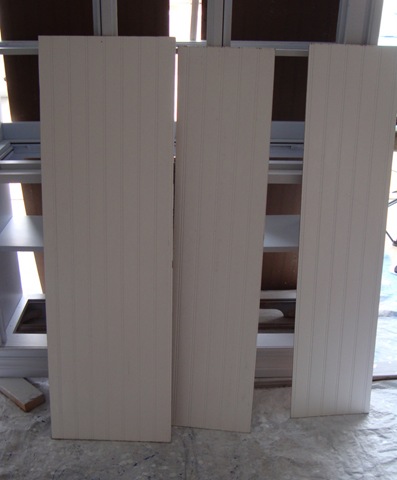 Her old hinges were cleaned and reattached, but I purchased new knobs for the doors at
Hobby Lobby
for $1 each. New glass inserts for the upper doors were cut at
Ace Hardware
for $4.00 each. She was then moved inside.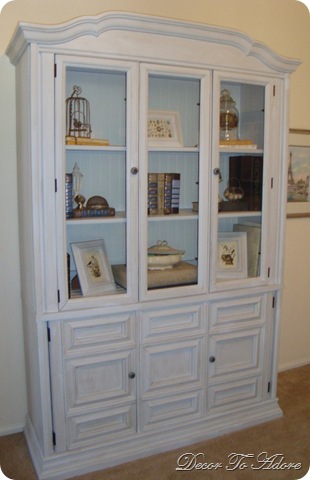 Here is a close up of the doors. After two coats of paint I applied a light layer of "smoke" faux technique glaze by Ralph Lauren and quickly wiped it off. You can see the light glazing that settled into all of the nooks and crannies.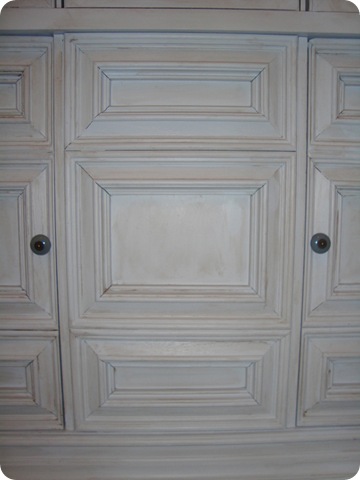 With the additional purchases of primer, paint, knobs, beadboard and glass the final cost for this transformation was around $80.00. Granted there was also about 20 hours of sweat equity involved.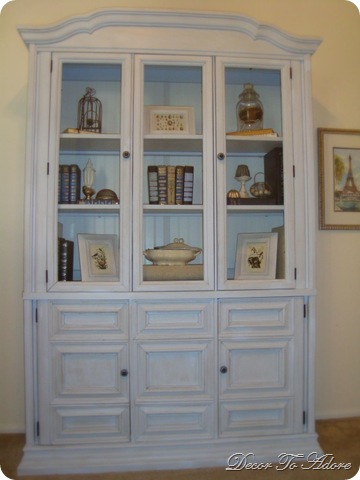 Questions? Leave a comment and I will answer any and all on Wednesday's post which will cover the various accessories that were used to decorate the upper display shelves. Think "cheap".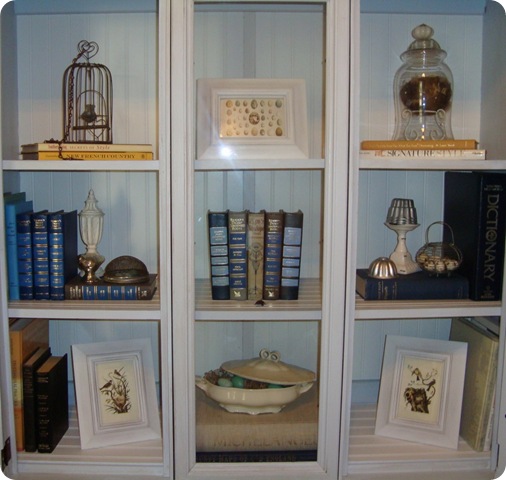 I am in the midst of updating a few other pieces for this room. Reupholstering chairs are possibly next on the list.
Au revior,
Laura
Linking to: