Our family tries to celebrate Earth Day every day. Simple choices such as selecting the least amount of packaging when making purchases, carpooling, recycling and of course my favorite, shopping at thrift stores, all help our earth. But there is also another way to help the earth that is simple and truly delicious. Keep reading for easy Earth Day Deliciousness.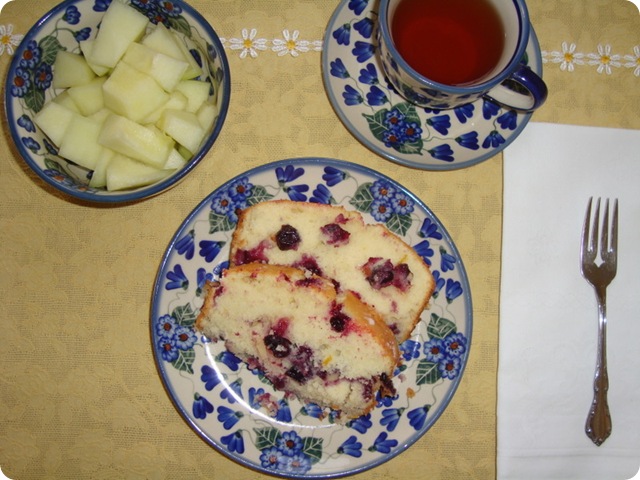 (Lemon~Blueberry Tea Cake)
Earth Day Deliciousness
Begin by buying organic. (Oh I just heard a large groan~ but stick with me.)
It tastes amazing. When I first joined our produce coop I had been buying baby carrots in a bag. In our first coop basket, there were a bunch of good old-fashioned carrots. I washed and ate one and goodness me it was a true taste of heaven. I had forgotten what an unprocessed carrot tasted like. You see after a bit of research I learned that the bag of carrots I was buying in the store were picked and cleaned WAY to early then injected with an orange dye which results in less carroty (yes, it's a word ) taste and yucky unnecessary chemicals.
It is cheaper. Ok, let me clarify, if you join a produce coop (call your local city hall to find yours) and buy locally (GREAT FOR THE EARTH!) and in bulk, with your neighbors, you will get more for less. I drop off an empty laundry basket at Holly's house every other Friday along with a check for $15.00  and this is a sample of what I receive when I pick up my basket on Saturday morning: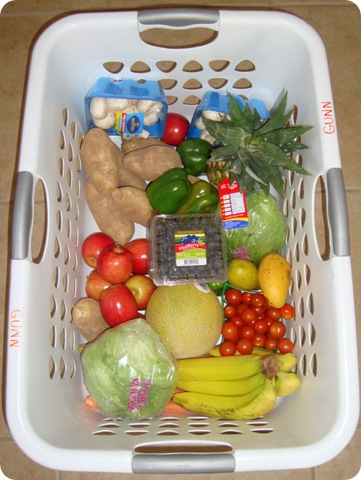 If anyone can buy all of that at a grocery store for $15 I will eat a rutabaga raw. Here was what was underneath the other produce in the basket that you couldn't see: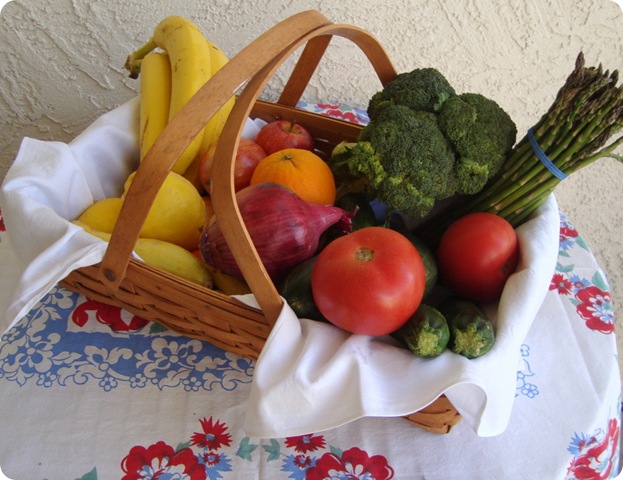 Surprise!
Of course, I never know what we are going to get. But our family gets so excited to see what the basket will hold. By being in a coop and buying organic I am happy that I am not putting unnecessary chemicals into our earth or my family for that matter. Let's face it, even if we wash our fruit and veggies well, not all of the chemicals come off. Over time the chemicals can cause cancer. That is an ugly fact.
So do you want to see what an average dinner looks like at the Gunn house?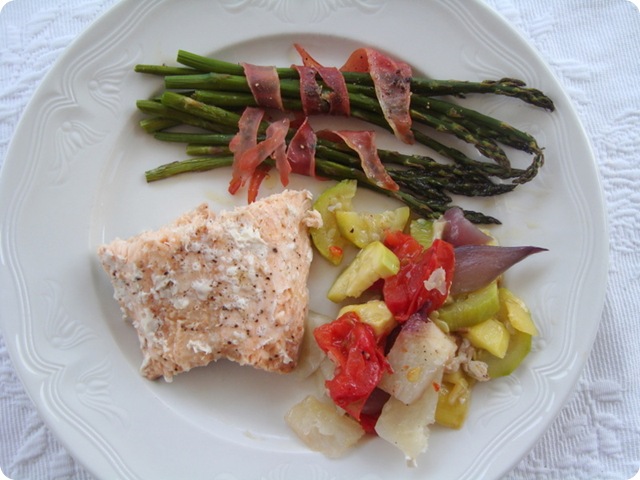 Easy peasy. Take a cookie sheet or baking pan and line it with recycled tin foil. Layer a mixture of cut up root vegetables (such as potatoes, carrots, onions,) add a few quartered tomatoes, sliced squash, etc. Top with the meat/fish of your choice~this time it was salmon. Add a bit of sea salt, ground pepper, other herbs you like and drizzle a wee bit of olive oil over the entire surface.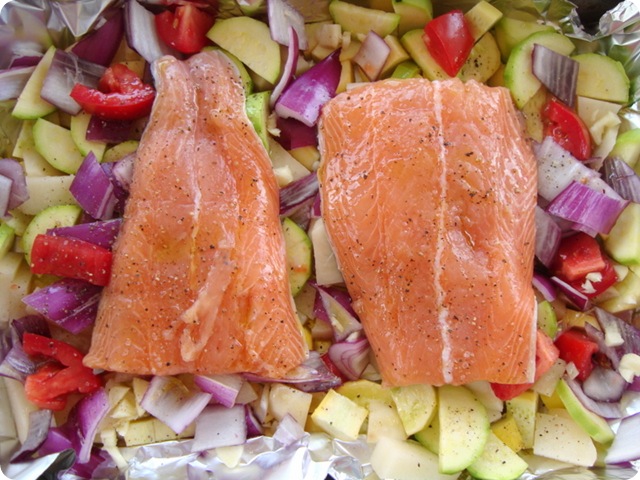 Take another piece of recycled tin foil and cover and crimp all of the edges closed. Bake in a 350-degree oven or on a grill until done. (About 30 minutes.)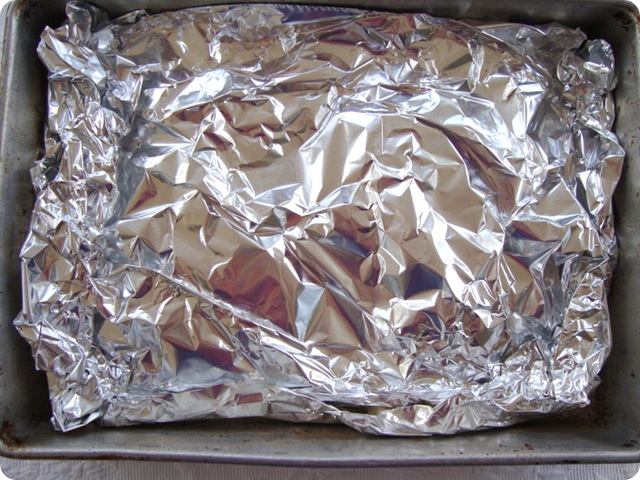 Prosciutto Wrapped Asparagus
For the Prosciutto Wrapped Asparagus take a small amount of prosciutto (Italian ham that I buy at Trader Joe's or Fresh and Easy) and wrap it around cleaned asparagus. Add a bit of sea salt and ground pepper and drizzle a wee bit of olive oil over the entire surface. Cook in a 350-degree oven on a cookie sheet or on a piece of tinfoil on the grill for 20 minutes.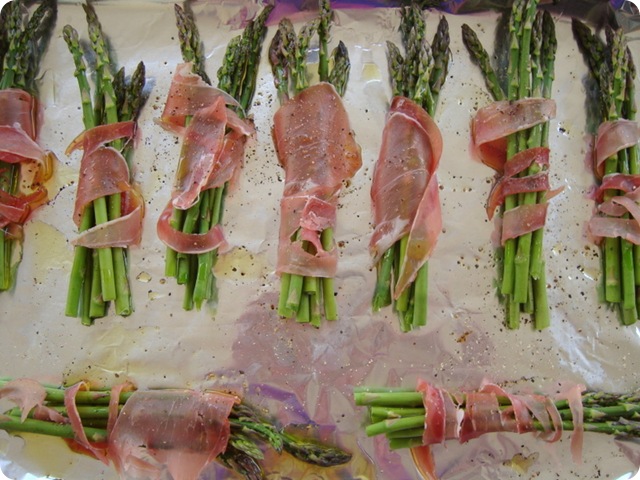 How To Make Lemon~Blueberry Tea Cake
Here are the ingredients:
1 1/2 cups of flour (it is white, wheat just doesn't work) 1/2 cup of softened butter, 2 large eggs, 1 teaspoon (tsp.)of baking powder, 1/2  tsp. of salt, 1/2 cup of milk, 3 tablespoons (Tbs.) of lemon rind, 2 Tbs. of lemon juice, and a cup of blueberries
Take a moment to notice the organic milk and eggs in the photo below. I want to tell you why I pay $3.00 for eggs. Years ago my sweet daughter began developing at 8 years old. (Yes, 8!) At the time I worked in the medical field and my friend Cindy who is an AWESOME P.A. (Physician Assistant) and proponent for healthy eating said something very simple to me: "Laura, if you buy food (dairy, meat, eggs) in which the animal is given growth hormone to make it mature faster, your children will ingest the hormone and also develop faster." Huge light bulb moment. From that day forward I bought hormone free dairy and eggs. My daughter stopped developing until a few years later when it was biologically the right time.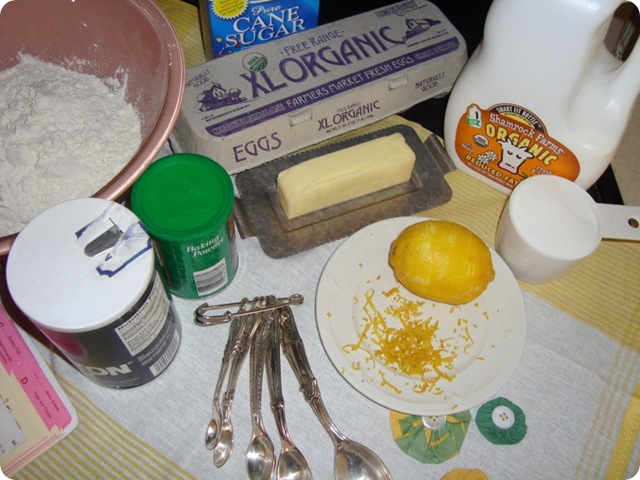 So let's cook! First, beat the softened butter until creamy.
Gradually add the sugar and beat until light and fluffy.
Add the eggs, one at a time, until just blended.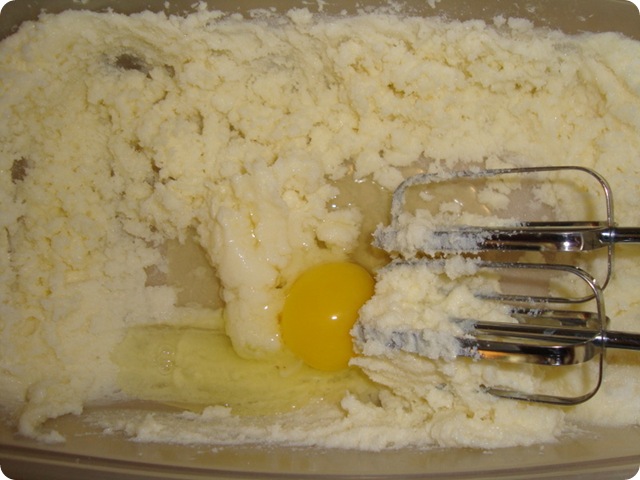 Stir together the flour, baking powder, and salt; add to butter mixture alternating with the milk, beating at a low speed until blended.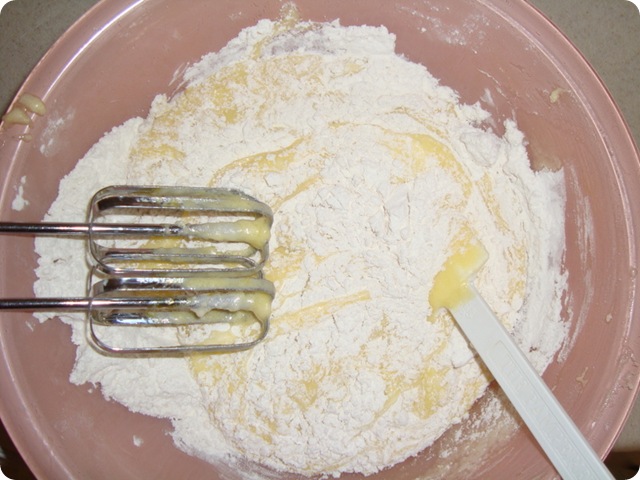 Lemon Glaze
Add the lemon juice, rind and blueberries using just a spoon so the berries won't be crushed. Spoon batter into a greased 8 x 4-inch loaf pan and bake at 350 degrees for one hour or until a toothpick inserted into the center comes out clean.
For extra sweetness, you can make an easy glaze of 1/4 cup of powdered sugar and lemon juice. Mix it to a  drizzly consistency and place it over the top of your cooled loaf of bread.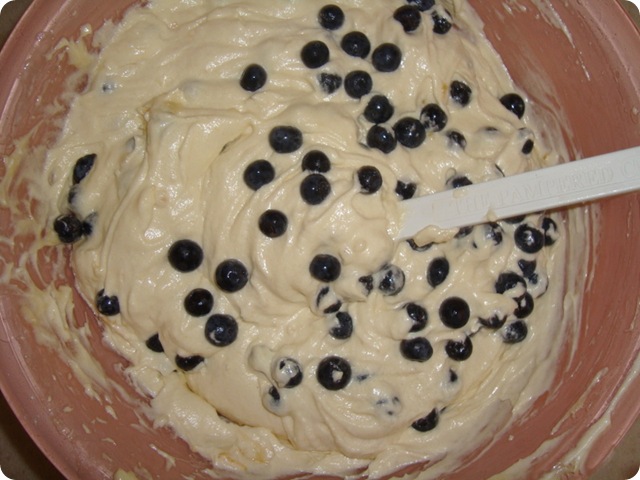 So why an Earth Day filled with food?
Most of you know that my beloved foster mother passed away unexpectedly 3 weeks ago. What you don't know was that it was from a massive heart attack.
My biological mother passed away from cancer when I was a very little girl of five.
If you are interested in learning more about healthful eating and why to do it, a great book is In Defense of Food by Michael Pollen.
A good documentary to watch is Food, Inc. If you have a Netflix account you can watch this riveting 1 hour and 34 minute film instantly.
I am also really loving Jamie Oliver's Food Revolution on ABC. Anyone else?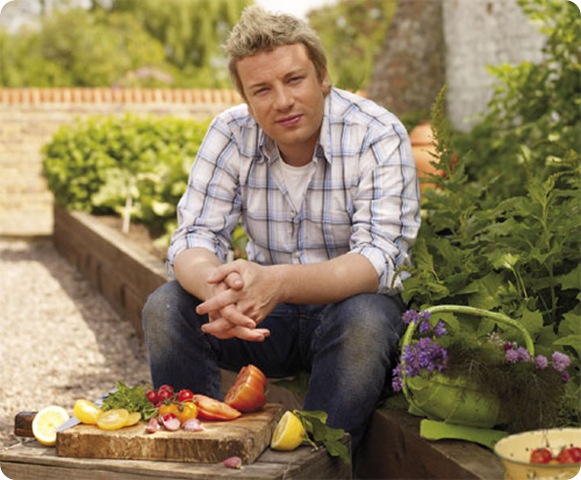 "I was 32 when I started cooking; up until then, I just ate." ~ Julia Child
Bon Appetite!
Laura