Santa's Got A Brand New Bag Craft 6. Need a simple and sweet way to present your gifts? How about a fabric bag? The bottom of my tree is surrounded by bags.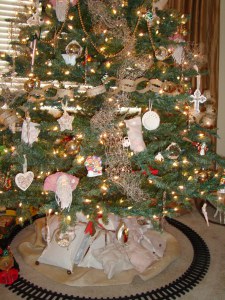 There are even small bags filled with treats tucked in the midst of the tree branches.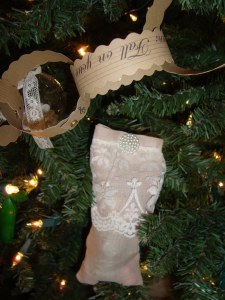 Next to the tree is an old German sled topped with larger bags. No two are exactly the same.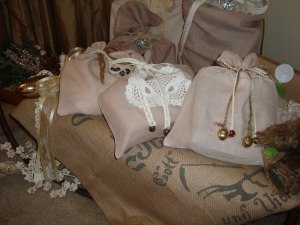 Here is a close up that shows bags embellished with doilies, rick rack, old lace and jingle bells.
Although I don't have a problem with peekers in my family, the bells do act as a deterrent should the desire arise.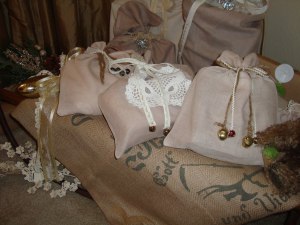 Santa's Got A Brand New Bag Craft 6
The beauty of the bags is that they can be made to fit any size gift. The bags belonging to Mr. Decor and Sweet Boy have masculine trimmings such as wooden ice skates and twine. The Fashionista's bags are a bit softer with velvet, lace and antique rhinestone buttons and broaches.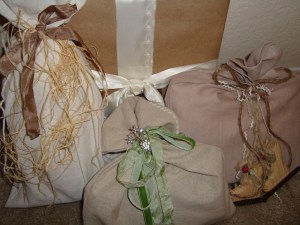 A close up of one of my favorite bags features a duffel with a ruffled top. The ribbon is old blanket edging that I embellished on my sewing machine.

Using Scraps
Now onto the behind the scenes, or is it "seams"? I had a few flour sack scraps leftover from when I slipcovered the chair for Sweet Boy's room. As it is old material I couldn't bring myself to just throw it away.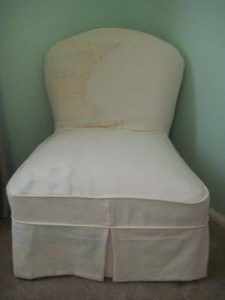 When I began planning an old-fashioned Christmas for my children this year a light bulb popped into my head reminding me that in the old days, packages were either wrapped in brown paper or material.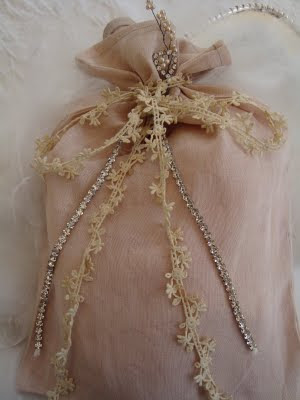 I began by making a list of what gifts were going to be given and then approximated how big I needed each bag to be and made sure to include a 1 inch inside seam.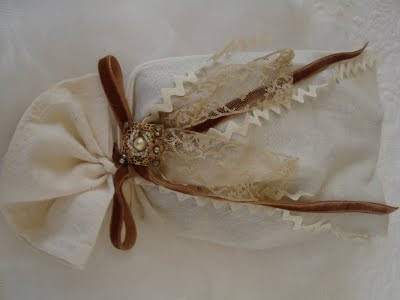 I cut out basic squares and rectangles. Each bag received various embroidered stitching across the top of the bag. The fun part was digging through my stash of ribbons, bells, and broaches to embellish each bag.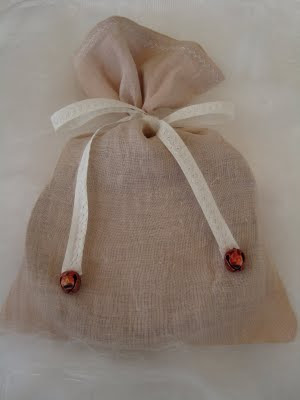 Gifts For The Neighbors
For the neighbor's gifts, I had found a large stack of vintage cloth Christmas napkins at the thrift shop. A couple of side seams and I had lovely wrapping for a bottle of cider. I embellished each with a handmade corsage.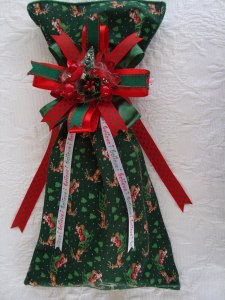 The lasting beauty of fabric bags is that they can be used for several years. I won't spend money on paper or add to the landfills. They are also washable and the color is neutral enough for use on birthdays and other happy occasions. You can customize your bags to fit any
color palette. Now that's a wrap!
Go make a beautiful mess and be blessed,