Are you counting down the days? Every afternoon sweet boy opens one door of the advent calender to find the treat of the day. Today will have him baking cookies with mom.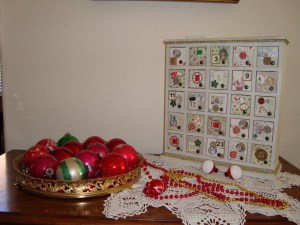 Here is a close up of a few of the doors. If you would like to see the before pictures and how

to's

click

here

.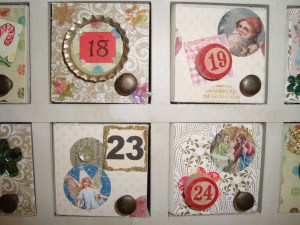 Every year I create a new table vignette. This post will only include the new vignettes I have created for my home this season. You are welcome to go to the right hand side bar and click on December 2008 if you would like to see past vignettes. One of the past posts features a story on the original
1977 Dept. 56 display
I have on my sideboard.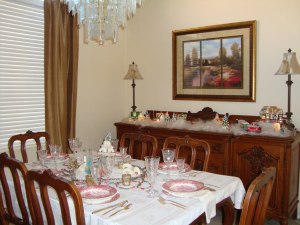 This years centerpiece features vintage bottle brush trees and sugar bells, a happy snowman and antique mercury garland.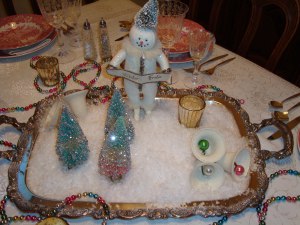 I
n my china hutch I have nestled my most delicate and precious Christmas treasures.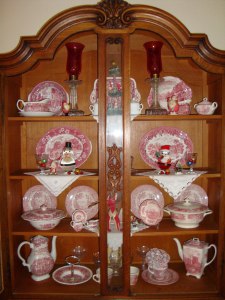 My initial plan was to sprinkle snow throughout and I still might after my last two finals tomorrow. Until then, a

hanky

suffices.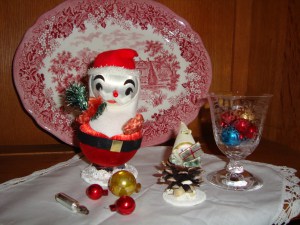 This snowman belonged to my great grandmother, Lenora.
The pine cone elves were from my Grandma Mary. They are both now long gone, but precious memories live on.

I can only show you a few partial glimpses of my tree as I still have a few more crafts planned for this season.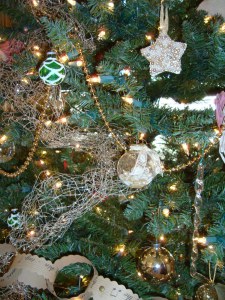 Here is the

Anthropologie

inspired tree topper. You can find the recent tutorial

here

.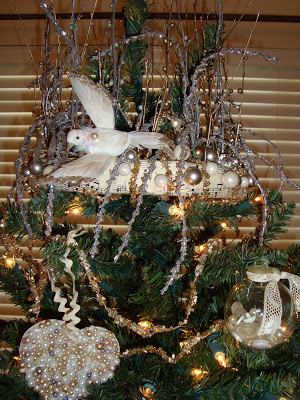 To create your own crosses, stars and hearts with vintage pearl necklaces visit this
post
.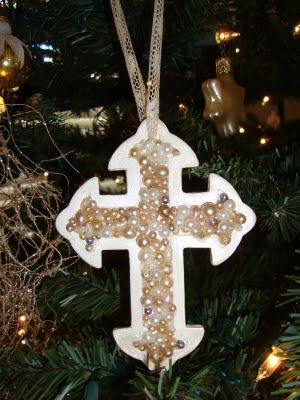 For the button and crystal ball tutorial take a gander

here

.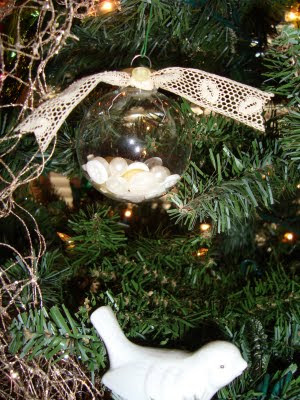 I
had to come up with a few decorations for the $500 guest bedroom that was recently completed. I love to hang a garland at the foot of the bed.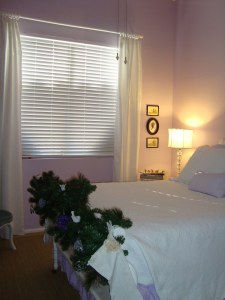 I already had the garland and sweet ceramic white birds. I found the silver and purple glitter roses at Target for $2.00.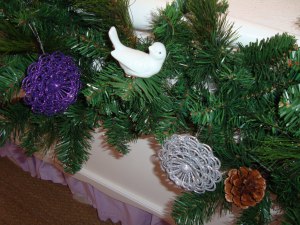 There is a stocking hung at each end of the garland. It is made from a vintage pillow case.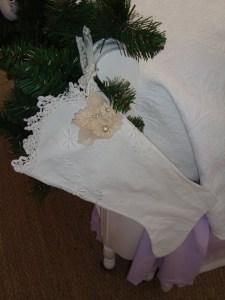 On the side table I have a symphony of angels playing in the snow.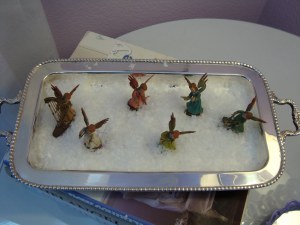 Next door is sweet boys room. He decorates it himself. I find that if you give your children their own space to decorate they develop a sense of pride and respect the other displays you perhaps don't

necessarily

want small hands touching. He filled his customized basket full of Christmas books and took a shine to the wise men.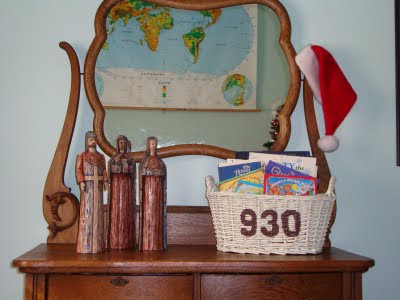 Musical Christmas bears stand watch over his tree.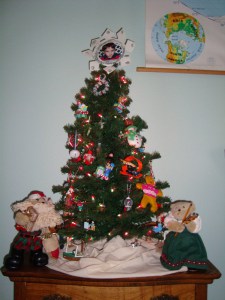 In our bedroom I have once again hung the garland of Christmas past. You may want to read the
story behind the ornaments
. But be forewarned, you might need a

hanky

.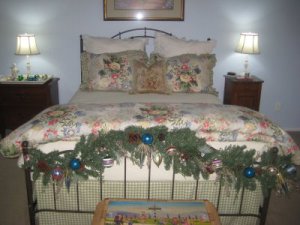 Once shiny, now faded orbs grace the side tables.