Hello my friends~ I miss you so all very much. A big hug to all of you who have sent well wishes and prayers.
I am interrupting my bloggy sabbatical to speak about something very close to my heart. I am praying it does not come across as me getting up on a contraption such as this: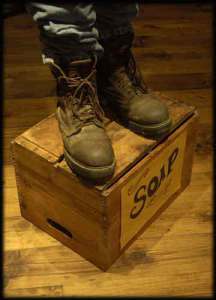 Many of you know that I grew up in foster care. I am here today because of God's grace, my own will and determination and because people cared. People I knew well, and strangers who came into my life fleetingly and gave their time~ energy~ and I am sure on occasion, ~money so that I could become who I am today.

Years ago I often wondered "How do I ever begin to pay back everything that has been given to me?"
Situations presented themselves. Such as when the local chapter of the NOCC (National Ovarian Cancer Coalition) asked for design volunteers to create healing havens for women currently battling or recovering from ovarian cancer. In donating my time I encountered several fabulous women who blessed me more than I could ever begin to bless them.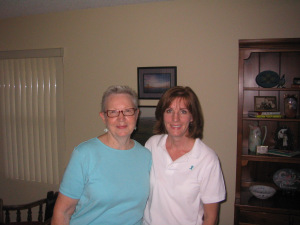 I know that some people avoid volunteering because they think it is a bore or that it involves tremendous sweat.
This is a misconception. You can shape volunteering to whatever suits your life. It is absolutely ok to give of your time doing something that you love or believe in. To be honest I am not one for car washes, selling cookie dough, or hocking magazines to raise money.

Here is another example of doing what I love while volunteering: Our church recently bought a warehouse space that used to house a gymnasium. They needed to transform the room below into a sanctuary. They asked for my help.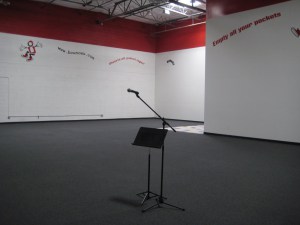 Gulp. Um, I don't have ANY experience in the area of churches. This was totally out of my comfort zone completely. While I have done work in some commercial spaces, I specialize in residential design. But I didn't say "No." But you better believe I prayed. Almost immediately I was given this thought: SALVAGE.
The dictionary's definition of salvage is:
To save from loss or destruction.
To save discarded or damaged material for further use.
Wow. Kind of like what God does for us.
I shakily presented this concept to my minister with photos of old stained glass windows, relics from churches, pipe organs, etc.
He loved it. So now I am on the hunt for salvage in which to decorate the walls of our church. Did I mention we have no money? That's ok. I am voluteering to find cheap (read FREE) salvage. I believe it will work out.
Don't be afraid of going outside of your comfort level, you will be blessed immeasurably.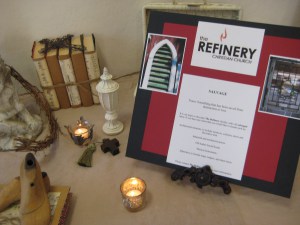 I can remember as a child that art was my favorite subject. I want my children to have the same opportunities as I did to love art. But sadly, there is not funding.
A wise teacher of mine once said: You can complain about anything you want to. I will listen. But the condition is that you must follow up with a possible solution that could correct the situation.
So while I can complain about the lack of art in my child's school, the solution is to volunteer my time giving art lessons. Now let me stop right here and say that I don't have an art degree. I have never even taken one art class in all my years of college. I do not let these facts stop me.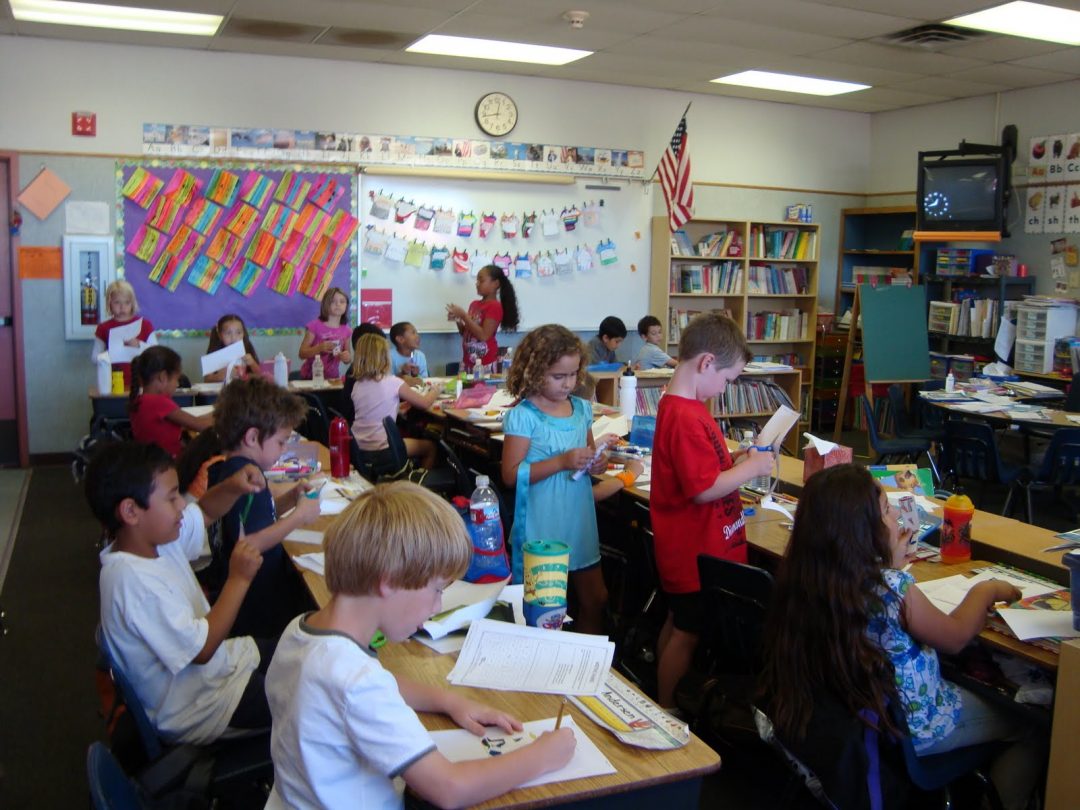 Once a month I go into my son's class and give an art lesson. I wish it could be more.
Which brings me to the TIME issue.

The majority of people don't volunteer because they don't have the time.
Time is tough. But time is relative. May I use my own life as an example?
Currently I own my own business, which is steady. I am taking 3 classes this semester that are drowning me in home work. I don't have a nanny, a cook, a cleaning service, a dog walker or a gardener. I wear those hats. It is exhausting trying to be a good wife, mother, friend and relative. I also on accasion help Mr. Decor out with his 9 wolf cub scouts.
Right now I am so busy that I feel like I am about to become Linda Blair in the Exorcist.
But one thing I have learned is that something can wait. It might be the dishes, the laundry, the mani~pedi or even GASP! Blogging.
Because volunteerism often has situations such as children who can't wait. I know that kids need to experience and develop a love for art.
I think perhaps that I am making a difference. It may be to an entire church, it may be to a woman battling cancer or it may be just one small child.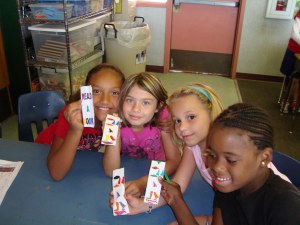 This week is Make A Difference / I Participate week. One person CAN change the world. Let it be you.
To sweeten the deal here is the link to a free pass offered by Disney Theme Parks.