In the last post, I showed you the Fashionista's new apartment. That was the good. Just so you could appreciate what we did a little bit more I thought I'd give you some ugly. The first thing to greet us was a screen door with no handle. How to decorate your first apartment on a budget.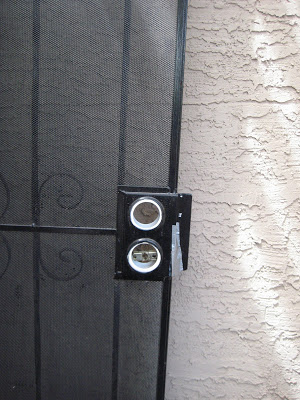 How to decorate your first apartment on a budget
But don't worry, much of the missing hardware was found in a cupboard. Like ALL of the cupboards in the apartment, it had cow print contact paper. Nice. I spent a day chiseling it all off.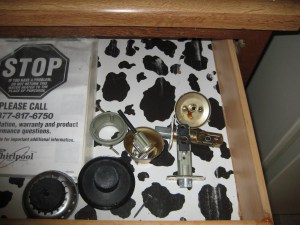 Every faucet and nook and cranny looked much like this: (Oh and yes, that is a dead bug, he wasn't lonely though, he had MANY friends.)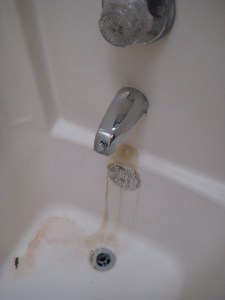 Cracks in windows really help to bring the blistering Arizona heat indoors.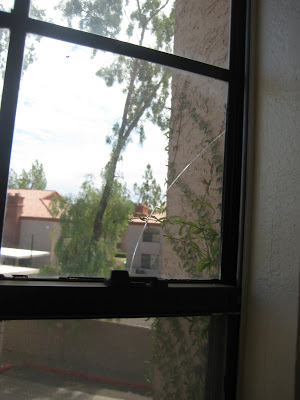 In short, it was a dump. Most of our time and money went into getting the bones of the place restored. So once again it was time to get creative when it came time to decorate.
So, onto the How

To's

:
These old frames belonged to my great aunt. You can date them by the photo. The gold paint was peeling off.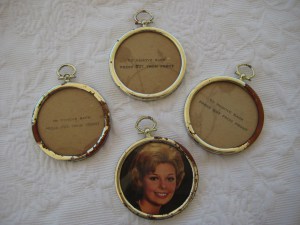 A bit of spray paint and some vintage images brought new life to them. I love how they are reminiscent of a pocket watch. Perfect for the white rabbit who is always checking his.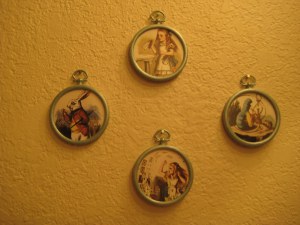 The condo has generously sized walls. With no artwork budget, we had to get inventive. This set of chipboard birds were at Michaels in the dollar section.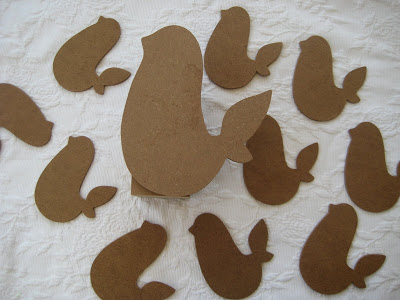 Using up leftover

scrapbooking

paper and mod

podge

we created a flock of cuteness. They are so

lightweight

that we just used peel and stick

velcro

to attach them to the wall.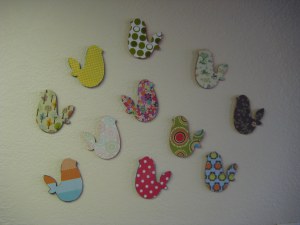 Most of the projects for the Fashionista's apartment were created before school was back in session. The best way to entertain Sweet Boy was to enlist his help. I had this chipboard oval in my craft stash.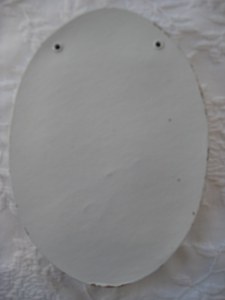 Once again leftover scrapbook paper and mod podge came to the rescue. A few wooden cuties and some vintage rick rack made a precious piece of artwork he was so proud of. (Yes, I helped.)


Have a seat
Once a month our neighborhood has bulk trash pickup. This is when my neighbors set out their broken and battered discards. You know what they say. One man's trash…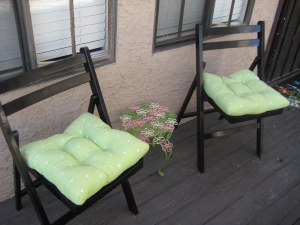 The shower curtain was made from a painter's drop cloth that was dyed. We then embellished it with some vintage Alice fabric.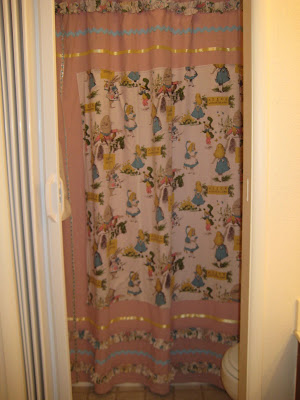 Rows of rick rack, ribbon, and ruffles were also added.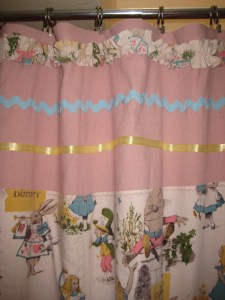 To cover up the power box that was oh so conveniently placed in the center of the main bathroom wall I purchased a white artist canvas and added a few spritzes of pink, blue and lavender spray paint.