In the last post I showed you some artwork that I made for one wall in the newly decorated front bathroom. The final cost was under $3.00.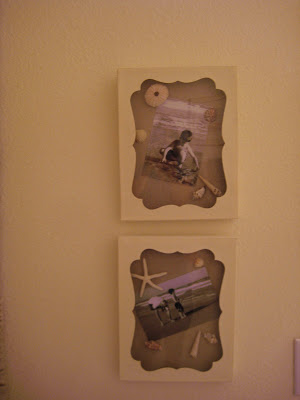 Last year I found these great Martha Stewart shadow boxes on clearance for $1.00 each. I didn't have a project in mind at the time but snapped them up.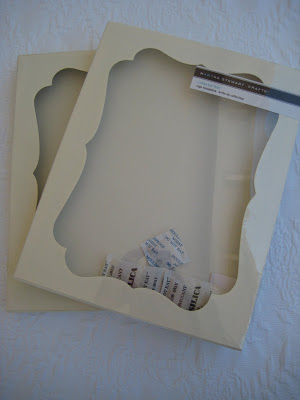 Fast forward a year later~ I took a hot glue gun and a scrap of leftover shower curtain fabric to conceal the cream satin backing in the shadow box. I then added two photos that were taken of Sweet Boy a few years ago in Florida. As I wanted my boy to feel like this was indeed his own space I got him involved by selecting a few shells from our collection to place inside the shadow box.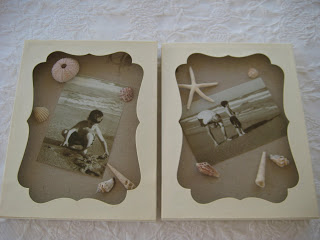 Ok the hated bathroom mirror. This current form of concealment came via a net table topper I bought at Pottery Barn on clearance for $1.98. I then proceeded to cut it into long strips and then joined the sections together with raffia ties. (Yes, I am INSANE.) Using handy dandy command strip hooks from 3m I twisted and hung the net above the mirror. (Sorry for the glare~there is no window for natural light photography.)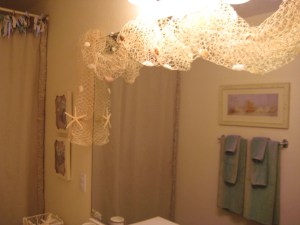 I then added a few shells collected from our recent trip to Florida. The starfish came in a pack of 5 for $6 at TJ Maxx.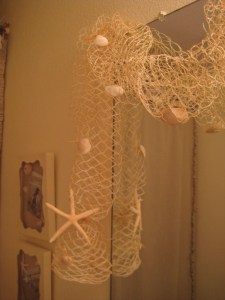 In the other corner I hung a lantern that belonged to Great Grandpa Gunn when he worked on the Panama Canal.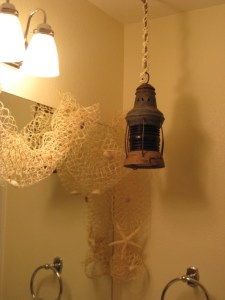 Sweet boy deemed the existing bathroom accessories "too girly". What is a decorator with no budget to do?