We recently hosted a housewarming Alice in Wonderland Party at the Fashionista's new home.  For invitations, I decided to embellished some note cards I already had on hand. They originally looked like this:
Alice in Wonderland Party
A quaint tea party image, leftover scrapbook paper and Stickles glitter glue resulted in this: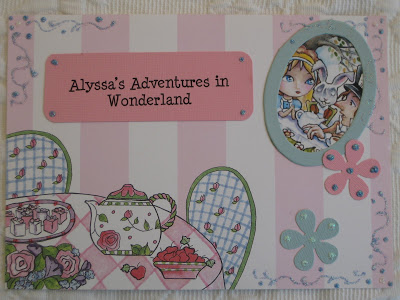 I put the information on the back of the note card.

The divine Miss F is currently saving her pennies to purchase her dream dining set. So instead we placed two folding tables in the empty dining area to hold the food.

The drink area was set up in the kitchen. We made a favorite fruit punch and of course the Mad Hatter insisted upon tea.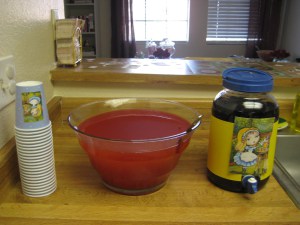 I took plain polka dotted cups and mod podged a darling "Drink Me" image by Elaine Cox onto each cup.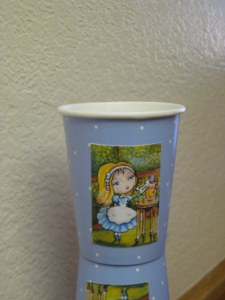 Since this was Wonderland, a candy area was a must.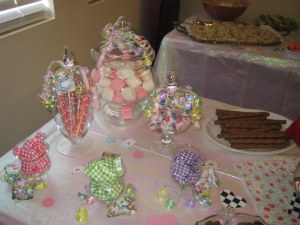 The sweets table also held fruit and homemade coconut cupcakes.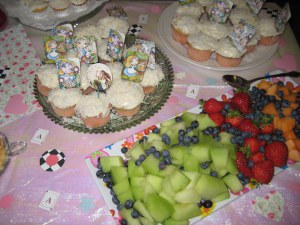 The centerpieces featured a 12 x 12 piece of scrapbook paper with rose images. It was topped with another piece of checkerboard paper. We then arranged red roses in clear vases. The Queen of Hearts would surely not approve.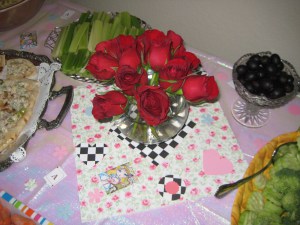 S
trewn all over the table were flowers, hearts, and other fun bits and bobs made from paper punches. This is an easy way to achieve customized confetti.