I struggle a bit bringing the three paint cans into the now empty space. They are filled to the brim with Rhapsody Lilac. I wonder for a moment if. I have selected this shade as much for the name as the color. A melodious song of aromatic sweetness. Yes,  that is what I want in my life right now. What a girl leaves behind.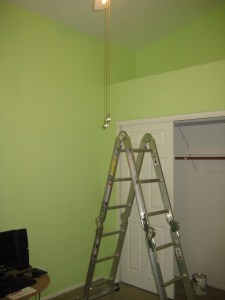 What a girl leaves behind
A fourth can contains "Marshmallow", a slightly pinkish cream that will cover the inside of the closet and all of the trim. She liked the sound of that color. It seems fitting that it grace a small part of the place where she has spent the last four years of her life. I know what I am doing. I am trying to cover my pain under layers of paint. If I just stay busy enough I will not have to think about the fact that she is gone. Technically she is only 23.4 miles away in her own little adorable apartment. But she no longer lives here.
Searching
I begin to do a sweep of the room. I remove the nail that held her huge Audrey Hepburn picture. Holes created by the brackets that held her curtain rod are spackled. Blue, green and white striped drapes used to gently glide along the silver tube, clicking slightly when they reached the center. I turn and glance up to the niche above the closet. A few items remain.
I need the tall ladder and a second pair of hands to help me lower what hides behind a dusty sheet. The sheet is removed and taken directly to the washer. I return to the room and now cannot ignore what was hidden beneath the sheet. In the middle of the carpet sits a dollhouse with grey clapboard siding and a shingled roof. I squat down and peer through the window next to the front door. I lightly tap the brass door knocker against the pale rose door. It would seem that no one is at home.
A wash of melancholy comes over me. Her brother comes in at that moment. "Wow Mom, a small house. Is it yours?" I smile at a memory. She has just turned five and is walking upstairs with her best friend. I am downstairs in the kitchen. Her voice carries down to me. "Come upstairs and see the new dollhouse I got for my birthday. My mom has been working on it all winter. It has wood floors, wallpaper, and even electricity. My mom says it's my house, but I think it is hers and she is just nice enough to let me play with it."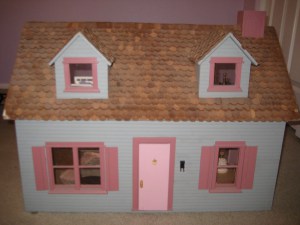 Momentos of Childhood
I slide the closet doors open. On the floor sits a Barbie case topped by an HCHS cheerleading trophy. This is fitting since I am sure that Barbie was somewhat responsible for her decision to try out for the cheerleading squad.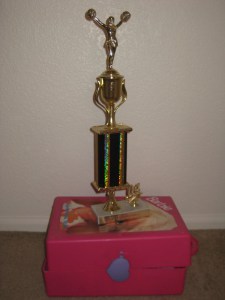 Right above it, swaying ever so slightly is her graduation gown. The yellow satin honor society sash sits slightly off center and as I straighten it I wonder why it should matter.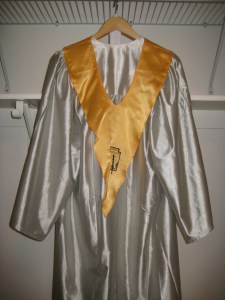 My eyes move to the upper shelves. I spy a small navy chest and my heart catches in my throat. Moments pass by as I had to stop for awhile. I come back and gingerly set the chest down on the floor. I know what it contains… her whole childhood.
I unlatch the brass lock and slowly push the trunk open. Samantha's blue eyes are shining and my sad smile is no match for her bright happy grin. An apron and one velvet shoe are missing from her ensemble. I begin to dig through the chest seeking… Along the way, I find the green velvet Christmas dress that technically belonged to Molly. But it was too pretty not to share. There is also Felicity's Colonial ball gown which was a coveted and cherished birthday gift. Each outfit brings to mind the special occasion that it marked. It is almost too much for me to bear. Wasn't it just yesterday that I was wrapping up the wee saddle shoes that celebrated her being asked to the sixth-grade sock hop? I close the lid and enter the closet.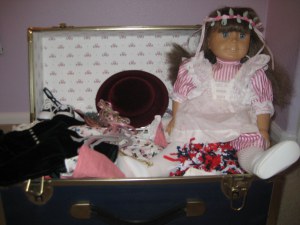 I slide slowly down the back wall and shut the doors in front of me to create a small marshmallow cocoon of sorts. In my heart, I know that these are the things a girl must leave behind on her journey to become a woman. Yet there is one thing that remains here that I wish I could just box up and drop off at the Goodwill. It is her mother's broken heart.