I am probably one of the last women in America who actually still wears pantyhose. My legs are white and my stomach is a bit poochy, so I love a bit of tan spandex. Vintage inspired lingerie holder.
This is what my hosiery used to be stored in.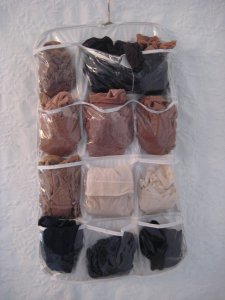 Vintage inspired lingerie holder
It was plastic, eons old and falling apart. I could not for the life of me find a suitable replacement.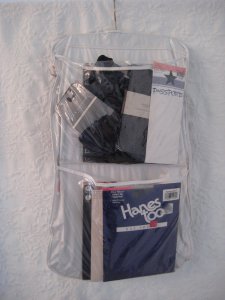 Putting on my thinking cap I brought out my collection of vintage hankies and selected several that were stained, had holes or were falling apart. I didn't feel quite so bad when I started cutting and sewing. My first efforts resulted in a whimsical creation that was captured by the Fashionista who wanted it for her many craft supplies.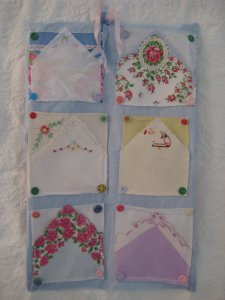 Here is a close up of one of my favorite pockets. I also decided to use some pretties from my vintage button stash for embellishment.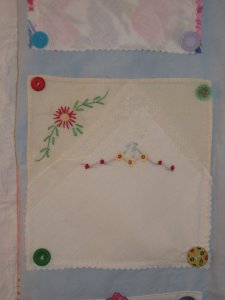 This is the back which features vintage quilt remnants. They made four pockets. I attached everything to a vintage pillowcase that was heavily worn. At the top, I sewed a buttonhole and slid a padded hanger through so it could hang in a closet or off of a peg.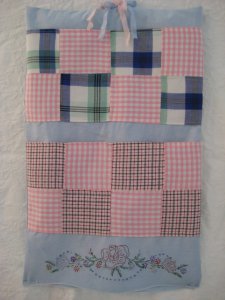 I'm not sure what was going on in my camera with this next shot as it is a bit blurry. By the time I downloaded the pictures the lingerie holder was already in my closet being used. I apologize for the quality.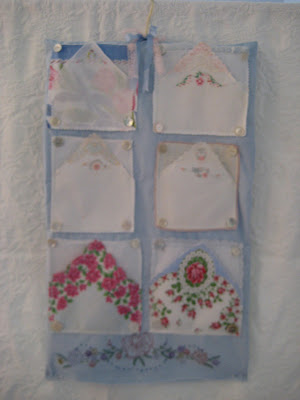 On the back , attached a headrest covering and a dresser scarf that had seen better days.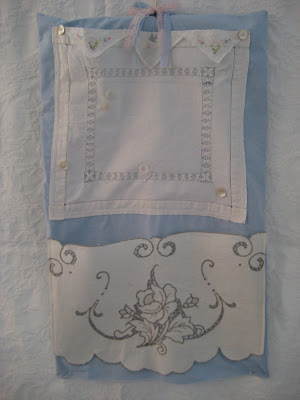 I topped the edge of the dresser scarf with corners of

handkerchiefs

.
Holes and spots were covered by several mother-of-pearl buttons.