I am still working on our guest room but I thought I would give you a little sneak peek of one of the projects. Back in April I wrote a post on great guest bedrooms and shared with you my goal of only using things that I already owned, found in thrift stores or Craiglist to transform this room into a wonderfully tranquil space. Guess what? I am staying true to my word. Here is a chair that I found for practically nothing on Craigslist. Little Miss Muffett.

Little Miss Muffett
I had been seeking a slipper chair style and this filled the bill perfectly! Don't you just LOVE it?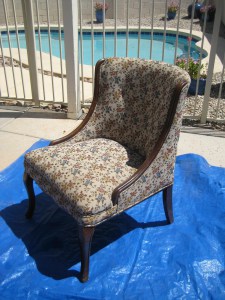 Let me show you the wonderful upholstery up close. Oh, wait, the picture below is of Mr. Decor and I ripping off the upholstery.
Tip: The couple that tears apart furniture together can often avoid the high fees associated with marriage counseling. 🙂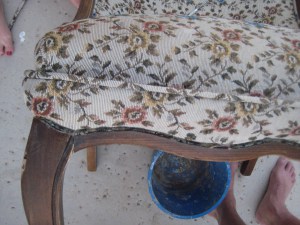 Ah, much better. Mr. Decor reinforced the chair with a bit of glue and some clamps. We each took a turn sanding the chair.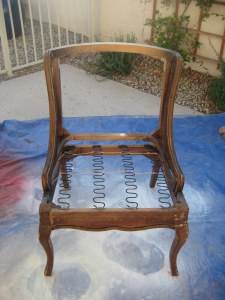 After a good wipe down I then primed and painted the chair frame white and took the frame to my favorite upholstery shop.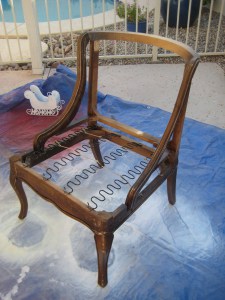 I found the luscious silver cotton velvet at SAS fabric for $5.00 a yard. I think the chair will look lovely against the lavender walls.