A big bouquet of "Thank You's" for all the wonderfully warm wishes you left for my speedy recovery. I am on the mend. The Fashionista really kept the house running during that time and Mr. Decor thankfully is now home again. Let's have some fun with a Vintage Linen Makeover.
Two of the treasures that I brought back from my grandmother's house were these cross stitched pieces of linen which featured a courting couple.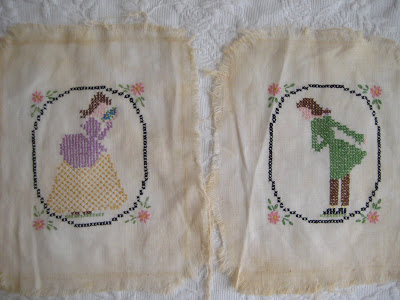 Vintage Linen Makeover
My grandmother said that she herself had done the work in the 1930's when she was about thirteen years old. She recalled that she had found the pattern in a ladies magazine. The instructions suggested that the pieces be worked in a black thread but happily, my grandmother loved color even as a young girl.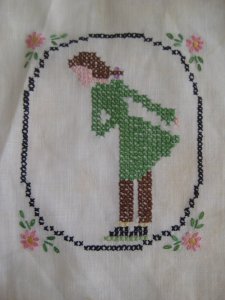 I am currently creating a lavender guest room in my own home. I have a very small budget. So, I am decorating much of the space using things I already have. I thought that the couple might look sweet if they were framed and hung as art.
After a good soaking in oxy clean, followed by line drying and ironing, the pieces came out fresh and clean.