I recently needed to purchase some furniture for my current design job. While walking towards my intended destination I passed by the new Vera Bradley store and stopped dead in my tracks. It was not a darling cosmetic bag or washable suitcase that caught my eye, but the Ribbon Covered Chandeliers.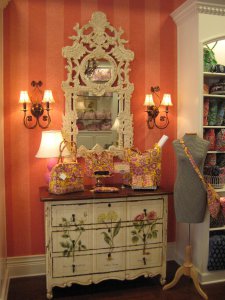 Ribbon Covered Chandeliers
The store featured fabulously papered walls, botanical prints and beautifully painted furniture such as this chest.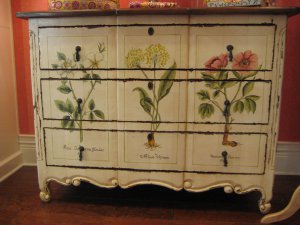 I adored the sweet slipper chairs which featured an oversized paisley print and the quaint yellow tole lamp placed between the two.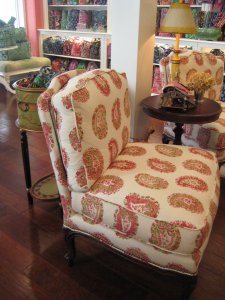 Behind the register, I spotted true beauty. The artist of this magnificent painting is Ira Yeager. Mr.Yeager is a favorite of mine among contemporary artists today. I love the old world feel of his work. He has spent a great deal of time in Greece and is famous for his beautiful old world landscapes.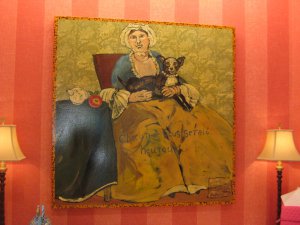 Napoleon would love this and I do too.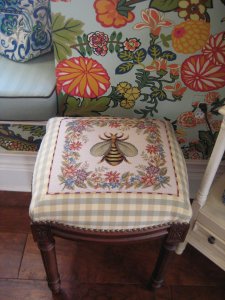 The piece de resistance that made me walk out of the store and back out to my car to get my camera was a simple stroke of brilliance. You may have seen the ruched fabric covers that hide the electrical work of chandeliers and lamps, but I adore this gorgeous treatment even more.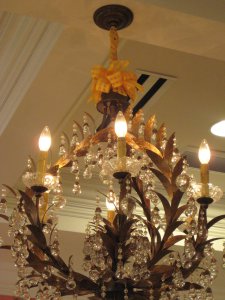 This ribbon covered chandelier was my favorite. (The ceiling was pretty fantastic too.)