A few weeks ago I mentioned that I was willing to answer any and all Questions and Answers. I was expecting more design related questions, but it seems that the majority of you wanted to know if I am related to this woman: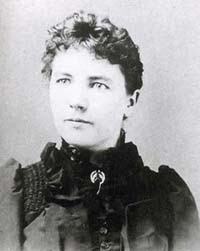 Laura Ingalls Wilder
The simple answer is "Yes." The more interesting answer is my great great grandfather, Lansford "James" Ingalls and Charles (Pa) were brothers. My dear friend, Miss Sandy from Quill Cottage, created an entire series of posts on LIW in June of 2008. You can find the "I Remember Laura" series in her blog archives. It covers all things LIW and will also let you know why I occasionally dress up like this: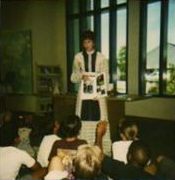 Questions and Answers
Other burning questions had to do with school. Such as "Why am I 40 years old and in college?" and "What classes am I taking?" The shortest answer I can come up with is: Due to life circumstances I began supporting myself when I was 17 years old. I worked very hard to keep a roof over my head and took classes only if and when time and my finances allowed.
My dream of becoming a college graduate became even harder to achieve once I became a mother and then I lived overseas for several years. (But I would never trade that time because truthfully I learned more while traveling than I ever have sitting in a classroom.) Mr. Decor likes to tell people that I have a Ph.D. in life experience. While that may be true, I have never given up on my dream and fully believe in this George Eliot quote:
"It is never too late to be what you might have been."
Because of this I just spent the past semester totally torturing myself with College Algebra and Marine Biology. I am taking the summer off to be with my kiddos and Fall will see me enrolled in three classes. When will I graduate? I don't know. But rest assured that when I do, there will be one heck of a party.

Blog Awards
Another question I often get asked is "Why don't I show my blog awards?" and "Why don't I specifically list certain blogs to further receive the awards?" I am always amazed and very deeply touched when someone bestows upon me a bloggy award. Most recently Robin's Blue Nest and Mary from Boogieboard Cottage presented me with the One Lovely Blog award. I am absolutely overwhelmed by your generosity ladies. Thank you. I never fail to be surprised when learning I have received such a special gift.

Please Share My Award
I imagine that I don't specifically bestow awards on other blogs because somewhere inside of me remains the girl who often was picked last. While some people would want to push this girl further and further down within themselves until she was forgotten, I like having her around. She makes sure that I never get too big for my britches. She reminds me that everyone on this earth has worth and matters. This girl thinks "Who am I to say that one blog is better than the next?" She would rather share the joy with everyone. So the girl below will always say, "Please share my award."

Lastly, I always get numerous comments on the number of giveaways I host. Truthfully, it's totally selfish on my part. I receive tremendous joy in passing happiness onto others.
Blogging in and of itself can be quite impersonal (even anonymous). But to send or receive something in the mail is extremely personal. My blog readership continues to grow and grow and grow, and this totally blows my mind. By having a giveaway every now and again allows me to keep a personal touch on my blog. It is a small way of conveying my thanks and letting you know that I appreciate you since I often can't respond to each individual comment.
Be blessed my friends and keep the questions coming.