Earlier this spring my family traveled to the Verde Valley area of Arizona to ride the Verde Canyon Railroad and visit Montezuma's Castle. For some reason, I forgot to blog about it until I received a few inquiries from readers wanting to know when I would be doing another post featuring historical architecture. Better late than never!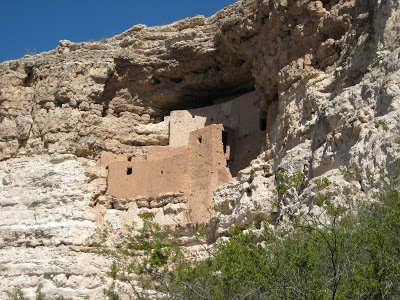 Montezuma's Castle
Here is Sweet Boy with Cubby the cub scout mascot. Cubby is awarded to various cub scout for a week throughout the year. He is supposed to accompany the scout everywhere.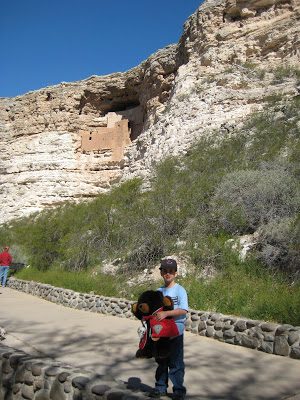 Montezuma's castle is an impressive 20 room, 5 story structure built 70 feet off of the ground. It is located in the recess of a white limestone cliff. The cliff dwelling was created by the Pre~ Columbian Sinagua Indians in the 12th to 14th centuries. The castle was named for the Aztec emperor by European Americans who mistakenly thought it was created by the Aztec people.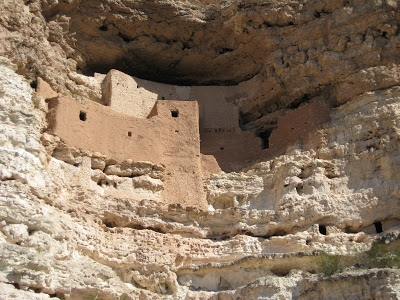 The Sinagua people built a series of ladders that allowed them access to the dwelling. Although you are able to walk amongst the ruins and foundations of other dwellings on the property, the castle itself has been closed to the public since 1951.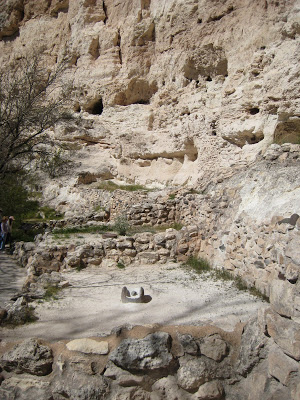 The Sinagua people left the area around 1425. The reason they abandoned the dwelling remains a mystery. Speculation lists possible illness, drought, or warfare with the Yavapai people. Modern Hopi clans can trace their lineage back to the Sinagua people and they occasionally return to the dwelling for religious ceremonies.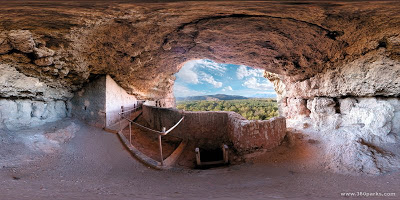 The trees on the property were just beautiful. The bark had a pattern unlike any I have ever seen before.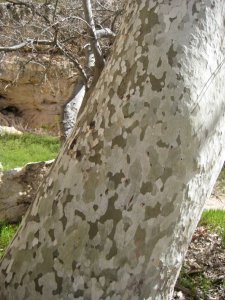 It truly was a perfect place to live (except for the snakes). Here is the lovely Beaver creek that runs right next to the castle.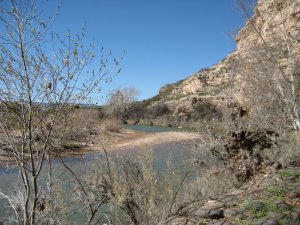 A view of the castle area from the river bank.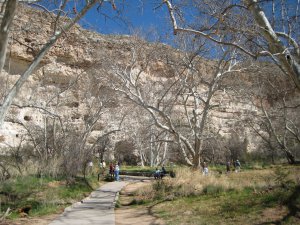 Verde Canyon Railroad
All aboard! After visiting the castle it was a quick drive to the Verde Canyon Railroad. Cubby was going on this adventure as well. We were in the "Cottonwood" car.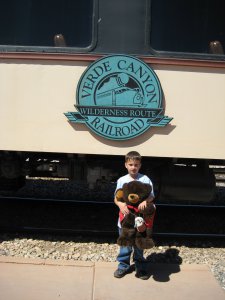 A view of the front of the train engine as it was passing by.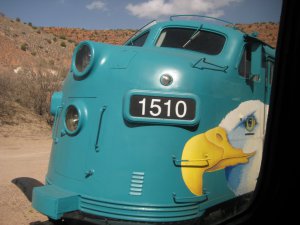 During the four hour trip, we saw elk, rabbits, deer, and eagles. It was nesting season and boy do eagles make HUGE nests! There was also pretty scenery to be found such as the traditional red rock of Arizona.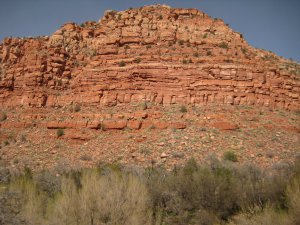 It took me a long time to learn how to appreciate desert beauty. But I fully enjoyed the surroundings on this trip.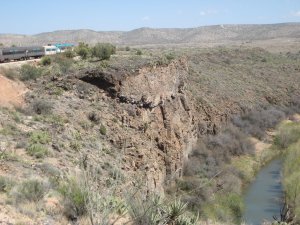 Although this historical post was vastly different than my previous architectural posts I hope that you have enjoyed it. Please contact me if you would like to request a historical post on other styles.