I recently told you about a large clubhouse remodel and design that I am currently working on. Would you like to see how it is coming along? This post will cover the paint colors.
Let's begin with the "before" shots. Feel free to sing "Let's Do The Time Warp Again".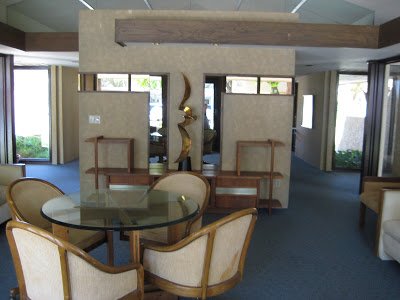 The property was built in the very early 80's and has never been updated. It truly was time for these badly stained chairs and groovy woodwork to go.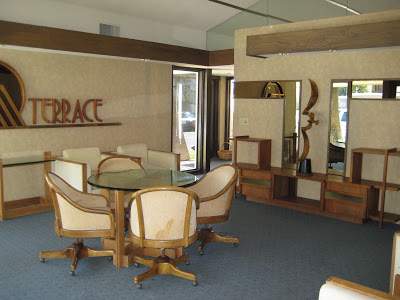 Here is another room in the large space that will be turned into a fitness center. I am told that these peach velvet chairs were once red. Window coverings are a must if you don't want extreme fading such as this.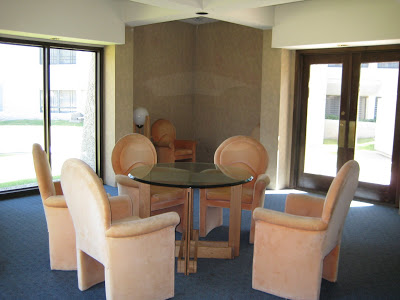 Circa 1980 art made from of carpet remnants. Now you know I love a makeover challenge, but seriously I don't think that there is anything I can do to salvage this.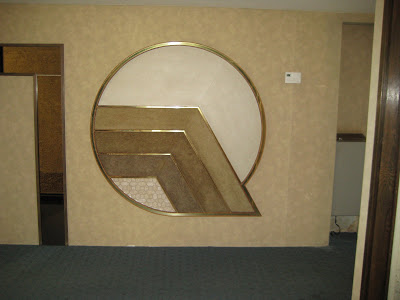 Part of the kitchen. Notice that every inch of visible wall space in this facility was covered in beige wallpaper.
When the wallpaper in the kitchen area was pulled off a nice surprise was revealed:

black mold

. Yuck! Work of course had to come to a screeching halt. A Haz Mat (Hazardous Materials) crew had to be called in. This of course drove up the budget and also made me sweat like a turkey at Thanksgiving that I wouldn't make my deadline.
Thankfully, we're back on track.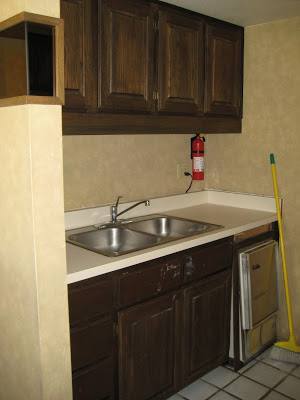 The signed pieces of modern art will receive a face lift just by changing the frames. All the glass tables were also worth keeping. They are currently being updated with a fresh coat of Ralph Lauren "Golden Light" metallic paint.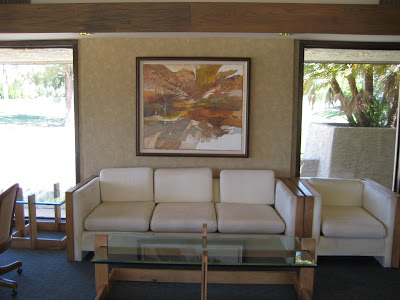 Another view of the main room featuring the kitchen, and popcorn ceilings complete with wood accent "beams". Going… going… gone.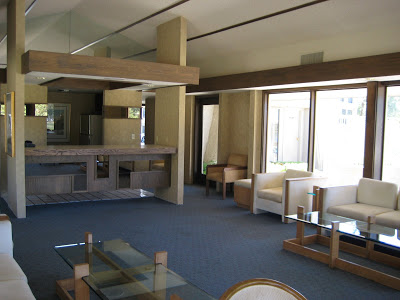 This is the overall inspiration board. The outdoor property that surrounds the clubhouse is quite lovely. I wanted to shift the focus of the design to accentuate the beautiful views. The chosen color palette reflects this.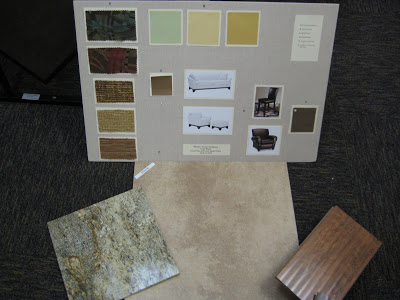 A close up of the paint colors, flooring, cabinets and counter top selections.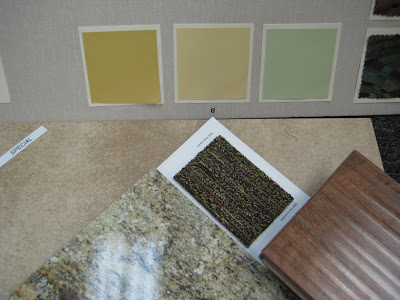 Now onto the "after". The ceilings look so much more modern and fresh now that they have been released from their popcorn prison. The color is "Daylily" by Glidden.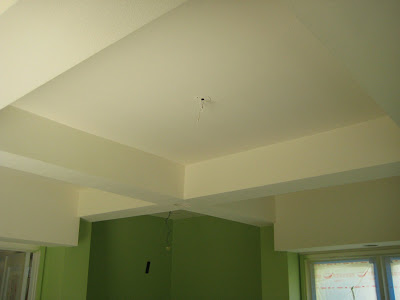 The main entry features a soft beautiful yellow, "Anjou Pear", by Sherwin Williams. The old, brown wood trim has only been primed. Read on for the rest of the trim story.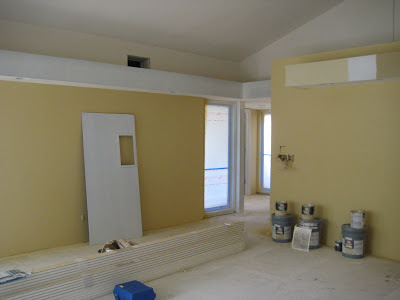 I occasionally encounter situations in which the selected paint color will go on the wall/trim and there will be …..hesitation by the client. When looking at SO much color it is indeed easy to forget that once a room is filled with furniture and artwork the paint will not seem so… vibrant. In this case the client thought that perhaps the trim paint should instead be a dark "graham cracker" (far right) instead of the light "humble gold" (far left) which was originally selected. So, various trim color options were painted onto the trim area. This process was followed by great deliberation. Eventually it was decided that the trim would indeed be painted the original color suggestion: "humble gold". Whew~!
Continuing on, everyone seems to adore
the new gym and bathroom color. It is a nice green, very soothing. The selection is "Shagreen" from Sherwin Williams. Yummy deliciousness.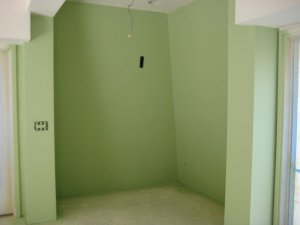 Color can be tricky. I am on week 6 in trying to decide what color I should paint my own guest room. (Like doctors who are bad patients, designers are sometimes their own worst client. 🙂 It is always best to buy a small sample of the color you desire and paint a pure white piece of poster board the intended color. Move the board to various places throughout the room, at different times of the day, to see how the color "reads". This is a practically foolproof way to find your perfect color.