This marks my 200th post! I think it is time to celebrate by sharing a few of my favorite things.
Polly from Counting Your Blessings always has the most ingenious ideas for repurposing things. Her Friday Flea Markets are fabulous. One of my favorite things are the Victorian styled wallets she creates from vintage fabrics.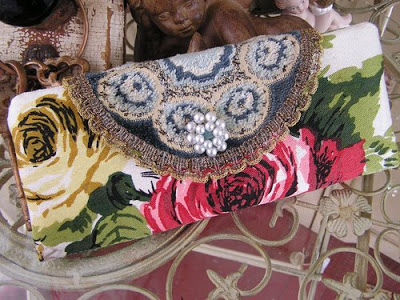 Cerri from Little Pink Studio sells the most fun and original things. Her original works of art are magical. I love her buttons, but my favorite thing is the vending machine plastic bubble that is filled with vintage bits and bobs of fantastic fun.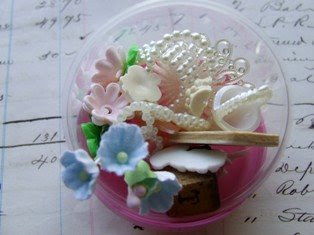 Andrea at Velvet Strawberries is just lovely. Her blog is lovely. Her store is lovely. She herself has kindness and talent wrapped up in one big silk bow. Her shop, One Hundred Wishes, is filled with frothy goodness. I love the Coccoina glue. I will not use anything else. But my favorite things are her ribbon and millinery. It is such wonderful quality.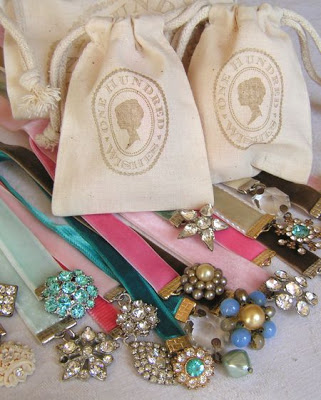 Heather at Present Past Collection is another favorite of mine. Her blog provides such creative inspiration. She is such a wonderful photographer. Seemingly everyday events become priceless bits of beauty when captured by her lens. Her store is currently being restocked and I am checking daily to see when it reopens.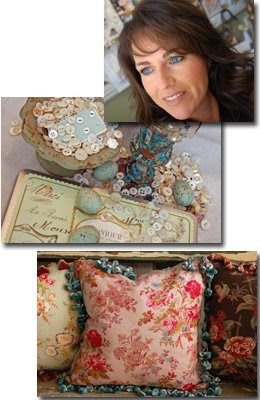 Is there anyone who inspired you to begin blogging? For me it was Candice at Peacoats and Party Hats. Back in January of 2008 I was in a serious creative funk. I attended one of Candice's scrap booking and crafting events: a vintage valentine banner. During the course of the evening my creative spirit was restored. I shared with her how much I loved to scrapbook but that in this season of my life I don't have much time to do it. She told me to upload my photos to a blog (what's that? 🙂 and jot down thoughts so that when I was ready to scrapbook, none of the memories would be forgotten. And so I began my little blog, thinking it was only for myself. Now here I am 200 posts and many new friends later.
For those of you who cannot attend one of Candice's events, she sells the kits (with detailed instructions) in her shop. They are sooooooo wonderful. I love this recent party hat kit.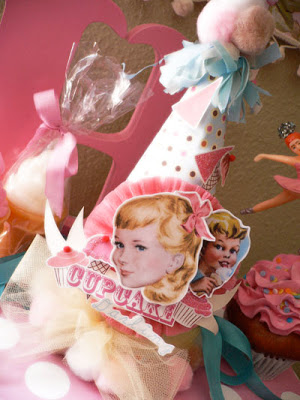 All of the above images are copyrighted and used with permission of the owners. Do Not Copy!

Now here's the fun part. To celebrate my 200th post I am giving away one of Polly's wallets, a magical plastic bubble filled with delights by Cerri, some yummy ribbon from Andrea, a gorgeous candle created by Heather and whimsical delights from Candice.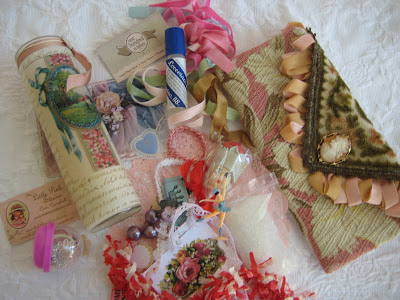 This post will remain open for one week. This will give everyone a chance to enter and provide me with a nice bloggy break so I can:
~Enjoy a week long visit with my wonderful in laws
~Study for my college finals
~ Prepare everything for my booth at the upcoming Bohemian Bliss Soiree. Details to follow.
This giveaway is open to everyone. Please leave me ONE comment. If you are an Adorable Person~aka "Follower" please leave a second comment.
UPDATE: The Random Number Generator selected Sheila of The Quintessential Magpie as the Favorite Things Giveaway winner. Congratulations to Sheila and love and blessings to everyone else who entered.