I have been sifting through my old Easter postcards and thinking about different ways to display them. I love to surround myself with Easter Decor.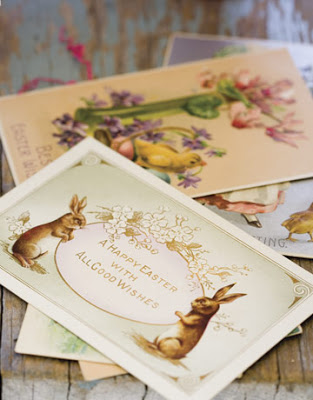 Easter Decor
For a simply sweet display make one card your focal point and add a piece of scrumptious ribbon to curl around it, and accent it with small flowers and a few eggs.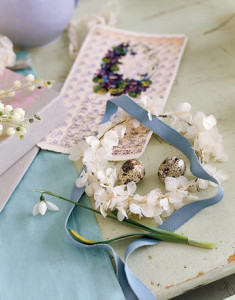 I like to make copies of my originals onto cardstock, add a bit of glitter, and hang them from a pretty ribbon on an Easter tree, door handle or the back of a dining chair.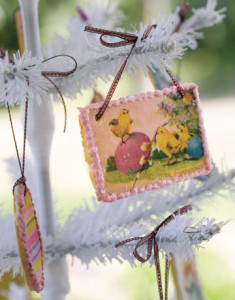 I love this idea of a wreath made from Jordan almonds hot glued onto a straw wreath base. The daffodil yellow is truly glorious. I think propping up a postcard next to the vase would be just the right finishing touch.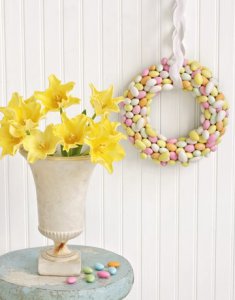 Seemingly random things can be brought together under a cloche. An old photo of a sweet girl in her Easter finest, a silver egg cup, a small bunch of flowers and an image cut from a postcard nestled into another sweet silver dish all work beautifully together.
TIP: If you don't have a pedestal, recreate one with a plate and an overturned bowl.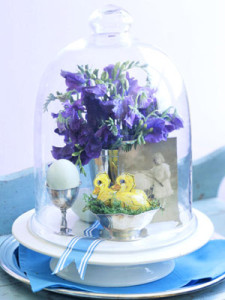 I've had this arrangement of

faux

cherries for quite awhile. It is cute but doesn't really suit our decor anymore. I still dearly love the wee pedestal.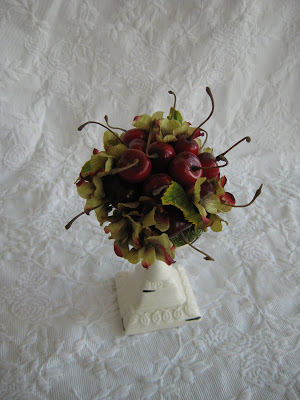 There is indeed an expiration date on most silk or

faux

decor. This is due to the item just going out of style or becoming caked with too much dust and grime. A simple tug allowed me to remove the cherry topper leaving the great base.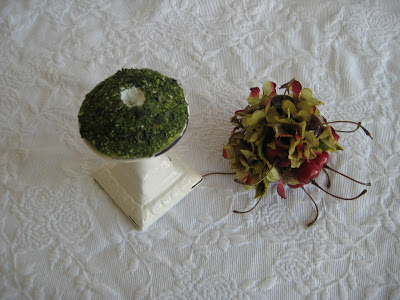 I began playing around with various combinations of things that I could place on the top. I love this wee rabbit, but the moss green wasn't quite right. So, I pulled that off too.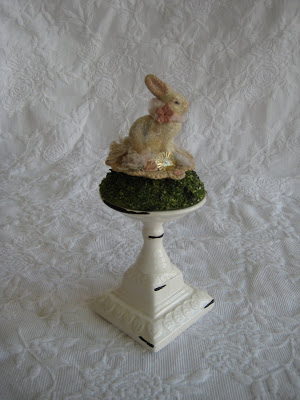 I thought I might like a cloche over the new arrangement. It is easy enough to turn any old glass vase into a cloche by the addition of a votive cup and either a lamp finial or drawer pull.
Add some epoxy and voila a very inexpensive but cute cloche!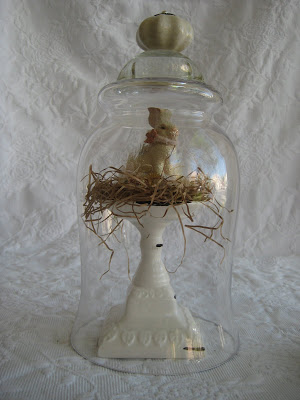 I couldn't stop at just one thing. I had to try another arrangement.