I recently came across a bag containing an assortment of eggs and a gorgeous tin filled with all sorts of pretty Easter goodness. It was my kind of Peep Show.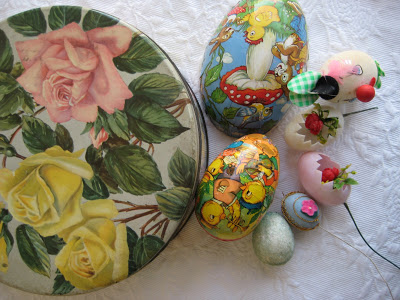 Peep Show
At the very bottom of the tin were these postcards. I love to read the messages on the back and wonder about the people who received them.
On top of the postcards, I found an assortment of bunnies and peeps.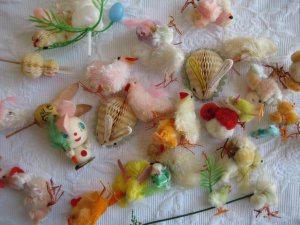 Aren't these wonderful? I am using a few things on the Easter and Mother's Day corsages that I am currently creating. I hope to have the corsages in my Etsy shop the weekend. I'll keep you posted.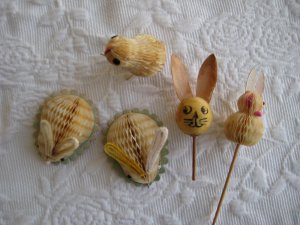 This photo should be entitled "The Blind and the Beakless".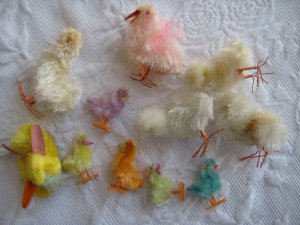 I have never seen anything like these bunny girls, have you? One of the orange and blue girls will be looking for a new home via the Etsy shop. The rest will be a surprise in the Fashionista's basket. It is just her sort of thing.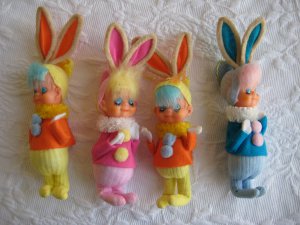 Everything got a steam bath and small repair jobs via the glue gun.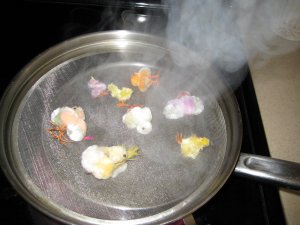 I then began looking at the eggs. Several were missing their tops or bottoms and were in rough shape.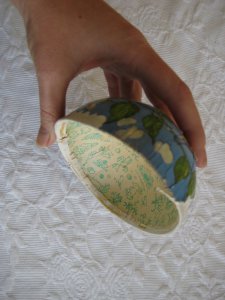 The old German paper mache eggs always have the most vibrant images.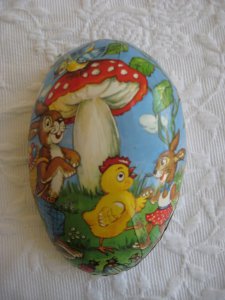 I thought about the sugared eggs of my childhood that would have a tiny scene in their midst. An "A~ha" moment occurred. I decided to make a hanging egg filled with all sorts of bits and bobs. I used an upholstery needle to make the top hole.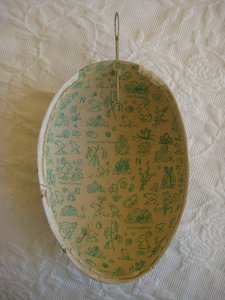 Easter Egg Diorama
I am currently participating in an Easter swap with someone who loves vintage kitsch, bright colors, and polka dots. Think she'll like it?