I have always loved Valentine's Day. I believe that it is not just a day reserved for lovers, but for everyone with love in their heart. Even during my single years I would make plans to share a meal with other single friends, send a card to my widowed relatives and generally let those special people in my life know that they were (and are) loved. Love Lives In This House.
This is the porch vignette that is currently greeting any visiting family or friends:


Love Lives In This House
As you step into our home there are also a few spots touched by love.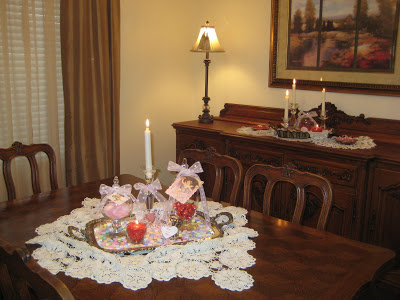 On the dining room table I laid down a favorite tablecloth and topped it with a silver tray I found at Goodwill for $5 a while back. Apothecary jars are filled with faux rose petals and foil wrapped chocolates.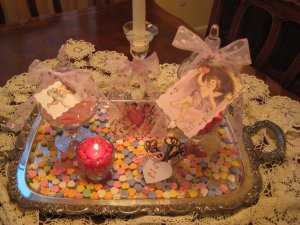 The addition of some ribbon I had on hand and images I downloaded off of the computer help keep things festive and inexpensive. My only cost was the candy purchased at the dollar store for $4. 
I needed one more thing for my tray and I love my skeleton keys so this is what I came up with.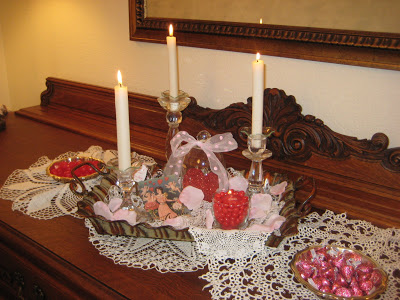 I have a collection of vintage Valentine's. The vast majority are from my own childhood.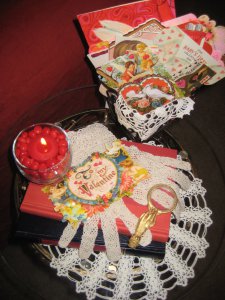 Another little side table topped with a wee bit o love. I like to fill clear glass votive cups with small candies then nestle a votive candle within the candies. You can purchase votive candles in clear containers (versus silver) at WalMart, Yankee, and Bath & Bodyworks.