On the top of my places to visit wish list is Ireland. There are so many wonderful things that I would love to see there. Friday O' Freebie.
I don't do much in the way of decorating for St. Patrick's Day given that some years Easter takes precedence. But this year I gathered up a few green bits and bobs and placed them on a tray.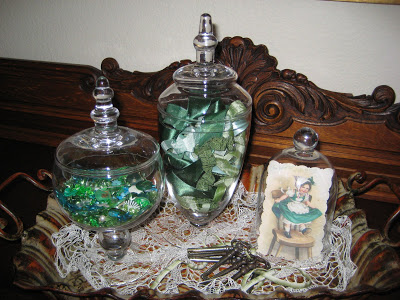 Starting on Monday I will begin a two-week salute to all things Irish.
In the meantime let's celebrate my one year blogging anniversary with a wee bit o green. The giveaway includes festive fairy dust, tea, chocolate, vintage green bits and bobs, Irish Creme cocoa, bath salts, earrings, and such.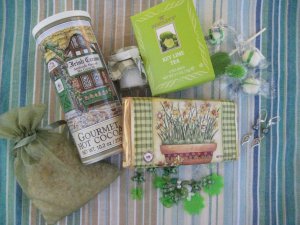 This contest is open to everyone. If it captures your fancy and you feel the luck of the Irish is with you then leave me one comment.
If you are a follower of this blog, aka "adorable person", leave me a second comment.
Laura