I'll bet you were thinking I had a wild weekend. I'm sorry if you're disappointed. Totally Trashed! I assume that you own one of these or a similar configuration. Don't you just LOVE it?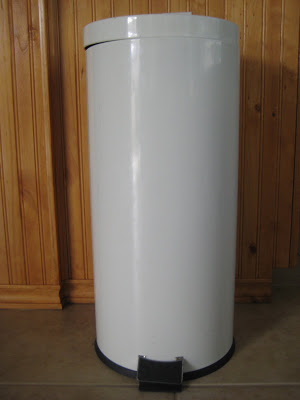 Totally Trashed
I bought this rubbish bin a little over a year ago. It wasn't cheap. Within 2 months after purchasing it, the foot pedal broke. (I probably should not have let a herd of elephants use it, right?) Then, a few months after that the inner plastic liner cracked and wouldn't lift out any longer. So, when we needed to empty the trash (which is usually every day) the entire unit had to be taken outside to dump into the bigger bin. That has been great FUN!
So, I started looking for a replacement. I knew what I wanted.
I wanted an antique wicker grape gathering basket used in the vineyards. 
When I lived overseas I would see them all the time at the German and French flea markets.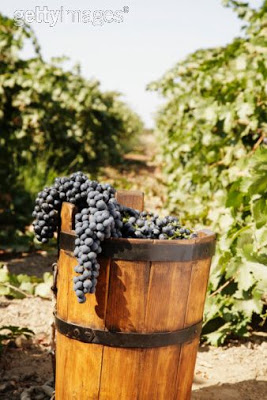 …and also in
metal
. They stand up on their own and are flat on the back. Such design makes it possible that I could push it completely against the wall. I would probably take the leather straps off and reuse them elsewhere.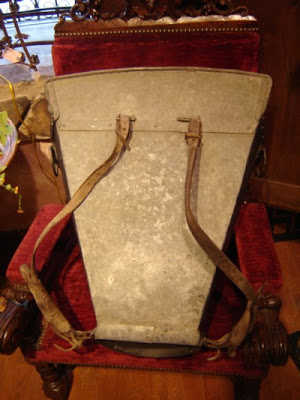 But I really wanted a wicker vineyard basket. Two actually. I also need one for the recyclables. I have searched high and low here in America. But they have alluded me. Mr. Decor said my dream rubbish bin would have to wait. I needed to find a replacement NOW. So here's what I came up with: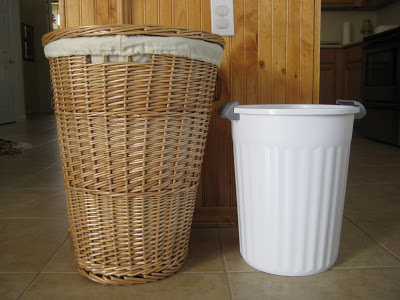 A wicker basket from WalMart ~$18.95. I took out the fabric liner. It will soon face the RIT dye and have pom-pom trim added to it and become a cute shopping or laundry bag for the fashionista. I found a plastic liner that fit within and voila!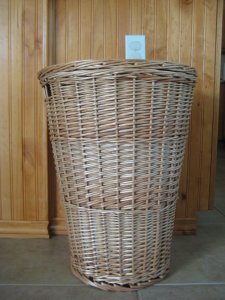 But I still wish it was flat on the back. And European.