I am currently loving a seafoam, creme and brown color palette. It has now made its way into a few crafts that I have been working on for Christmas. Having signed up for a few vintage swaps and also wanting to heartfully give this season I have created a few journals. Each is a little different from the next.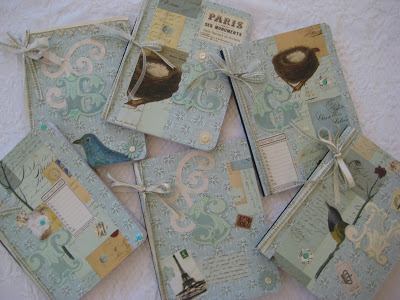 I began with a 50 cent black and white hardbound college journal purchased in the school supplies section at Target.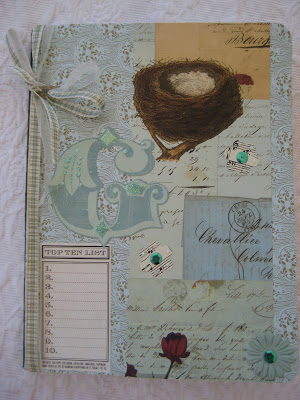 I do scrapbook and save bits of paper leftover from pages I have created. After deciding on a color palette, I begin laying out a collage until it clicks "that's it".

The first layer of paper is glued onto the journal with plain white glue. I then stack a few phonebooks on top and let it dry for a few hours.
Then the fun begins by layering on the bits and bobs. I tie a ribbon around the first page of the book and personalize it with an initial.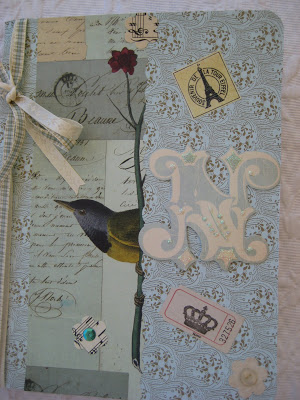 The back is done in a similar fashion, but I keep it one dimensional.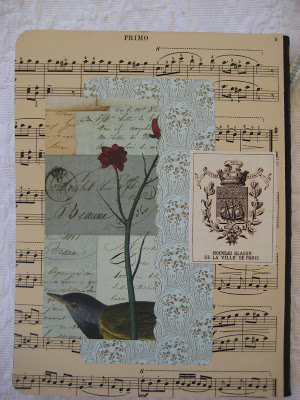 I have also made up some tags to tie onto other gifts.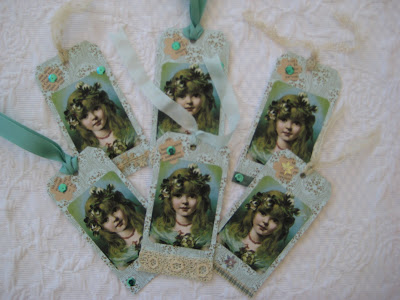 I just adore this darling girls sweet face.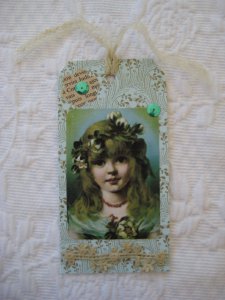 Not in the same color palette, but still fun, are these scraps of fabric I have sewn into lavender sachets. They are topped with vintage seam binding and old jewelry bits. They also work well as pin cushions.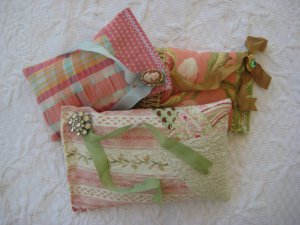 Onto Friday Freebie: Leave me a comment and on Monday I will select a winner to receive some lovely tags and a notebook.

UPDATE: The random number generator selected Priscila from Casa Bella Chic. Priscila has put alot of effort into creating the Vintage Christmas Swap and I am happy to pass this freebie on to thank her.