This is my One Hundredth Post! In looking at my previous posts, one, entitled Divine Dressing Tables continues to get daily hits. With the belief that you would love to see more, I scoured the web for new images and information. As a token of appreciation to you for visiting my blog I am so excited to offer you an exclusive FREE giveaway valued at over $250! Read on for details. UPDATE: GIVEAWAY IS OVER.
One Hundredth Post
I love this painting entitled "Morning Toilette".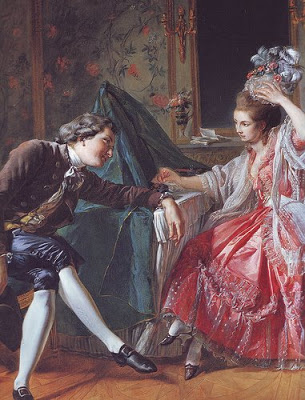 The dressing table has been around for hundreds of years. In Egyptian tombs they have uncovered such tables, as well as the accessories that went with them. The Egyptians often wore wigs, makeup and scented themselves with fine oils. But it was not until the 1700's that the vanity table truly reached it's zenith in France. Beautiful tables, known as the poudreuse, from the French word for powder, were used by both men and women to apply their elaborate wigs, makeup, and jewelry. If you travel to Versailles you can see several items used by Marie Antoinette. Use of the dressing table spread to other countries by nobles wanting to be equal to or greater than France's fair queen. Here is a painting aptly entitled "The Lady at her Dressing Table".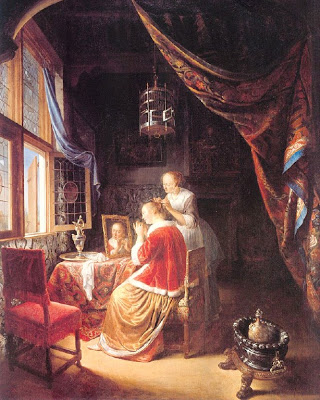 The vanity table was also embraced by the new middle-class English Victorians who topped their tables with elaborate trays, jars, bottles, and brushes made from heavily cut crystal and silver. Originally sold as vanity sets, you can often find single pieces at flea markets and online auctions such as eBay.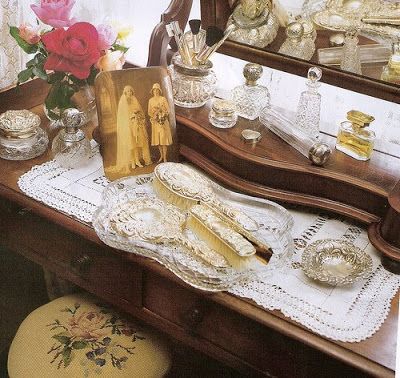 In the 1930's, many Hollywood films included scenes of beautiful, young starlets preparing for a glamorous evening of dinner and dancing. Here is the lovely Jean Harlow with her fabulously fringed vanity table.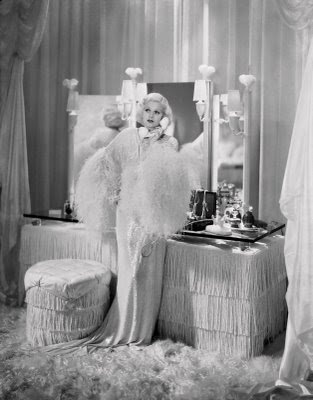 Dressing Tables Today
Today, the dressing table has made a dazzling comeback. I am not sure what I love most about this image~ the wonderful striped wallpaper, fancy flokati bench or the marvelous mirrored table.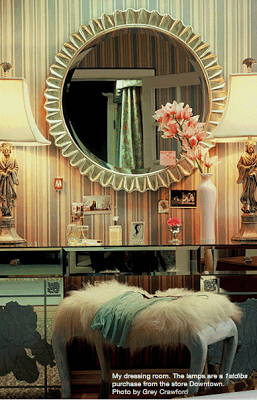 Photo by Grey Crawford
  I love this built-in dressing area. Such luxury. A ghost chair by Philippe Starck is the perfect partner.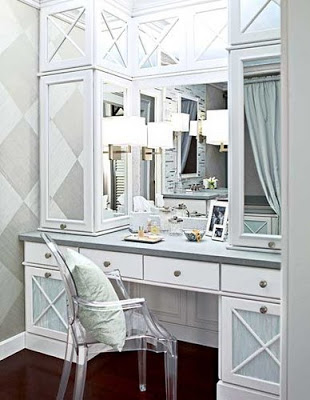 Does this image speak to you? I love this dressing table that was featured in Victoria with its wonderful white linen skirt topped by an antique tablecloth.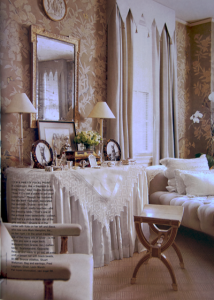 I adore the idea of this painted table. You can often find similar tables and with a bit of paint and decoupage, it becomes uniquely yours.
This is a beautiful image. You can recreate this image quite easily by purchasing fabric that you love and sewing up a skirt. You can find directions on Pinterest.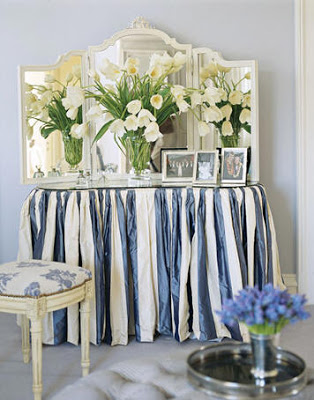 The Giveaway
Oh but wait! You need a dressing table to begin your project. Wouldn't it be wonderful if you could win a vanity table? Perhaps something like this from Ready To Cover.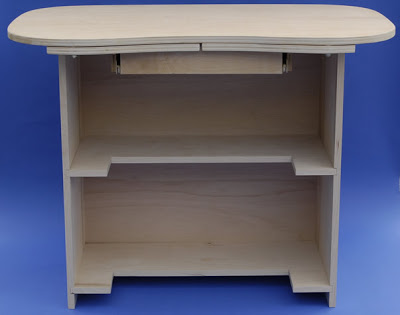 Recently, I was speaking with Ryan at Ready to Cover. They offer a variety of wonderful custom decorator tables, glass tops, headboards and vanity tables. He generously offered to supply a classic kidney shaped vanity table to one lucky winner. The tables come in several different sizes. The winning individual can select whatever table their heart desires and will only have to pay for the shipping.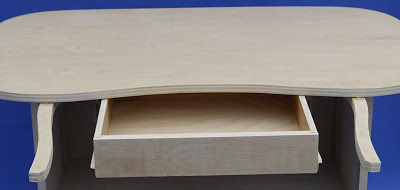 Ready to Cover also offers the kidney-shaped glass tops. This is not included in the giveaway but can be purchased very reasonably.

CONTEST NOW CLOSED
TO ENTER: Please visit the Ready to Cover website. Select the size vanity table that you would like to win. Then come back to the Decor to Adore blog and click on the comment section. Leave a comment on the size vanity table that you would like to win and how you would decorate your table. A winner will be selected Monday, October 20th by a random number generator. You may only enter once.
As a BONUS, if you put a link on your website announcing the contest, the winner can select a vintage vanity tray offered in my Etsy shop or I can customize a tray in any color the winner desires. I will pay for the shipping for the tray and as with all my giveaways, you will receive a few extra surprises.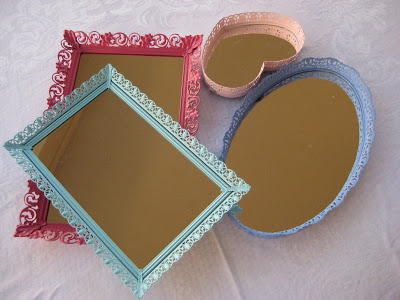 Good Luck!
Laura