In last Friday's post, I announced that September is ovarian cancer awareness month. Healing Havens Continued

Healing Havens Continued
I encouraged readers to go to the NOCC website and take a quiz that will educate you on the quiet warning signs of ovarian cancer. If you have not done this, please do so, it takes less than five minutes and could possibly save your life, or the life of someone you love.
This week's Healing Haven redesign was done in the master bedroom of an ovarian cancer survivor. The BEFORE shot shows a lack of a focal point and quite a bit of furniture. The wish of the survivor was to address those two issues as well as to inject some color into the room.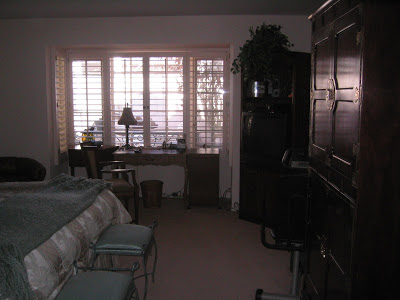 In another room two great vintage red lamps were found, as well as two red pillows rescued from a closet. This was just the punch of color the room needed. Furniture was rearranged and the bed covering was turned over to a more neutral cream. These changes resulted in an AFTER room that is warm and inviting.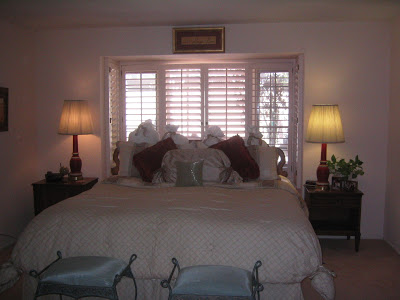 In this BEFORE shot in the opposite corner shows an arrangement that was not really planned out. The vibrant woman spending time in this space was still in recovery and wished for a quiet reading corner.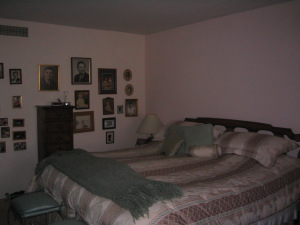 In the AFTER picture, the furniture was rearranged and a favorite chair was brought in. A pretty lamp and side table ensure that there are adequate lighting and a place to rest a book or a cup of tea.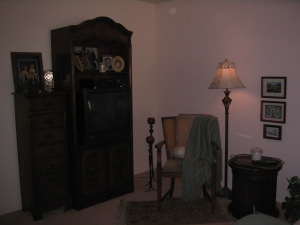 This was a true redesign as nothing was purchased for this makeover. Just a bit of time and creativity were needed to create a restful space.
Please break the silence. Knowledge is power and health is everything.
Laura
Awards
On a side note, I truly believe in that what you put out into the world will come back to you tenfold. Recently, two lovely ladies each gave me a blog award. I am so overwhelmed with gratitude and am thankful that I perhaps add a bright spot here and there to their lives.
The wonderful Julie of Keepers at Home bestowed upon me the "I (heart) your blog" award. Julie is truly inspirational as a mother of five and uses Titus 2:4-5 as her inspiration.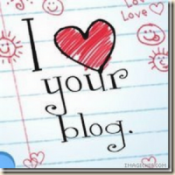 My second award comes from Deborah at A Cup of Joy. This is a great blog as well that links to many giveaways, reviews books provides recipes and wonderful doses of inspiration.