One of the many wonderful places to visit here in Arizona is Taliesin West in Scottsdale. It was the winter home and school created by master architect Frank Lloyd Wright.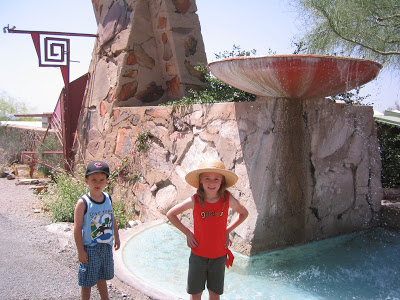 I first went to Taliesin West in May of 2006. My cousin and his family were visiting from the east and like me adore all things creative. This is my son and his darling cousin near the entrance.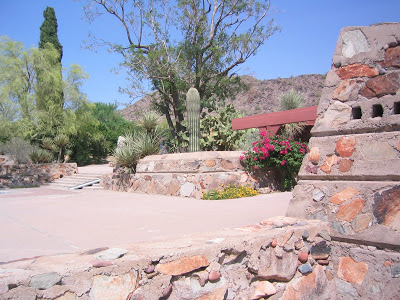 Due to health reasons, Mr. Wright decided to create a school in the desert in 1937. The buildings were constructed by Wright's students of concrete and rock, continuing Wright's practice of creating organic architecture, meaning architecture that is in harmony with its natural surroundings. The rock was quarried locally and many of the stones have ancient petroglyphic images created by native Americans. Today such artifacts are protected.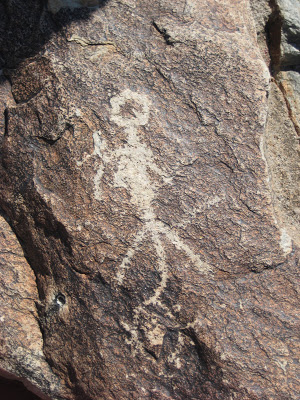 Red was Mr. Wright's favorite color. He also had a great love for Asian design and decor. This love was probably developed during his extensive travels that began in 1909 when he eloped to Europe with Martha "Mamah" Borthwick, the wife of a client. He left behind his own wife and six children. Indeed, Mr. Wright had quite the colorful personal life. The red door leads to the cabaret.



Inside the cabaret my cousin and I, eternal hams, posed for a picture with one of the many sculptures that dot the buildings and landscape.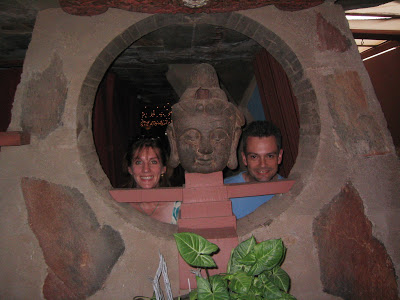 A beautiful sculpture of a native American figure amongst the desert landscaping.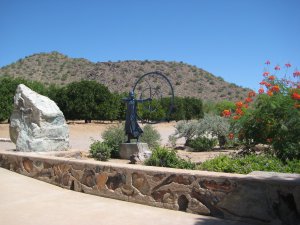 The front exterior of Taliesin. Wright, originally from Wisconsin, insisted upon a front lawn. There are several wells on the property, so water is plentiful enough to sustain the grass and fountains.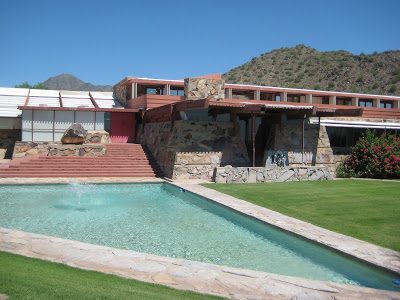 Approaching the front door to the Wright family home. I love the colorful glass globes in this sculpture.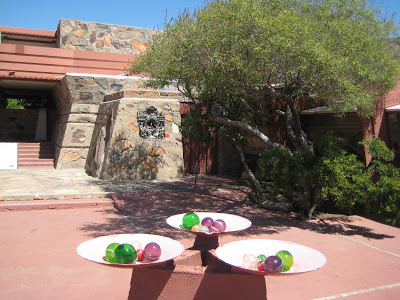 The door itself is quite small. Wright did not believe in wasting space and many of the buildings contain fairly low ceilings and doorways.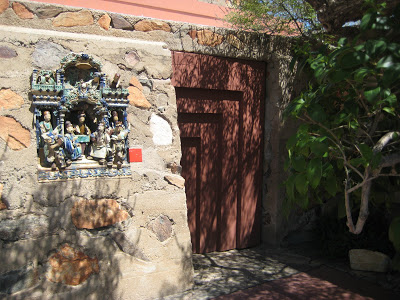 To the left of the doorway is this oriental sculpture set into the concrete. Wright bought a total of 12 various sculptures from a department store. It can become quite a game to locate all twelve pieces placed throughout the property.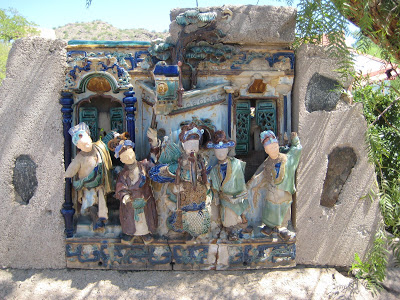 This was a photo from my recent trip to Taliesin West. I went with Mr. Decor who had never had the opportunity to see the site. I am sitting in a Taliesin West wing chair. It was over 110 degrees that day and the glass ceilings (which were once made of canvas) made this room feel like a greenhouse.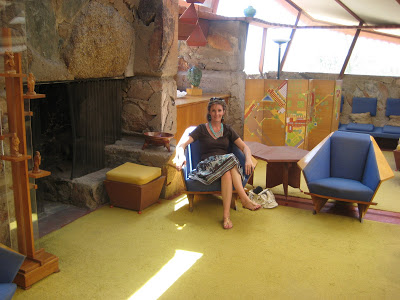 Mr. Wright and his third wife Olgivanna loved to entertain. They always made sure to have enough seating. Mr. Decor appears relaxed enough.




In the family's personal sitting area is a colorful panel featuring an Asian scene.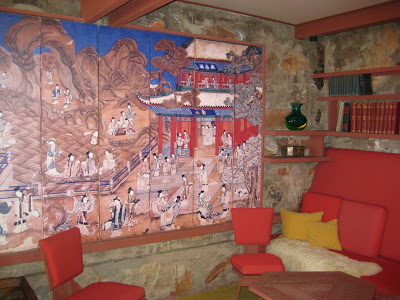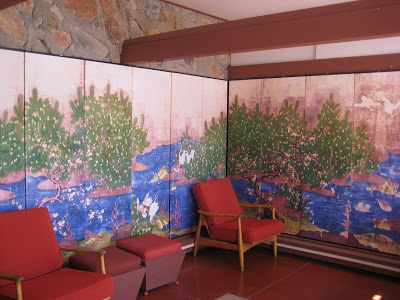 This is part of the enclosed courtyard garden near the family's bedrooms. Isn't the round gate built into the stone wall wonderful?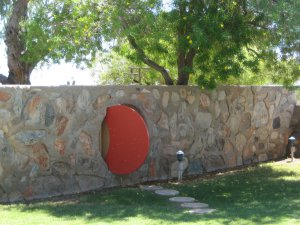 I adore this Sprite sculpture. It was was originally created by Wright for Midway Gardens in Chicago 1913~1914. You can buy a copy through the FLW foundation.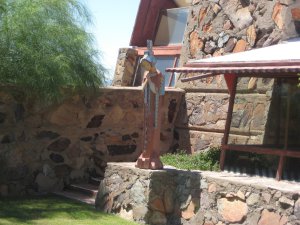 A desk in Mr. Wrights personal quarters. Notice the large fireplace. There are several fireplaces located throughout the property.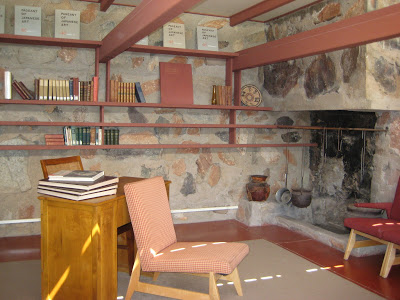 All in all a fairly humble master bedroom for a design genius.
Would you care to shower in the aluminum bathroom?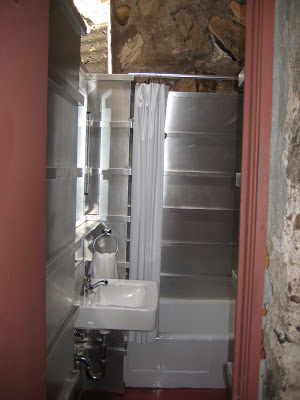 Another interior courtyard.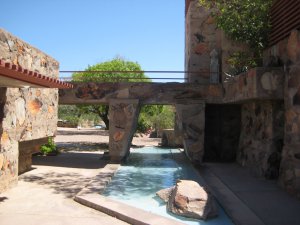 This was once the fire bell. It now announces mealtimes and other meeting events for the students who still live and learn on the property. (Did you happen to notice another sculpture?)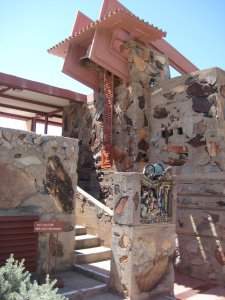 Here is more information on this site, as well as the many other Frank Lloyd Wright sites, his continuing school of architecture and foundation. I hope you will be able to visit this wonderfully creative complex that is featured in Patricia Schultz book "1,000 Places to See Before You Die".
_________________________________________________________________


"Delicious autumn! My very soul is wedded to it, and if I were a bird I would fly about the earth seeking the successive autumns." ~ George Eliot