Houses in Arizona are famous for having open spaces above cabinetry and architectural niches throughout the home. The number one call I receive from potential clients is "I don't know how to decorate high, open spaces." To further complicate matters the spaces often have slanted ceilings. Here is a typical "before" picture: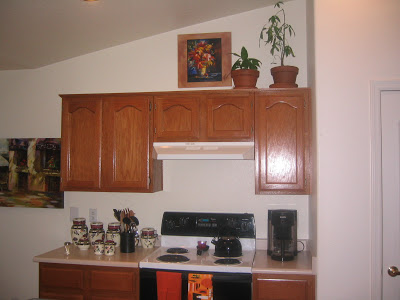 "After": I always remove everything and measure the space. I also look at how the client uses the surrounding space and what their style is. I liked the original picture, but wanted to move the plants to a place where they were easier to water. I then selected other objects found elsewhere in the home that were more appropriate in height and balance.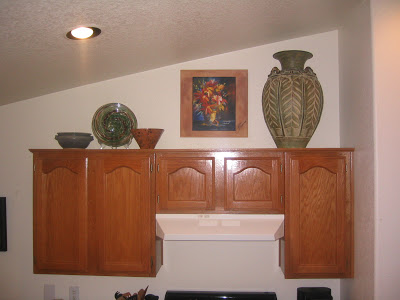 Built in entertainment centers can be both a positive and negative focal point. They do eliminate the need for additional furniture, but they can be tricky to decorate. In the "before" picture below there is a certain heaviness to the bottom shelves and scale is not bring used correctly.


After: Visual weight is evenly spaced and grouping like items together provide more of an impact. (I apologize for the flash bouncing off the bottom picture.)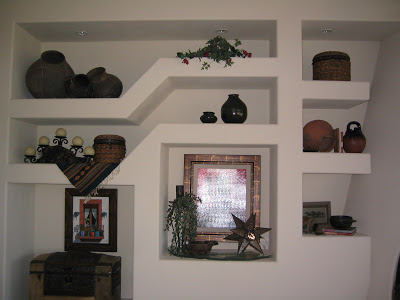 Always consider a room and its use of space when decorating. I look at this "before" picture of a kitchen space and cannot help but sing, "When the bough breaks the cradle will fall…"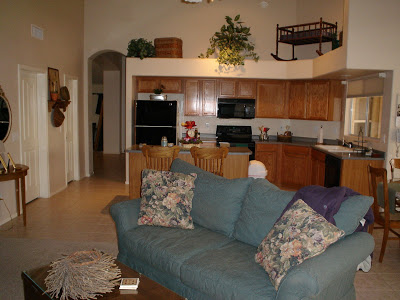 As I was arranging the space I remember the homeowner saying, "I can't believe you are going to hang a picture way up there." My response was, "I always try to think outside the box. I promise it will look great. After all, the little girl in the picture is praying before she eats, and we are in a kitchen. " (Smile)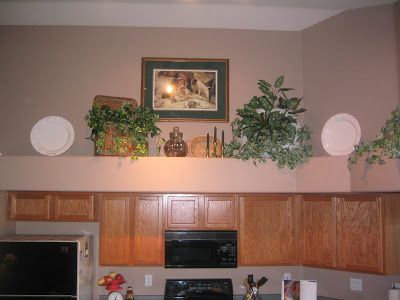 OK, obviously this client had lighting as well as balance and scale issues in this "before" picture.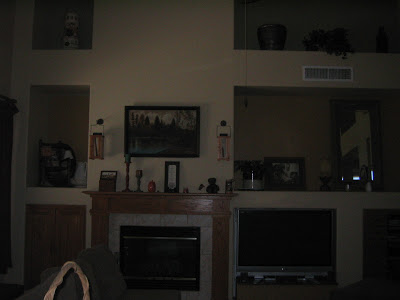 After: Yes, it is ok to put a lamp in a niche if it has an outlet. Make sure you select pieces that are in scale with the space. These niches required huge pieces to really work in the space. Painting the niche a different color than the wall color is also a great idea.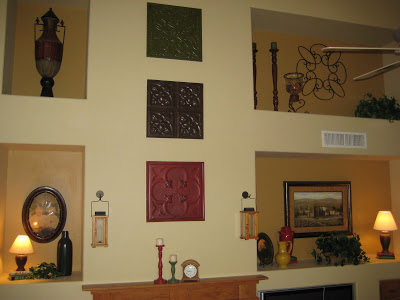 Don't be afraid to bring the outdoors in. Garden statuary, orbs, and baskets can work indoors as well as out.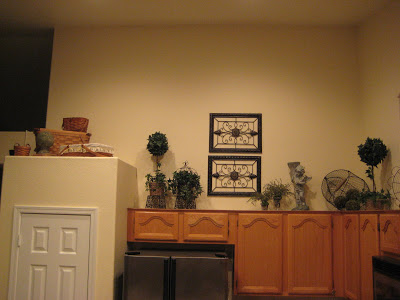 Let's talk about faux greenery. It recently made the top 10 in HGTV's "DON'T" category. It's true that I (as would most designers) would prefer to have a live plant versus a fake. But, as we all know there are exceptions to every rule. If you live in a hot climate and are decorating a space that is 10+ feet above the ground I think we can safely assume most plants will die because they will not get the watering that they need. But please, if you do use faux greenery, make sure you clean it at least once a year.

This grouping below works well because of the use of similar colors and scale.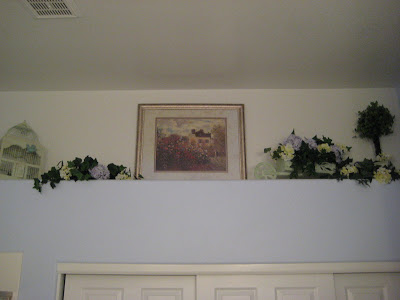 Below is an area I am struggling err decorating in my own home. You saw this cabinet a few posts back. I have now painted it a celery green. I am in the midst of filling it with various combinations until I find the one that "works". I decided to turn the cabinet upside down.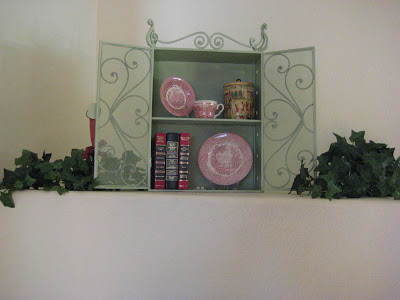 From the ground you couldn't see the darling legs. Perhaps I will keep it this way.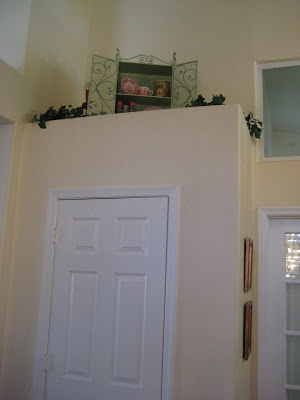 Quick tip: Create an inexpensive topiary to fit high spaces.
Begin with a wire form. This one was found at Ross for $14.99. You can often find them at end of season sales in garden centers for even less.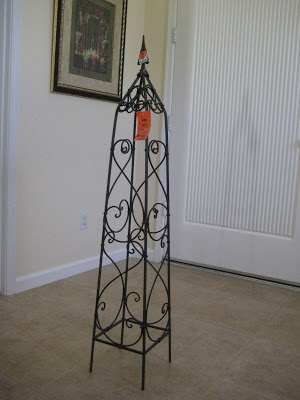 Wrap some faux greenery garlands around the form until its fullness and coverage is to your liking. This garland was purchased for $2.59 each on sale at Michaels. Four garlands were needed to cover the piece.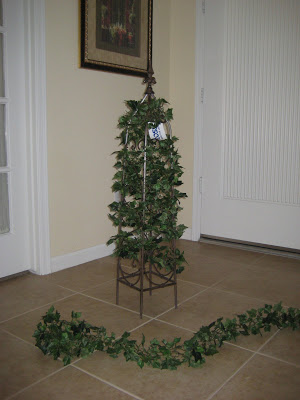 Even at the discount stores, a topiary of this size, with greenery, will run $40-$50 dollars. Instead you can easily make it for $25.00.
How do you decorate your niches?
_______________________________________________________________
Last week's quote:
"Lately, I have been thinking how comfort is perhaps the ultimate luxury."
Billy Baldwin, designer