Cindy from My Romantic Home is hosting Our Favorite Things.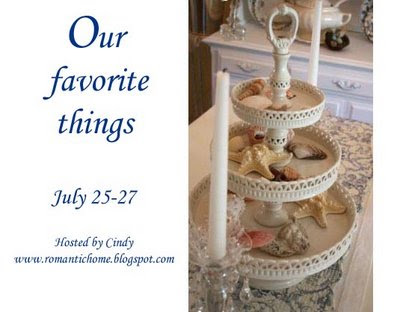 Favorite Things
Cindy thought it would be fun to see favorite collections, vignettes, or one big item. It has to be a material thing, not a person. (I smiled at that.)
This was a challenge for me. I am very blessed to have many, many favorite things. My favorite things also change from day to day. But hands down the item that I have loved for several years now, and it continues to be a favorite, is our antique Belgian China Hutch.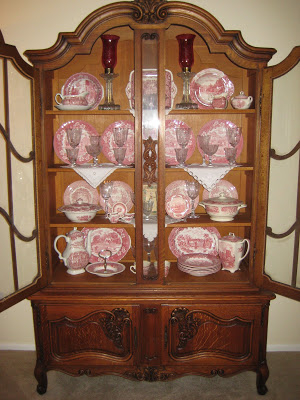 The hutch itself was purchased while we lived in Germany. It is part of a set that includes a sideboard and a gorgeous table and 6 chairs. I searched for three years in numerous flea markets, bazaars and antique shops before coming home one Saturday and announcing to Mr. Decor, "The search is over, I have found the object of our desire." (Don't you love the "our desire" part?) His heartwarming response was "How much?" I then said, "Well, you know how I have been looking for 3 YEARS, and we are soon set to move back to the U.S. where I just know we would pay three times what they are asking." His reply, "How much?" To which I said, "May I add that you will not have to buy me a birthday, anniversary, Valentine, Mother's Day or get out of the doghouse gift for five years." Being the smart man that he is, Mr. Decor picked up his wallet and keys and came home loving the set as much as I did.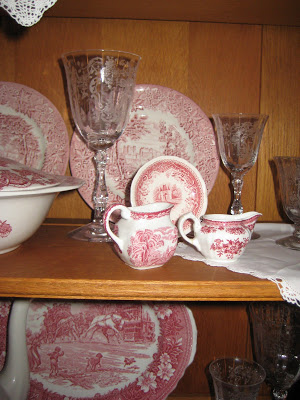 Transferware
The items filling the hutch are favorites too. I collected each piece of English transferware one by one. Transferware is available in blue (which is the most popular) green, brown, red (also known as pink) and a combination of the colors.
While all of my pieces are red and white, most pieces feature a different scene as they are from many different companies. I generally paid no more than 5 euro (Around $4.50 at the time) for each piece. Some of the rarest pieces are the children's china (pictured).
The hutch also contains my husband's red glass hurricane candle lamps that belonged to his great aunt and my maternal grandparent's wedding crystal. I lined a few of the shelves with vintage and antique handkerchiefs that have amazing lace and embroidery.

What is your favorite thing?