On Sunday, I had the wonderful opportunity to attend a fundraising event benefiting the Fresh Start Women's Foundation at the Aji Spa located on the ancient tribal lands of the Gila River Indian Community near Phoenix. I was so inspired to make some changes in my bathroom. This post is about Creating a spa-like feel in your own home.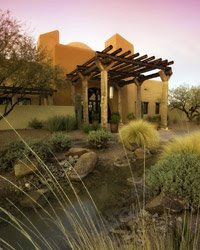 The art and architecture of the spa represent the Pima (Akimel O'otham) and Maricopa (Pee Posh) tribes.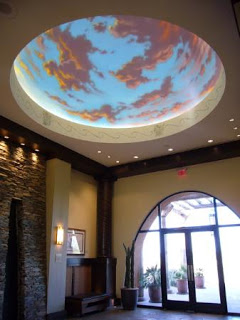 It was a beautiful location and the name "Aji" (pronounced Ahzgee ) is the Pima word for sanctuary. Indeed I felt very safe and relaxed upon entering this tranquil environment.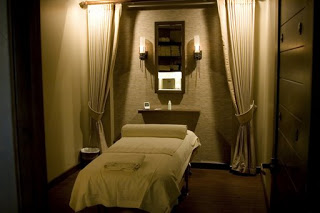 Upon arrival, I enjoyed 15 minutes of foot reflexology in one of the treatment rooms. This was a new experience for me and admittedly I could have laid there for much longer. I took in the neutral linen curtains and the white cotton linens that smelled heavenly. Dimmed lighting, soft music, and a few candles all contributed to the feeling of relaxation.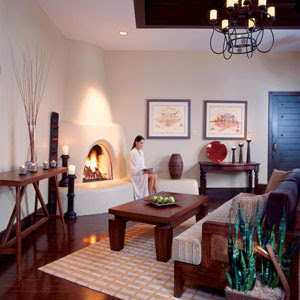 I spent the next few hours in their fitness room attending classes about aromatherapy, yoga, and creating your own spa treatments at home. I thought I would share a little of what I learned.
Creating a spa-like feel in your own home
The wonderful smell in the rooms was created by burning bundles of sage and boiling whole cloves in water. Both of these simple items you can purchase at any health food store. I did try burning a little sage in a small metal bowl at home. Mr. Decor loved it, and I found it a little strong. That may have been because I was so close to the source.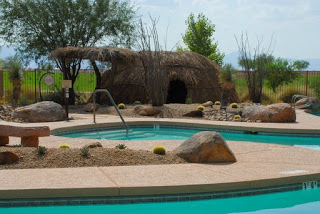 The interesting thing that I learned about aromatherapy is that you will either like or dislike a scent based on what your body needs. This is probably why I liked the scents of Bergamot, Lavender and Ylang Ylang. All of these scents are calming and promote relaxation. As someone who has trouble "turning her mind off" I thought I would give lavender a try. So I went to a local health food store and purchased distilled water and lavender oil and very easily made a spray. Before bedtime, I spritzed a bit on my pillow and indeed had a good nights sleep. A simple trip to the library can provide a great number of books about essential oils and what they can be mixed with. Had I known it was so easy (as well as cost-effective) to mix up a batch of lavender water I would have done it long ago.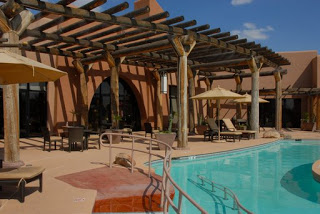 Make Your Own Spa Treatments
Because of all the time I spend in the sun, my skin tends to get a bit dry and itchy. I learned that by mixing up a 1/4 cup concoction of creme and honey and placing it into a bath will give you very soft skin. A small bottle of almond oil was purchased. I added a few drops of ylang-ylang to the oil. It was then slathered it on my damp skin after my bath. Mr. Decor even noticed how soft my skin was.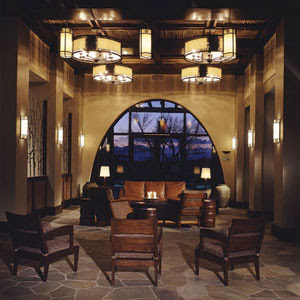 You can also use any carrier oil (olive, almond, and grape seed among others) to create a scrub by mixing it with small amounts of cornmeal and sea salt. I had all of these items in my pantry and gave it a go. It did an excellent job of exfoliation.
There was also a recipe for strawberries, honey and raw sugar that made up another scrub in the blender that smelled heavenly. All amounts are around 1/8 to 1/4 of a cup. You can adjust the ingredients to the texture that you like.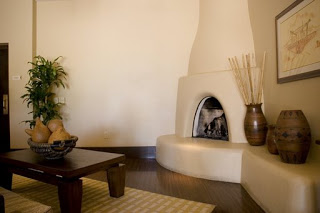 It was amazing how many items such as lemon juice and green tea could be used for the skin as well as cleaning a home. I try to limit the number of preservatives and artificial additives I ingest, as well as what I clean my house with. I think I may make up some rose water next as I have a piling of ironing that awaits. It might make this dreaded chore a bit more enjoyable.