My 50th post! I can hardly believe it. This occasion calls for Gilt, Gold Leaf, and Ormolu!
Gilt, Gold Leaf, and Ormolu
This 18th century Louis XVI chair features carved giltwood and its original Aubusson tapestry upholstery. A perfect perch for springtime.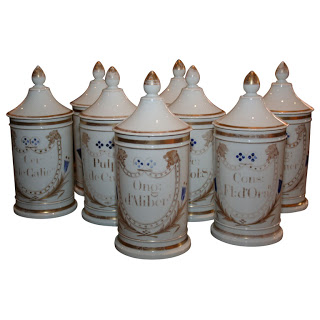 These 19th-century French apothecary jars are made of porcelain and feature gilt on the finials and border.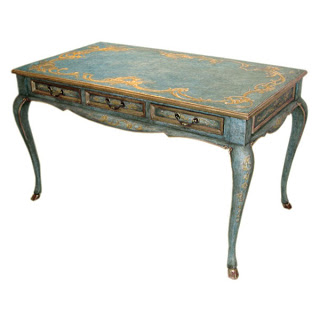 This beautiful azure Louis XV desk with gilded molding makes my heart beat a little faster.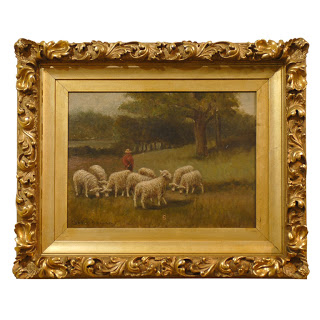 Gold leaf can also be used for gilding but must contain at least 92% real gold. It is often found on surfaces such as picture frames like this 19th century featuring a tranquil scene of a shepherd with his flock.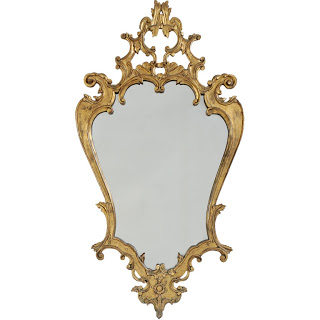 Gold leafing can often appear on mirrors such as this Italian Rococo example.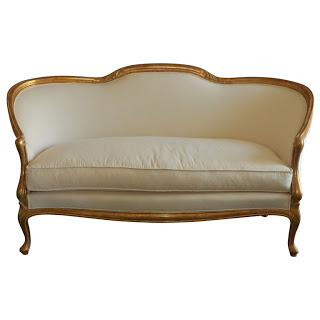 This French settee from the 1920's personifies casual elegance with its gold leaf frame and muslin upholstery.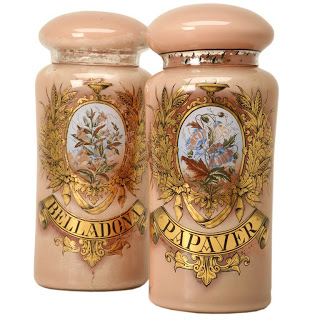 The interiors of these 19th century apothecary jars feature hand appliqued gold leaf. Can you imagine the patience required to do this?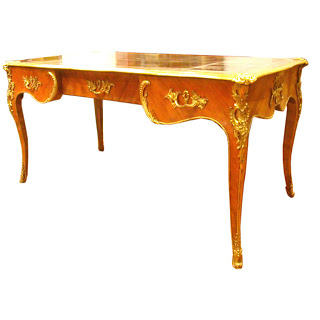 Ormolu (or gilt bronze) is created by applying finely ground high karat gold to an object of bronze. True ormolu is no longer created due to the mercury fumes that are released when the metal is heated. Most guilders died before the age of 40 due to the exposure. Ormolu was often used in the decorative mountings on objects such as this 18th-century kingwood desk.
This Louis XVI marble mantle clock features bronze and ormolu.

Reproduction pieces such as this Louis XV styled commode can often be found at estate sales and flea markets for an affordable price.
Laura
It's A Major Award
I am also celebrating my very first award! It is the Arte Y Pico award.
This award was presented to me by the delightful Carol at Charli and Me. Carol's blog features the funniest cartoons, beautiful pictures, fantastic memories, and intriguing, thought-provoking posts.
The award states that it is "dedicated to many who nourish and enrich the spirit and creativity. They see dedication, creativity, camaraderie, joy, and above all ART, much art. I wish that this prize is entertaining to all those bloggers and to bloggers who day by day share this space and enrich it a little more each day."
I shall now have to think about who I would like to bestow this award on. There are so many wonderfully talented bloggers that inspire me.
Thank you, Carol, for this wonderful honor. It encourages me to keep on writing.