Miss Sandy from Quill Cottage is hosting an "I Remember Laura" blog~a~thon. This week she is asking for Favorite Recipe's and Cookbooks.
Of course one of the most famous recipes from

LIW

herself is a gingerbread recipe.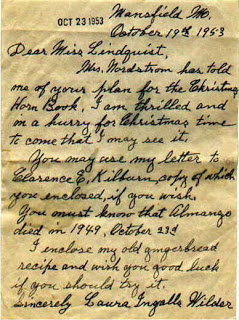 Laura's Ingalls Wilder Gingerbread 
1 cup brown sugar blended with 1/2 cup lard or other shortenings.

Add 1 cup molasses mixed well with this.

2 teaspoons baking soda in 1 cup boiling water (Be sure cup is full of water after the foam is run off into cake mixture).
Mix all well.

To 3 cups of flour add one teaspoon each of the following spices: ginger, cinnamon, allspice, nutmeg, cloves; and 1/2 teaspoon salt. Sift all into cake mixture and mix well.

Add lastly 2 well-beaten eggs.

The mixture should be quite thin.

Bake in a moderate oven for thirty minutes.

Raisins and, or, candied fruit may be added and a chocolate frosting adds to the goodness.
For modern-day users, I generally set my oven at 350 degrees. I also like to sprinkle a bit of powdered sugar across the top.
Cookbooks
There are a few "Little House" cookbooks being sold today. This one is in my personal library. The Little House Cookbook by Barbara M. Walker. It features a collection of recipe's mentioned in the books and also recipe's that were popular at the time of Laura's childhood. Try the "Huckleberry Pie".
Another cookbook featuring a favorite literary heroine of mine is "The Anne of Green Gables Cookbook" by Kate Macdonald.
There is nothing finer than eating "Poetical Egg Salad Sandwiches" while sipping "Diana Barry's Favourite Raspberry Cordial".
My favorite house guest in the world will soon be arriving. Tracy is my oldest and dearest friend. We have known one another since 3rd grade. Tracy and her daughter Kourtnee will fly in this afternoon. For this occasion, I have been perusing "The Taste Memories of Childhood" in"Lost Recipes" by Marion Cunningham. Anyone for "Shoofly Pie"?
 Now all of this cooking requires an apron.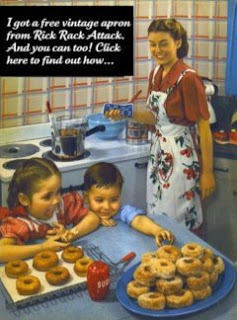 Head on over to The AproQueen. She is graciously giving away vintage aprons.
Let me close this post with a smile. Recently I made a meal my 6-year-old found quite delicious. After eating and eating he sat back with a groan and said, "I wish I was fatter so that I could eat more."
Have a wonderful weekend!
Laura