A very Good Friday indeed. We arrived back home safely late Wednesday night. I will be sharing wonderful photos of our trip to Key West and Cozumel early next week.

After classes, I spent yesterday afternoon preparing for Good Friday dinner and Easter brunch. I love creating tablescapes and was so happy to see cheery daffodils at Trader Joe's. They were less than $2.00 a bunch and have just the right amount of springtime color for a lovely table.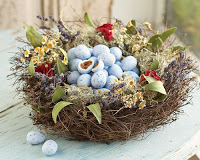 This morning we will be heading to see the "Bunny Man", aka The Easter Bunny, for pictures. I normally do not leave this annual visit so late, but I think this early Easter has sprung up on everyone.
Perhaps we will also swing by Food City, a market with wonderful Mexican delicacies, and see if they have some fun

Cascarones

. These confetti filled eggs are supposed to bring good luck when cracked open over the recipients head.
I love decorating with eggs. Here is our German feather tree featuring a few eggs we collected in Austria and Bavaria.

On our buffet, I have placed German straw rabbits and paper mache eggs.
I love these felt eggs that I found on Etsy by Pinksweetie.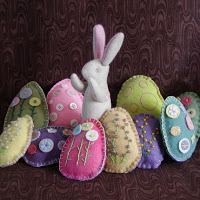 Also on Etsy was this fun necklace by Precious Meshes.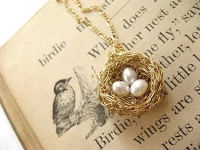 My favorite eggs by far though are the "Resurrection Eggs" we made several years ago. They are a perfect way to teach children the story of Easter. Much like an Advent calendar, you begin 12 days before Easter and open one egg each day. Each egg contains a bible verse and a small token that represents the verse.
Update: There are wonderful sites such Pinterest that provide instruction on how to make the eggs. You can also purchase the eggs pre–filled at most Christian bookstores.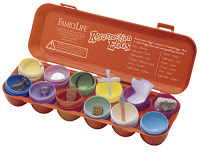 May the gift of His everlasting love be a wonderful blessing in your life.
Laura