I have a sweetheart. He's been my one and only for almost 19 years.
We both like Valentine's Day but we don't celebrate it traditionally.
There will be no flowers, chocolates or cards.
We still, all these years later, are romantic and thankfully in love. But we just don't feel the need to go overboard because marketing people tell us we have to. We more apt to celebrate on any other random day. Honestly, it feels more special when we do.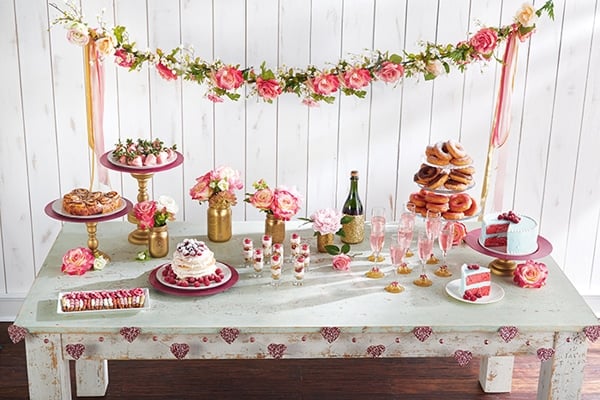 Our dear daughter, The Fashionista, referes to February 14th as Single Awareness Day. :)
But as women she and I still like cards, candy and flowers.
So what's a girl to do?
Have a Galantine's Day!
Photo courtesy of my sweet galentine Celestina Marie.
I sent out an invitation to Texas bloggers asking if they would like to join us at the Sugarbacon restaurant.
Eleven ladies showed up and none of us arrived empty handed. Each place setting was piled high with the sweetest treats.
The food was excellent.
Nothing makes me feel loved like plate of carbs. :)
It was truly a delightful afternoon. While some of these ladies arrived as strangers we all left as friends.
Once I returned home I took the time to really admire each friends lovely offering.
Leslie of Brookhallow Lane captured my heart with vintage inspired goodness.
Stacey of Poofing the Pillows planted a garden a happiness.
You can find Carol's Bluesky Kitchen Bourbon Balls HERE.
Kitty's Kozy Kitchen created the best Linzer cookies I've ever tasted.
Alyssa was l o n g i n g for a valentine. Of course I adored the dachshund!
Sharon of Pretty Practical Home made me laugh outloud with her sweet offering.
Celestina Marie of Southern Day Dreams is indeed a talented artist.
Lisa of Hospitable Pursuits truly warmed my heart. She included a Jane Austen silouette pin just for me!
Eilis of My Heart Lives Here brought a darling Valentine mug.
I think it would be virtually impossible to not feel loved after all those wonderful treats. I created a vignette in my kitchen and contine to smile whenever I pass by this display of affection.
I encourage each and every one of you, who may feel alone this holiday, to reach out to others.
You can also treat yourself! Perhaps take a bubble bath, watch a happy movie and eat your favorite food.
May you remember that even though flowers fade and chocolate soon disappears love always remains.
Wishing you a happy heart,
Laura